Top 3 Aesthetica Videos on YouTube

3

min read

Aesthetica is a trusted name in the world of plastic surgery, and our videos on YouTube are proof of that. Being popular on YouTube is a big deal. We have achieved millions of total views through our informative and engaging videos on various subjects of plastic surgery.
Without further ado, we are excited to present to you the top three most popular Aesthetica videos on YouTube, based on the number of views!
Views: 824K
Learn More About the Procedure
The most popular Aesthetica video is a step-by-step guide on undergoing labiaplasty. This video has been created with the primary motive of educating women about the whole procedure and its benefits.
Labiaplasty is a procedure to cut the excess skin from around the vagina. Many women like this because it improves the size and aesthetics of their vagina smaller. It can improve pleasure during sex as well! We want to demystify the entire process of labiaplasty by showing people how we do it and answering questions about the procedure and what you will need afterward.
Mini Facelift Surgery (In-Office)
Views: 475K
Learn More About the Procedure
This Aesthetica video shows the mini facelift surgery, or in-office facelift surgery, which is done without any large incisions. Our team of experts shot the video to help the audience understand how to go through this minimally invasive procedure.
Mini facelift surgery is done when doctors give you shots in your face with medicine to make it look younger, smoother, and more refreshed. This type of facial surgery is done in an office with no hospital costs or long recovery time (2-3 days). Numerous people choose to have mini facelift surgery because it is less expensive and has a shorter recovery time than full facelift surgery.
Views: 127K
Learn More About the Procedure
Aesthetica wants to ensure that women have all the necessary information about breast reduction surgery before undergoing this procedure. This video is about breast reduction surgery and is one of the most informative breast reduction videos on YouTube. 
Breast reduction surgery is a procedure to reduce the size of your breasts. This surgery can help relieve back pain, neck pain, and shoulder pain caused by large breasts. It can also improve your self-image and make you feel more confident. The video provides all the information you need to know about this procedure.
Keep in Touch with Aesthetica for More
These are just a few of the most popular Aesthetica videos available on YouTube. We want to express our gratitude to our viewers for their consistent support. Aesthetica will continue to produce informative and engaging videos to help people understand the various procedures offered by Dr. Chang and his team. Make sure to watch more of our videos by subscribing to our YouTube channel!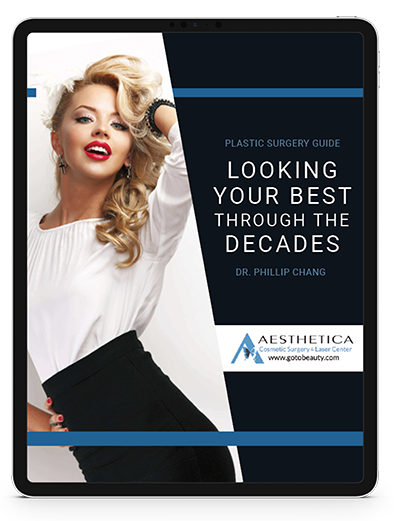 Insider's Roadmap to Every Decade of Life
Follow us on Youtube and watch our latest videos about plastic surgery procedures.
For those wondering whether any of these cosmetic procedures might be the best cosmetic solution for you, we invite you to simply come in for a complimentary consultation with Dr. Chang or one of the cosmetic laser and injection nurses to explore whether you would make a good candidate. To find out more whether Aesthetica can help you, contact us online or at 703-729-5553 to arrange an appointment. Dr. Phillip Chang is a board-certified plastic surgeon in Northern Virginia near Leesburg, Virginia and an expert in a wide variety of cosmetic treatments.
Our office can provide you with helpful information, schedule a free consultation, and walk you through the many services and procedures we provide.
Contact Dr. Chang's Office:
Stretch marks affect men and women of various ages and backgrounds. These silver, reddish, or purple streaks appear on different body parts, often evoking feelings of self-consciousness. But what exactly are stretch marks, and what causes them? In this detailed guide, we will delve deep into the types and causes of stretch marks, shedding light on this common skin concern.
Read More »