The Plastic Surgery Guide To
Looking Your Best Through The Decades
Find out how to maintain your natural beauty from 18 to 80.
What to know what you'll look like 10 years from now? What you could look like?
In this ebook you'll find answers about:
a roadmap to maintaining your natural beauty
info on common cosmetic procedures
both surgical and non-invasive options
a guide to finding the right plastic surgeon

and much more!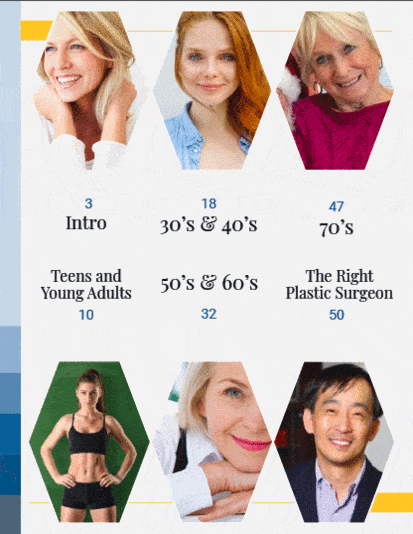 For each age group, Dr. Chang provides info on:
Fat Removal and Body Sculpting
Breast Reductions, Augmentations, and Corrections
Surgical and Non-Surgical Options
What sets this guide apart?
Realistic advice.
The best candidate for any cosmetic procedure, surgical or not, is a healthy patient with realistic expectations. Learn what makes a good candidate and if plastic surgery is right for you.


Realistic aesthetics.
Dr. Chang: "The goal for any surgical procedure is to provide a natural and appealing result."


Real before & after pictures.
Real men and women aren't models. See real pictures of patients before and after surgical and non-surgical treatments.
Enter your email here for instant access to over 50 pages of plastic surgery pictures and info.