Dealing with Animal Bites: What to Do and Where to Go

4

min read

Every year, more than 4.5 million Americans are bitten by animals, most commonly by dogs. While some animal bites may only result in a few scratches, others can cause severe injuries that may require reconstructive surgery. If an animal has bitten you or someone you know, it is crucial to perform some first aid and then seek professional attention as soon as possible.
The animal bite should be washed out thoroughly with soap and water as soon as possible. Washing the animal bites speeds up the healing process and prevents infections from developing. Then, seek medical attention immediately after performing a first aid treatment.
If it is a dog or cat bite, try to capture the animal to be tested for rabies. However, if the animal is not known or cannot be located, you will need to undergo a series of rabies shots. If you have been bitten by a wild animal such as a skunk, raccoon, bat, or coyote, you must go to the nearest doctor to treat the bite because they can carry and transmit rabies and other diseases too.
If the bite results in significant and severe injuries, you'll need to see a plastic surgeon for evaluation and treatment through reconstructive surgery.
Second Step: Seek Professional Help
After conducting first aid, it is vital to seek professional medical help as soon as possible. This step is essential if the animal bite causes severe injuries that may require reconstructive surgery. During a consultation with a plastic surgeon, they will assess the injury and provide treatment recommendations. 
There are many different types of reconstructive surgery that can be performed depending on the animal bite. Some of the most common procedures include:
Wound debridement:

Removing any infected or dead tissue from the wound to promote healing

Skin grafting:

Placing new skin over the wound area using a piece of healthy skin from another part of your body or a donated skin graft

Tissue flaps:

Placing a variety of tissue flaps to cover the wound area

Skin flap advancement:

Transplanting skin from another part of your body and moving it to cover the animal bite area

Bone reconstruction:

In some cases, the animal may have broken bones due to the animal bite. In this situation, bone reconstruction surgery can be performed to fix those fractures.
Reconstructive surgery is much more involved than cosmetic plastic surgery because many special considerations must be considered for these types of procedures. For example, reconstructive surgeries often require more anesthesia due to the risk associated with general anesthesia in post-operative patients.
Getting the Right Treatment
A plastic surgeon can help assess the damage done by an animal bite and provide the necessary treatment for reconstructive surgery. 
In most cases, animal bites only require stitches. However, surgery becomes imperative to repair damaged muscle tissue or bone in more severe cases. In addition, if there is extensive bleeding, the surgeon may need to apply pressure to the wound to stop the bleeding.
The success of reconstructive surgery after an animal bite depends on several factors, such as the type of animal that bit you, your age and overall health, and how well you follow your surgeon's instructions for post-operative care.
Animal Bite Cases at Aesthetica
Aesthetica Cosmetic Surgery and Laser Center is well-equipped to handle animal bite cases. Dr. Philip Chang, our board-certified plastic surgeon, has extensive experience in animal bite reconstruction surgery. He will assess the damage done by an animal bite and provide the necessary treatment for reconstructive surgery.
How to Prevent Animal Bites
While animal bites can be unpredictable and happen unexpectedly, there are ways to help prevent them from happening. Some tips to prevent animal bites include:
Always keep your dogs on a leash when outside. 

Do not approach unfamiliar animals, especially if they are acting aggressively. 

Teach people, especially children, about animal safety and what to do if they encounter an animal bite. 

If an animal is attacking you, try to make yourself as small as possible and protect your head and neck. 
If you follow these tips, you can help reduce your chances of being bitten by an animal. However, animal bites can still occur, so it is essential to know what to do in an emergency.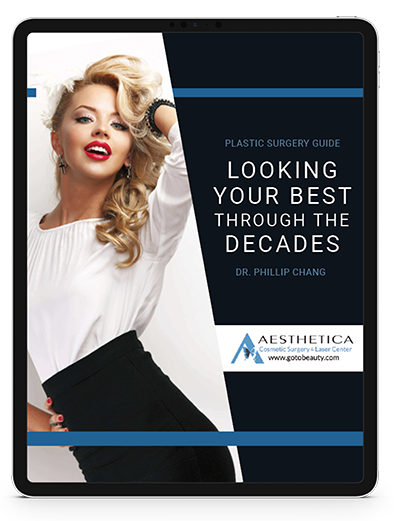 Insider's Roadmap to Every Decade of Life
Follow us on Youtube and watch our latest videos about plastic surgery procedures.
For those wondering whether reconstructive surgery might be the best cosmetic solution for you, we invite you to simply come in for a complimentary consultation with Dr. Chang or one of the cosmetic laser and injection nurses to explore whether you would make a good candidate. To find out more whether Aesthetica can help you, contact us online or at 703-729-5553 to arrange an appointment. Dr. Phillip Chang is a board-certified plastic surgeon in Northern Virginia near Leesburg, Virginia and an expert in a wide variety of cosmetic treatments.
Our office can provide you with helpful information, schedule a free consultation, and walk you through the many services and procedures we provide.
Contact Dr. Chang's Office:
Stretch marks affect men and women of various ages and backgrounds. These silver, reddish, or purple streaks appear on different body parts, often evoking feelings of self-consciousness. But what exactly are stretch marks, and what causes them? In this detailed guide, we will delve deep into the types and causes of stretch marks, shedding light on this common skin concern.
Read More »