What To Do Before Liposuction

7

min read

When you look in the mirror, you should be confident in the sexy, rockin' person you see looking back at you! But unfortunately, not everyone is feeling super awesome in their own skin — annoying spots of unwanted, stubborn fat can be a hassle and confidence-damper. No one should look at their own reflection and feel deflated after! That's why liposuction has been one of America's go-to methods for fat reduction, toning, and ridding of pesky unwanted fat. This tried and true procedure has been giving women (and men!) the confidence boost they've been looking for.
Are you looking to boost your confidence with a liposuction procedure? Read below for information on what liposuction is like, whether you're ready, and the do's & don'ts!
Liposuction is a procedure that can help remove up to a few pounds of fat from fatty pockets through a thin tube — a cannula — which sucks out the unwanted fat like a vacuum. There are various techniques used by surgeons to assure the best treatment for your goals. Liposuction procedures can target the upper arms, abdomen, buttocks, ankles, calves, back, chest, thighs, hips, neck, and chin. Depending on how much fat will be removed and procedure location, the patient will be put under either general or local anesthesia. As long as the patient's weight remains stable, the effects are permanent. Generally, liposuction procedures take around three hours from start to finish. As the body heals from the lost fat cells, the skin contours during recovery, forever saying goodbye to that stubborn fat!
Does Liposuction Hurt?
Since the patient is under anesthesia, there will be no pain during the procedure. However, the patient should expect to feel some soreness, achiness, and tenderness in the next few days following the procedure. Your doctor will prescribe you pain medication for this. If the healing location is irritated (either by movement or friction) then there may be some pain (so try not to disturb the healing area!) Follow the instructions of your surgeon for minimal difficulty.
Is Liposuction Dangerous?
As with any procedure, there are risks with liposuction. Skin irregularities (like bumpiness), infections, fluid accumulation, and heart and kidney problems are a few of the possible risks. However, by choosing a trained, acclaimed, experienced doctor, chances of risk are very significantly lowered.
Is Liposuction Surgery?
Liposuction is a surgical procedure that contours the body by removing fat pockets.
How Long is Liposuction Recovery?
Since liposuction is an outpatient surgery, you'll likely be able to go home the same day. Initial recovery takes around 2-3 months, and full recovery takes around 5 months. Of course, listening to your doctor and following his instructions is the best way to assure a smooth recovery!
Will Liposuction Leave a Scar?
Yes, liposuction procedures will leave a small scar. These scars are usually less than an inch long, although vary from procedure. If this is a concern for you, talk with your doctor about scar healing options.
Am I Ready for Liposuction?
So you've made up your mind — you're ready for a liposuction procedure to contour your body! However, are you fully ready to take the plunge? Here are a few things to keep in mind!
Liposuction is not an obesity treatment! This is super important! Make certain you're at your goal weight before undergoing the liposuction procedure. Liposuction is meant to get rid of fatty areas and stubborn pockets and help you contour your body, not to lose significant weight.
You may need a combo deal. If your skin is too stretched (for example, if the stomach area skin is too baggy and loose), then you may need liposuction plus a tummy tuck for the loose skin. While liposuction rids fatty cells, it doesn't tighten skin.
Know what you're treating. If you're looking to treat cellulite or skin imperfections, liposuction will not solve the problem. Laser treatment and CoolSculpting are better options!
If you want to learn more about whether you're the right candidate for liposuction, call our Aesthetica office for a free consultation!
What to Do Before Liposuction?
For the best liposuction results, you're going to want to help get your body into tip-top shape. This will ensure that you're getting the best results possible! Plus, learning healthier habits is always a good idea. 
First, you'll want to make sure you're at your ideal weight. This means setting a reasonable goal. Exercising, and eating healthy for a few months before your surgery will help you target the proper stubborn fatty areas and shape your body how you want it. After all, liposuction is about stubborn fat that won't go away even after exercise and healthy eating — so getting to that point is very important! 
Secondly, you'll want to build muscle in the areas you're targeting. Although some patients are deterred from building muscle in fatty areas, it's actually very beneficial. Once the liposuction is performed, the fatty area will no longer be there to hide the muscle definition. You'll want to have some lean muscle for when the fat goes away!
Once all the hard work is done and you're ready to get the procedure done, it's time to prep your home to be ready for recovery. Plasticsurgery.org recommends these tips:
Buying easy-to-prepare foods
Organizing your wardrobe so comfortable clothes are easy to find
Getting extra-long charge cords for your electronic devices
Arranging for help with children or pets
Putting essential items within easy reach of your bed
What NOT to Do Before Liposuction
Now that you know what you should do prior to your liposuction procedure, here are some tips on what to avoid and not do before your treatment!
DO NOT intake nicotine anytime before surgery (even months before!). Nicotine restricts blood vessels, decreasing blood flow. Not only is this dangerous for liposuction, but for any surgery/cosmetic surgery. Nicotine will also greatly slow down recovery. This means that you should stop smoking as soon as your procedure is booked, and not smoke again until full recovery. 
DO NOT take medication before your surgery, as that can increase bleeding. This includes (but is not limited to) aspirin, herbal medications, anti-inflammatory medications, birth control, and more. Talk to your doctor about the medication you take.
DO NOT shave the area prior to liposuction. Shaving before liposuction means there is chance of ingrown hairs, which increases the possibility of infection.
DO NOT drive yourself to and from the surgery. As with any surgery, you will want someone to help transport you to and from the surgery and help you with initial recovery!
DO NOT wear tight fitting clothing to your appointment. While it may be tempting to wear leggings or a tight, cozy sweater to your liposuction appointment, clothing friction after the surgery will irritate the area. Wear baggy, comfortable clothes!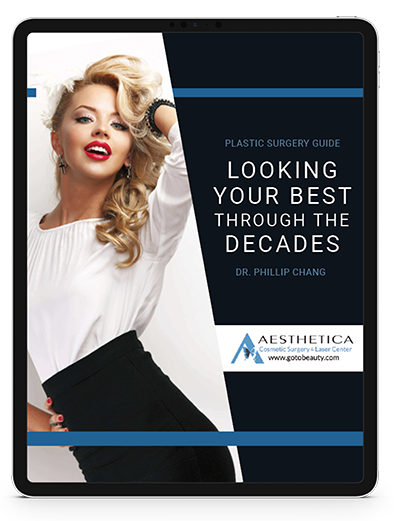 Insider's Roadmap to Every Decade of Life
Follow us on Youtube and watch our latest videos about plastic surgery procedures.
Are you ready to take the plunge and invest in a liposuction procedure to boost your confidence? We invite you to simply come in for a complimentary consultation with Dr. Chang or one of the cosmetic laser and injection nurses to explore whether you would make a good candidate. To find out more whether Aesthetica can help you, contact us online or at 703-729-5553 to arrange an appointment. Dr. Phillip Chang is a board-certified plastic surgeon in Northern Virginia near Leesburg, Virginia and an expert in a wide variety of cosmetic treatments.
Our office can provide you with helpful information, schedule a free consultation, and walk you through the many services and procedures we provide.
Contact Dr. Chang's Office:
Stretch marks affect men and women of various ages and backgrounds. These silver, reddish, or purple streaks appear on different body parts, often evoking feelings of self-consciousness. But what exactly are stretch marks, and what causes them? In this detailed guide, we will delve deep into the types and causes of stretch marks, shedding light on this common skin concern.
Read More »