Raise your hand if you LOVE celebrating national days! National Pancake Day, National Doughnut Day, National Pet Day…I don't know about you, but I love any reason to celebrate! That's why I am so excited about November 17th…NATIONAL BOTOX DAY!
Botox is an injection used to smooth lines and wrinkles in the face. It actually reduces the contractions of your facial muscles that cause the wrinkles in the first place resulting in smoother looking skin. Botox has been around for a long time. It was first approved by the FDA in 1989 to treat two rare eye muscle disorders, blepharospasm and strabismus. From there, the discovery that botox could be used for so much more sparked the FDA to approve its use for wrinkles between the eyebrows. It continued to get more FDA approvals for different treatments as its popularity continued to grow.
Botox is currently used in two common problem areas, between the eyebrows and around the eyes. Frown lines often occur between the eyebrows, causing deep set and severe lines. Botox helps to smooth those lines and give the appearance of younger tighter skin. With age, crow's feet tend to form in the outer corners and around the eyes. Again, botox can smooth those lines and inhibit the production of new lines and wrinkles.
Botox is essentially an injectable muscle relaxer. It is actually a toxin created by the bacterium clostridium botulinum. When injected into the face, it blocks the signals from the muscle nerves to the brain, inhibiting the muscle's ability to contract. Less contractions in facial muscles results in fewer movements that cause the wrinkles and lines in the first place. It also smooths the appearance of the wrinkles that may already be there.
Aesthetica is offering some really great specials to help you look your best and truly celebrate National Botox Day this year! Not to mention this is perfect timing to get your flawless look before all the holiday parties that are quickly approaching! Our Botox Tuesday Special is now a week long! Enjoy Botox at $11 a unit from November 17-November 24! During this week, if you prebook and pay a future botox appointment, you will get the special pricing of $11 per unit for your next visit! Be sure to take advantage of these amazing offers!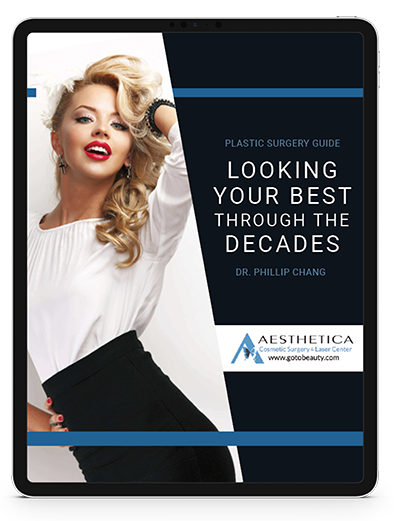 Insider's Roadmap to Every Decade of Life
Follow us on Youtube and watch our latest videos about plastic surgery procedures.
For those interested in celebrating National Botox Day with us, we invite you to simply come in for a complimentary consultation with Dr. Chang or one of the cosmetic laser and injection nurses to explore whether you would make a good candidate. To find out more whether Aesthetica can help you, contact us online or at 703-729-5553 to arrange an appointment. Dr. Phillip Chang is a board-certified plastic surgeon in Northern Virginia near Leesburg, Virginia and an expert in a wide variety of cosmetic treatments.
Our office can provide you with helpful information, schedule a free consultation, and walk you through the many services and procedures we provide.
Contact Dr. Chang's Office:
If an animal has bitten you or someone you know, it is crucial to perform some first aid and then seek professional attention as soon as possible. Learn more about animal bites in this blog.
Read More »