Between 2000 and 2016, the cosmetic world has seen a 180% increase in non-invasive cosmetic procedures. It's no surprise that Botox is on of the most common procedures due to its low risk and the little-to-no downtime required after. 
Botulinum toxin type A is the most common injection in Botox, it was approved by the FDA in 1989 for use by ophthalmologists to treat ocular spasm disorders. Dr. Alan B. Scott was the first person to study the effect of botulinum toxin type A on humans. In the next decade, the rights to distribution of botulinum toxin A were bought by a drug company called Allergan. Allergan started selling the drug as Oculinum, a treatment for multiple ailments of the eye.
When Was it First Used for Cosmetic Purposes?
It took a while after its patenting for Botox to be considered for cosmetic use. In 1987, Canadian eye doctor Jean Carruthers was treating a patient with botulinum toxin A for eye spasms when the patient asked for her forehead to be treated with the drug. Dr. Carruthers was confused until the woman explained that it gave her forehead a smoother appearance. 
The doctor explained this interaction to her husband Alastair, a dermatologist, who was fascinated. He was interested in an alternative to the painful and ineffective treatments for wrinkles that were popular earlier in the 1900s. The couple tested out their theory about the toxin on their receptionist, and after seeing her positive results, they set out to share their discovery with the medical community.
Although it took some time for the public to trust this unconventional use for the drug, Botox is now one of the most popular cosmetic procedures. However, contrary to popular belief, Botox does not "erase" wrinkles. Instead, it simply immobilizes the muscles that cause wrinkles to form. Therefore, it works better as a preventative measure rather than a treatment for wrinkles. 
Since its discovery for cosmetic uses in 1987, Botox has been used countless times for not only facial smoothing, but also reshaping of different parts of the face, such as lips and cheeks. Botulinum toxin type A was approved by the FDA in 1989 and is now used for both medical and cosmetic purposes.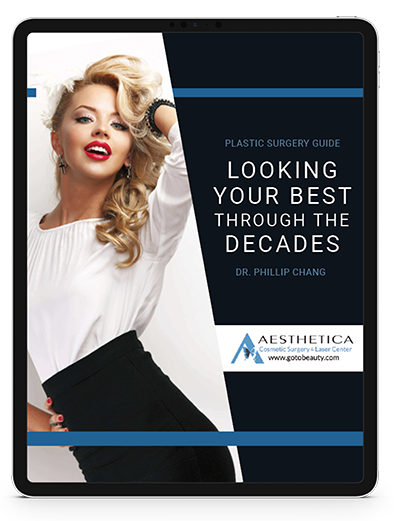 Insider's Roadmap to Every Decade of Life
Follow us on Youtube and watch our latest videos about plastic surgery procedures.
For those wondering whether Botox might be a good cosmetic option for you, we invite you to simply come in for a complimentary consultation with Dr. Chang or one of the cosmetic laser and injection nurses to explore whether you would make a good candidate. To find out more whether Aesthetica can help you, contact us online or at 703-729-5553 to arrange an appointment. Dr. Phillip Chang is a board-certified plastic surgeon in Northern Virginia near Leesburg, Virginia and an expert in a wide variety of cosmetic treatments.
Our office can provide you with helpful information, schedule a free consultation, and walk you through the many services and procedures we provide.
Contact Dr. Chang's Office:
Getting breast implants is a huge deal for women! Many women enjoy their new breasts and how they provide a better outlook on themselves and their bodies. However, it may not be the case for everyone. Some women who get their breasts done may feel like this decision is irreversible and are stuck with them for the rest of their lives. But this is not true! If you are unhappy with your implants, you can enlist the help and expertise of a Board-Certified Plastic Surgeon like Dr. Phillip Chang for a breast implant removal procedure!
Read More »