When you make the decision to lose weight, it requires a ton of will power, lots of tough choices, and plenty of good friends and family to cheerlead you on.
Whatever route you choose to lose your weight – whether diet and exercise or weight loss surgery  – hitting your target weight makes you feel like an actress winning an Oscar or a Gold medalist on the podium at the Olympics. You deserve to feel special and should be giving yourself the biggest pat on the back ever known.
But, maybe at the back of your mind, you are still a little disappointed that now you have another issue to contend with. When you gain a significant amount of weight, your skin has to stretch to accommodate the fatty tissue. Unfortunately that skin doesn't just shrink when you lose the weight. This excess skin that folds around your body can be heavy to carry. The skin folds can cause irritation and skin infections and can make it hard to chose clothing that feels comfortable to wear.
You shouldn't have to go through all that determination, achievement and commitment to lose the weight and still have negative thoughts about your body. The excess skin is not going to go away on its own, and you can address it through plastic surgery. Here we will list the different procedures you can have to say good bye to the excess skin.
This is the most popular procedure for patients who have had significant weight loss. It is a permanent procedure as long as you can keep your weight stable. It will have a huge affect on your appearance, improving your body contours and creating a smoother, slimmer physique.
An upper body lift involves a number of procedures: an arm lift, back lift, and breast lift. When you lose significant weight, your arms (particularly above the elbow to the underarm) can have a large amount of excess skin which flaps and dangles (think batwings). This skin can also be wrinkly. An arm lift involves an incision from elbow to armpit, liposuction to remove any extra fat – the the excess skin is cut away. Your surgeon will work to make the scar discrete.  And you will have slimmer, smoother arms.
Many people who have lost a significant amount of weight report issues with bra bulges and excess skin on their back moving down to their waistline. A back lift combines liposuction and skin removal to smooth out the area creating a slimmer, firmer back area.
Females who have lost a lot of weight may find their boobs to be droopy and deflated. A breast lift can reshape the breasts, raising them up and removing the excess skin. Many patients also receive breast implants to alleviate the deflated look.
The lower body lift concentrates on the tummy, thigh and buttock areas. This is another popular option. This procedure that involves a large incision and healing and recovery can take around 1-2 months. The results are permanent, and you will be rewarded with a slimmer, firmer figure and a significant improvement in self-confidence and comfort.
The lower body lift is a combination of procedures: tummy tuck, butt lift, and thigh reduction. The tummy muscles are tightened, the excess skin removed, and liposuction will remove excess fat. Buttocks can deflate and droop after weight loss. During a butt lift procedure, excess fat from your tummy or thighs is removed and transferred to your buttocks. This creates a fuller, shapely behind and also tightens the skin. A thigh reduction involves removing excess fat and skin to create leaner, slimmer thighs.
Abdominoplasty & Panniculectomy
A Pannus is the excess skin found in the stomach area that hangs down below the belly button. A Panniculectomy removes this apron of skin and helps give a slimmer silhouette. This would typically be done during a lower body procedure and the abdominal muscles would be tightened at the same time. An abdominoplasty is another term for a tummy tuck.
When men lose a significant amount of weight, they can be left with fatty lumps in their breast area. A gynecomastia surgery can be done by liposuction alone which removes the fatty tissue through a cannula. If excess skin needs to be removed, then an excision is made and the excess skin is removed and the nipple repositioned. Your surgeon will position the scar in the least visible area. After a gynecomastia procedure, the male breast area is flattened and less saggy.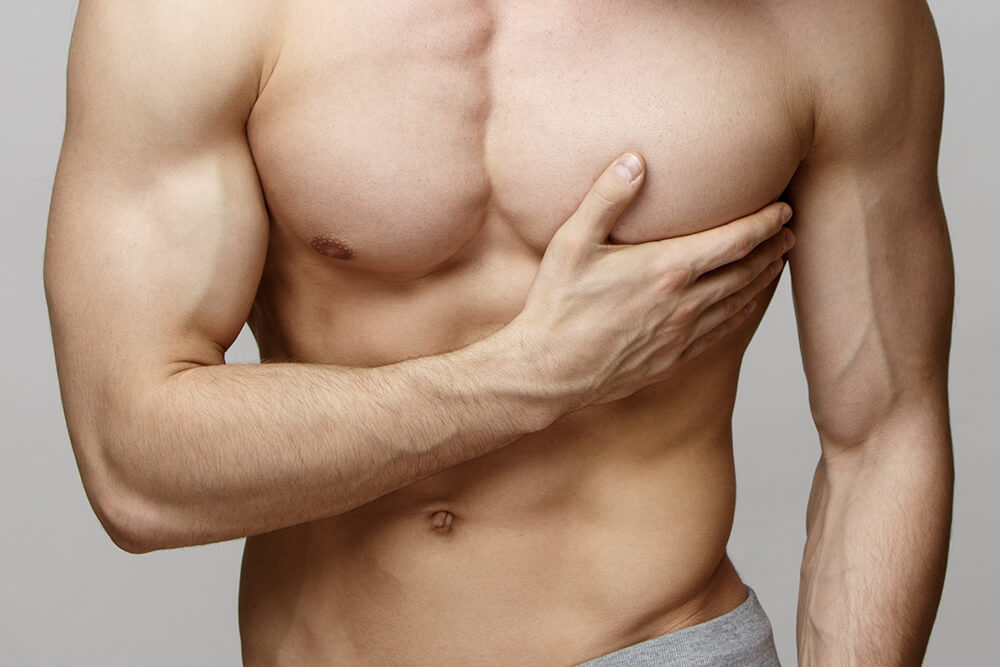 Your face and neck would have stretched to accommodate your weight. Once that weight is gone, the skin on your neck and face may be saggy. Not only can this excess skin lower your confidence, it can also make you look older than you are. A neck lift will remove the excess skin and redefine your jawline, giving you a slimmer and more youthful appearance. A facelift will remove the excess skin around your face, smoothing out wrinkles and lifting your mouth and eyes. All scars will be hidden in your hairline, and you will have to cope with many compliments on how well you are looking!
Before You Undergo a Procedure
1.  Wait for at least 6 months after you hit your weight goals. These procedures are only permanent if you don't gain the weight again. You want your weight to be stable before undertaking surgery.
2.  If you are a smoker, give it up! Smoking can affect your recovery, causing infections and your scars to take longer to heal.
3.  Speak to your doctor about the surgery you want. This is important if you are taking medications or have an underlying medical condition that could be affected by surgery.
4.  Avoid taking aspirin, anti-inflammatory drugs and herbal supplements prior to your surgery. They can increase bleeding during surgery which could lead to complications.
5.  Speak to other people who have had the surgery or read personal blog posts or watch videos. It is important to go into the surgery with realistic expectations. Check out before and after photos.
Recovery From These Procedures
All of the above procedures are invasive, surgical procedures. During your initial consultation with a surgeon, they will talk over your goals and expectations, advise you of the risks and complications, and discuss costs. Post surgery, it is important to follow your surgeon's instructions for caring for the incision area and what precautions you should take regarding exercise, bathing, and wound care. Expect to be recovering for 1 – 2 months. The scars will heal, but they will remain visible for months. It can take up to a year for the scars to fade, so be patient.
If you have lost a significant amount of weight and you are ready to learn more about what skin loss surgeries you could have, we invite you to simply come in for a complimentary consultation with Dr. Chang or one of the cosmetic laser and injection nurses to explore whether you would make a good candidate. To find out more whether Aesthetica can help you, contact us online or at 703-729-5553 to arrange an appointment. Dr. Phillip Chang is a board-certified plastic surgeon in Northern Virginia near Leesburg, Virginia and an expert in a wide variety of cosmetic treatments.
Our office can provide you with helpful information, schedule a free consultation, and walk you through the many services and procedures we offer.
Contact Dr. Chang's Office:
In a world where first impressions matter, maintaining a youthful and radiant appearance has become a top priority for many. While aging is an inevitable part of life, the beauty industry has evolved to offer various solutions to help defy the hands of time. One such solution that has gained immense popularity is Juvederm, a revolutionary facial filler treatment. In this blog, we will delve into the world of Juvederm, exploring its benefits and how it can help you achieve a youthful appearance. Whether you're looking to reduce wrinkles, enhance your lips, or restore lost volume, join us as we uncover the transformative effects of Juvederm and discover how it can revitalize your confidence and self-image.
Read More »