Pucker Up for the Holiday Season with Juvederm Voluma
Surprisingly, dermal fillers have been in the beauty industry for quite some time now. If we trace the history, dermal injectables were first introduced in the 1970s, when animal collagens were used on humans. Today, the goal of using dermal fillers remains the same, but its content and application method have drastically changed.
By 2000, dermal fillers started booming until they became a standard in cosmetic treatments. There was a massive demand for dermal filler treatments in the U.S. market, and since then, the evolution of facial filler products has never stopped. ­With the advent of technology, new techniques and innovative concepts were developed. In 2003, HA (hyaluronic acid) based dermal fillers were introduced. Not long after, it became the most popular filler among other injectable fillers used by surgeons due to its safe, quick, and non-invasive procedures.
There are different dermal filler brands and types, but among them all, Juvederm takes the top spot. Juvederm is a dermal filler that restores the contours of the face. Its treatment focuses on enhancing the face areas by removing wrinkles, correcting nasolabial folds, and augmenting the lips and chin area.
Why Juvederm Voluma Is Perfect for the Holidays
The winter holidays are often the most awaited time of the year. It is a special event that happens only once a year. Thus, it is something that one must prepare for. It is also the perfect time to get together with family, friends, and loved ones you haven't seen in a long time. As a part of your preparations, you want to ensure that you dress properly and feel confident about yourself. Hence, you can only achieve it if you present yourself well.
Cosmetic treatments are one of the best ways to help you look your best. For example, injectable dermal fillers like Juvederm Voluma help restore the skin and give fullness to your cheeks without undergoing surgery. Fortunately, you can achieve your dream holiday look by visiting reputable cosmetic clinics such as Aesthetica GoToBeauty, where you can find one of the best surgeons in Leesburg, Virginia.
Dr. Phillip Chang is a certified leading surgeon in Loudon County and an expert in cosmetic treatments. Because of his exceptional skills and credibility, he is listed as one of the Top 10 plastic surgeons in Northern Virginia. As an expert in plastic surgery, Dr. Phillip Chang will ensure that all your aesthetic goals and expectations will be met.
Juvederm Voluma is the most popular among Juvederm treatments. It is the preferred option among patients because it is safe, effective, and delivers long-lasting results. It is also considered the best option for cheek enhancement and lip augmentation.
The Juvederm Voluma cost ranges anywhere from $600 to $800, depending on how many shots treatment sessions will need for the area you need to get treated. For longer-lasting types, the cost for Juvederm Voluma will typically range from $900 to $1,000 per syringe. At the same time, Juvederm Voluma XC is approximately $800 to $1,000.
Juvederm Voluma for lips is the perfect treatment you can gift yourself this holiday season. It is made up of Hyaluronic Acid, a natural ingredient that helps the skin maintain moisture and heal wounds.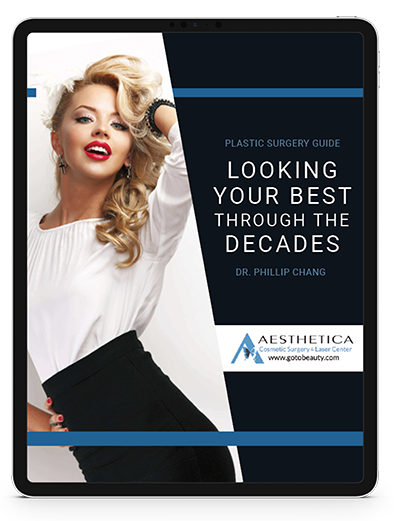 Insider's Roadmap to Every Decade of Life
Follow us on Youtube and watch our latest videos about plastic surgery procedures.
For those wondering whether Juvederm dermal fillers might be the best cosmetic solution for you, we invite you to simply come in for a complimentary consultation with Dr. Chang or one of the cosmetic laser and injection nurses to explore whether you would make a good candidate. To find out more whether Aesthetica can help you, contact us online or at 703-729-5553 to arrange an appointment. Dr. Phillip Chang is a board-certified plastic surgeon in Northern Virginia near Leesburg, Virginia and an expert in a wide variety of cosmetic treatments.
Our office can provide you with helpful information, schedule a free consultation, and walk you through the many services and procedures we provide.
Contact Dr. Chang's Office:
Like with many surgical operations, it's best to understand the pros and cons beforehand. Good enough, we broke down the common risks associated with tummy tucks, how to reduce its side effects, and how a top plastic surgeon like Board-Certified Plastic Surgeon Dr. Phillip Chang from Aesthetica Cosmetic Surgery and Laser Center avoids them.
Read More »