Understanding the Multiple Uses of Juvederm Fillers!

7

min read

Many women are afraid of aging, mainly because it not only changes a person's physical appearance but it can significantly affect one's confidence and self-esteem. But with today's technology, recent studies reveal that more and more women opt for cosmetic treatments like injectable dermal fillers to help them bring back their youthful look. Even more so, to feel good about themselves.
Facial fillers are considered the most accessible and favorite cosmetic treatments for patients. They focus on working with the face's notable features, such as the lips, cheeks, and in between the mouth and nose, without needing surgery.
Juvederm filler is the most popular among the dermal filler brands available as it provides safe, quick, and amazing results. What's more, unlike other treatments that need surgery, Juvederm only uses injectable dermal fillers to remove wrinkles, smoothen facial lines, contour cheeks, and restore the volume and plumpness in the face.
Different Types of Juvederm
Juvederm comes in different types, namely:
Juvederm Voluma XC

 – adds volume beneath the skin's surface and increases the size of cheeks; for chin augmentation in adults 21 years above.

Juvederm XC and Juvederm Vollure XC

 – mid-face volume loss; treatment of moderate to severe wrinkles, fine lines, and nasolabial folds.

Juvederm Volbella XC and Juvederm Ultra XC

 – non-surgical lip enhancement, correction of wrinkles, and perioral lines.

Juvederm Ultra Plus

 – plumps lips, sculpts cheeks, fills lines and wrinkles.
These types of Juvederm differ according to the target area you want to treat. For instance, if you want to enhance the size and shape of your cheeks, the Juvederm Ultra Plus can suit you best. In contrast, if you want to undergo an injectable lip enhancement, your plastic surgeon may recommend you go for the Juvederm Volbella XC or Juvederm Ultra XC. Ultra XC and Volbella XC both provide smooth and natural-looking lip enhancements. If you are looking for something that lasts, Volbella XC is the best, but if you are looking for comfort and evenness, Ultra XC is the superior choice. 
All Juvederm fillers are made from Hyaluronic Acid (HA), a chemical naturally produced by the body. While the main ingredient is focused on treating different areas, the main goal is to restore and rejuvenate the skin.
As we age, the collagen and hyaluronic acid content in our bodies decrease. Hence, Juvederm dermal fillers plump up the skin by injecting hyaluronic acids into the affected area. But one thing should be noted – the treatment comes with an expiration date, and it isn't permanent.
The procedure starts by marking the target areas with a pen. Your plastic surgeon will then inject the Juvederm fillers into the areas. Next, they will massage the target area to evenly spread out the fillers as it is applied. Anesthetics could also be administered to reduce swelling, inflammation, and discomfort. Typically, the whole procedure should last for 20 minutes to a maximum of one hour, depending on the area being treated. If you monitor your treatment with Juvederm, before-and-after results are evident within two weeks.
All treatments are approved by the FDA and provide safe Juvederm results. But to ensure that you get the best experience, a licensed professional plastic surgeon is recommended. Dr. Phillip Chang is a leading plastic surgeon in Loudon County, Virginia, specializing in surgical and non-surgical cosmetic treatments. You can contact him for future appointments in his clinic at Aesthetica Cosmetic Surgery & Laser Center, where you can fulfill all your aesthetic dreams.doc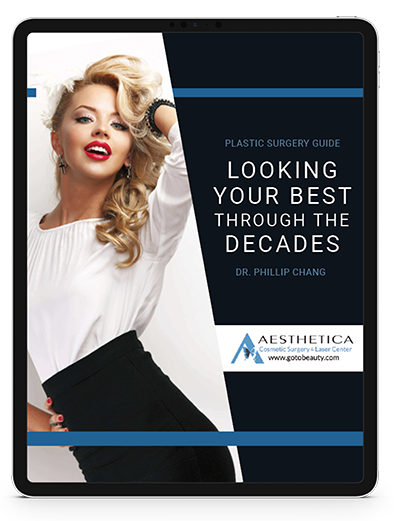 Insider's Roadmap to Every Decade of Life
Follow us on Youtube and watch our latest videos about plastic surgery procedures.
For those wondering whether Juvederm might be the best cosmetic solution for you, we invite you to simply come in for a complimentary consultation with Dr. Chang or one of the cosmetic laser and injection nurses to explore whether you would make a good candidate. To find out more whether Aesthetica can help you, contact us online or at 703-729-5553 to arrange an appointment. Dr. Phillip Chang is a board-certified plastic surgeon in Northern Virginia near Leesburg, Virginia and an expert in a wide variety of cosmetic treatments.
Our office can provide you with helpful information, schedule a free consultation, and walk you through the many services and procedures we provide.
Contact Dr. Chang's Office:
Stretch marks affect men and women of various ages and backgrounds. These silver, reddish, or purple streaks appear on different body parts, often evoking feelings of self-consciousness. But what exactly are stretch marks, and what causes them? In this detailed guide, we will delve deep into the types and causes of stretch marks, shedding light on this common skin concern.
Read More »