Is Broadband Light Therapy the Right Skin Care Treatment for Me?
Broadband light therapy is noninvasive. It is a quick procedure with very minimal downtime. And best of all, it delivers fantastic results.
Are you looking for a skin treatment that's fast yet effective? Something that can catch up with your busy schedule and won't get in the way of your daily routine? If your answer is yes, then Broadband Light Therapy is for you!
In this fast-paced, digital life, we are always after rapid results. We want to accomplish a lot with what little time we have. Well, the clock is also ticking when it comes to our skin, and it's set to fast forward.
Sun and pollution cause our skin to age early. Along with that, stress and many other factors contribute to skin aging. Before we know it, wrinkles are already showing even in our twenties.
Thankfully, you can now kiss those sunspots and fine lines goodbye because you are going to say hello to youthful, rejuvenated skin with Broadband Light Therapy!
What Is Broadband Light Therapy and How Does It Work?
Also called a photo facial, Broadband Light Therapy (BBL) uses light energy to penetrate the skin. It targets the outer and inner skin layers.
If you have heard of laser treatments, BBL's concept is also the same. However, BBL doesn't usually require anesthesia to proceed. The pain associated with a BBL treatment is tolerable compared to laser procedures. Some patients describe the pain as a "rubber band snap" – a sharp and short sting.
BBL heats the skin and forces collagen production. Collagen is what makes the skin firmer, plumper, and younger-looking. It is safe, efficient, and gives you naturally glowing skin.
Broadband Light Therapy can be used on almost any body area, but most appointments are focused on the face, under the eyes, and neck. Some of the skin concerns BBL can take care of are:
Acne and acne scars

Hyperpigmentation

Fine wrinkles

Freckles

Uneven skin texture

Loose skin
Pre-treatment, your eyes will be covered to protect them from the intensive light. The whole treatment process will only take more or less an hour. After the light therapy, we will apply moisturizer and sunscreen, and you're good to go. You can already go home and resume your day-to-day activities.
BBL Treatment and Recovery
Dr. Phillip Chang, head and founder of Aesthetica Cosmetic Surgery and Laser Center, will assess your skin first. You can tell him everything that you don't like about your skin, as well as what you are hoping to achieve. 
We are an elite practice comprised of specialists who are the best in our field. We will be with you from preparation, procedure, and all through recovery. Our focus is to help you reach your aesthetic goals.
We will give you specific instructions on how to prep your skin based on Dr. Chang's assessment.
You will need to avoid some activities to lessen the risk of complications post-treatment and minimize downtime. These precautions include, but are not limited to:
No sun exposure four weeks before treatment

No fake tan two weeks before treatment

No chemical peels

No waxing

Avoid using skincare containing glycolic acid or retinol 
Your skin might feel sun-burned and red right after and a few hours after the treatment. However, it is normal, and you can always put makeup on if you need to run an errand after. 
Depending on what skin concerns we are targeting on your skin, you might experience swelling and bruising. But it will be over in a matter of days. After that, you can apply a cold compress or take an over-the-counter painkiller.
Dark pigments will start to appear like coffee grounds on your skin over the first week of your recovery. These are all part of the process. Some patients don't even experience any of them at all. 
Broadband Light Therapy Near Me
Aesthetica Laser Cosmetic Surgery and Laser Center is in Leesburg, VA. You can drop by our state-of-the-art wellness center any day during weekdays. We are open from 9 am to 5 pm Monday through Thursday, and 9 am to 3 pm on Friday.
If you are out of town, do come and visit! Every year, we have patients who travel to Leesburg, even from other countries, to avail our services. And don't pass the opportunity to be charmed by the beautiful community of Lansdowne while you are here.
Dr. Phillip Chang and our entire team will be more than glad to be of service to you. We will equip you with all the information you need to help you get started on your aesthetic journey.
We will show our Broadband Light therapy before and after pictures of patients so you know what BBL can do to your skin. You can also check the Broadband Light Therapy reviews on our website from our satisfied visitors.
Dr. Chang has served a significant number of patients in Northern Virginia. He is board-certified, well respected, and admired by his patients and fellow surgeons. He is well known for his remarkable skill set and humble heart. You can rest assured that you will receive the highest quality of care and service with our head and founder, Dr. Chang.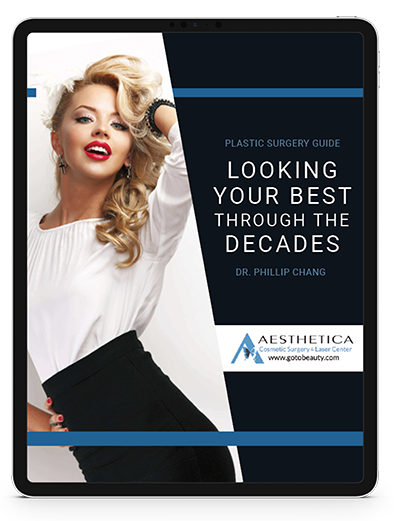 Insider's Roadmap to Every Decade of Life
Follow us on Youtube and watch our latest videos about plastic surgery procedures.
For those wondering whether Broadband Light Therapy might be the best cosmetic solution for you, we invite you to simply come in for a complimentary consultation with Dr. Chang or one of the cosmetic laser and injection nurses to explore whether you would make a good candidate. To find out more whether Aesthetica can help you, contact us online or at 703-729-5553 to arrange an appointment. Dr. Phillip Chang is a board-certified plastic surgeon in Northern Virginia near Leesburg, Virginia and an expert in a wide variety of cosmetic treatments.
Our office can provide you with helpful information, schedule a free consultation, and walk you through the many services and procedures we provide.
Contact Dr. Chang's Office:
Age can quickly take its toll on our bodies, especially our faces. So many women wish to bring back their younger selves' beautiful shape and aesthetics. So, why not do something about it? Your dream looks might lay a mini-facelift away!
Read More »