Discover the Wonders of Laser Skin Resurfacing at Aesthetica!

5

min read

Laser resurfacing has done many wonders to help improve and treat tons of skin conditions. So today, let's talk about Carbon Dioxide or CO2 laser resurfacing!
As you age, your skin will gradually show visible signs of damage accumulated through all those years of exposure to the sun and pollution. CO2 laser resurfacing can take those years back and give you a healthier glow!
CO2 Laser Resurfacing Process
CO2 laser resurfacing is a type of ablative laser. It works by removing the epidermis layer of your skin and heating the dermis underneath. The heat creates skin trauma that triggers collagen production. As a result, your new skin heals up and becomes tighter, clearer, and smoother.
Lasers have been used for years to treat various types of skin conditions. CO2 laser resurfacing targets the deeper layer of the skin, so the effects are more noticeable. Some concerns that can be treated by laser resurfacing include:
Wrinkles

Fine lines

Age spots

Sunspots

Scars

Uneven skin tone

Acne scars

Sagging skin

Warts
Pre-treatment is done to prepare your skin a few weeks before the procedure. Preparation ensures that your skin can tolerate the treatment. It also lessens the risk of side effects.
Topical anesthesia is applied to the area to be treated to minimize discomfort. Before the laser procedure, your skin will be cleansed first to remove oil and dirt. The whole process will take a minimum of half an hour to a maximum of two hours, depending on if it's a partial or full-face treatment. Once done, your skin is dressed to protect it from bacteria and infection during the healing period. 
Am I the Ideal Patient for CO2 Laser Resurfacing?
There are several types of lasers used for the skin that target various skin conditions. Aside from the skin conditions listed above, if you have chickenpox scars, tags, and moles, then a CO2 laser can help you. As a result, your skin will look youthful and rejuvenated.
However, not everyone is the ideal patient for the CO2 laser. For example, if you have acne or stretch marks, a CO2 laser is not advisable. It also poses a risk of hyperpigmentation for darker skin tones.
Other than those concerns, talk to us today if you want to eliminate those nasty eye wrinkles or visible smile lines! We'll be more than happy to listen to you and present you with the best possible solution to achieve your skin goals.
Dr. Phillip Chang, head and founder of Aesthetica Cosmetic Surgery and Laser Center, is a board-certified plastic surgeon with exemplary talent and a heart of gold. He is an associate of elite societies like the American Society of Plastic Surgeons (ASPS). In Loudon County, Dr. Chang is one of the best leading plastic surgeons. He is loved and respected by his patients and fellow physicians. You can rest assured that you will be cared for with utmost quality and safety.
Laser Resurfacing Recovery
Recovery from CO2 laser resurfacing usually takes seven to fourteen days. However, if the treated area is more prominent, healing could take up to a maximum of three weeks.
During the recovery period, your skin will be scabbed and red. There will be minimal peeling and swelling. You may have to avoid certain routines while your skin is healing because they could expose you to infections. Some of the activities that you may need to put off for a couple of weeks include:
Going to the gym

Hot showers

Swimming

Cleansing with salicylic, glycolic, or any type of acid
We will recommend a milder cleanser while your skin is healing. It's usually a vinegar or saline-based solution to prevent the risk of infections.
Most patients had their laser resurfacing carried out during the autumn and winter. That's because the skin becomes sensitive to the sun after any laser procedure. And it will be less cruel for your skin if you go outside during the colder months. 
Is there a CO2 Laser Treatment near Me?
Aesthetica Cosmetic Surgery and Laser Center is in Leesburg, VA. We are a 10-minute drive from the Dulles International Airport and 30 minutes from Washington DC. We are an elite practice, focusing on your needs and overall aesthetic goals. Our emphasis is on shorter CO2 laser resurfacing recovery and natural-looking results.
Come and drop by our state-of-the-art office today! If you aren't in the area, do come and visit! Our beautiful community of Lansdowne has a lot to offer that you will find worth your time (and that's on top of our excellent Aesthetica service, of course).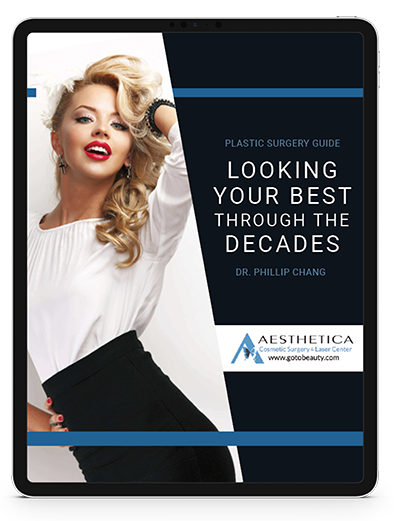 Insider's Roadmap to Every Decade of Life
Follow us on Youtube and watch our latest videos about plastic surgery procedures.
For those wondering whether a CO2 laser treatment might be the best cosmetic solution for you, we invite you to simply come in for a complimentary consultation with Dr. Chang or one of the cosmetic laser and injection nurses to explore whether you would make a good candidate. To find out more whether Aesthetica can help you, contact us online or at 703-729-5553 to arrange an appointment. Dr. Phillip Chang is a board-certified plastic surgeon in Northern Virginia near Leesburg, Virginia and an expert in a wide variety of cosmetic treatments.
Our office can provide you with helpful information, schedule a free consultation, and walk you through the many services and procedures we provide.
Contact Dr. Chang's Office:
Stretch marks affect men and women of various ages and backgrounds. These silver, reddish, or purple streaks appear on different body parts, often evoking feelings of self-consciousness. But what exactly are stretch marks, and what causes them? In this detailed guide, we will delve deep into the types and causes of stretch marks, shedding light on this common skin concern.
Read More »