How to Look Good While Wearing a Mask

4

min read

From the U.S. West Coast to the Far East, face masks have become an essential component of our daily lives. Although we do not consider them the fanciest accessory item at our disposal, we must recognize the part they play in keeping us safe, so we recommend our readers to make face masks an inescapable part of their wardrobe.
Since face masks became a regular part of  our lives, most women found them incompatible with skin care products, such as makeup and moisturizers. However, wearing a face mask should not come between you and your desired look. Instead, think of it as an  excellent opportunity to reconsider which skin care products suit you best!
How to Regain Confidence And Self-Esteem?
For some, adjusting to wearing a face mask can be tough. Since the facial skin needs time to adjust to constant face mask usage, you might be experiencing breakouts, irritations, and extra sweating, further lowering their self-esteem and confidence. Are you ready to look your best while wearing a mask? Here are some useful tips for you to consider.
How to Keep Your Face Skin Hydrated
Because of the quarantine and the face masks, dermatologists have reported more cases of sensitive skin, acne breakouts, and general skin irritation than usual. Moreover, there has been an increase in patients reporting oily facial skin due to high anxiety and stress levels.
Although a reliable defense against the coronavirus, face masks can cause several uncomfortable side-effects, so keeping your skin hydrated is the perfect response! We recommend purchasing a gentle cleanser and a light moisturizer, adding a retinol treatment for glowing skin!
Protect Your Skin From UV Rays
Patients have been experiencing more sensitive skin due to a lack of time spent outdoors. To ensure skin protection from harmful UV rays that can penetrate through clothing, we recommend using camouflage makeup, since it leaves fewer marks on the mask, and it can provide you with a stunning bronze look for the summer.
Learn How to Accentuate Your Eyes
Once your facial skin is hydrated and protected from harmful UV rays, you can focus on the visible facial areas. Since the face masks conceal most facial areas, we consider this an excellent opportunity for women to accentuate their eyes. Experimenting with bold styles and shades out of women's comfort zone can help them redefine their style.
Makeup Tips For Eyelashes
The easiest way for women to accentuate their eyes is by amplifying their eyelashes. For this effect, we recommend purchasing two different types of mascara, one that provides long eyelashes, and one to amplify their volume.
Minimize Natural Signs of Aging Around Your Eyes
Face masks cover a large proportion of our lower face, which means the natural aging signs on the upper face are more noticeable. To enjoy a brighter, younger-looking appearance, an effective eye serum or a dermal repair cream can be of assistance. These products, using the benefits of hyaluronic acid, create a plumping effect to minimize the fine lines, wrinkles, and crow's feet around your eyes while keeping your skin moisturized.
How to Accentuate Eyebrows
When wearing a face mask, eye grooming and facial skin care are the base for astonishing looks. However, as a final touch, focusing on the eyebrows can be an excellent investment, since they take part in framing the face and highlighting the eyes. The time spent at home during the pandemic is the right occasion for you to tweeze stray hairs and regrow your eyebrows.
Use short strokes to enhance your eyebrow shape and give it a more natural look. Regardless of the makeup kit, whether it includes an eyebrow pencil or a brush and powder, this tip will help you enjoy stunning eyebrows throughout the day. Make sure to snip your hairs here and there for a more consistent look.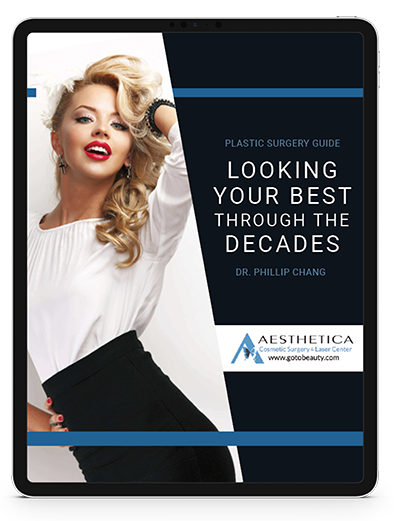 Insider's Roadmap to Every Decade of Life
Follow us on Youtube and watch our latest videos about plastic surgery procedures.
Don't Let Wearing a Face Mask Come Between You And Your Self-Confidence.
For advice on the best cosmetic solution for you, we invite you to simply come in for a complimentary consultation with Dr. Chang or one of the cosmetic laser and injection nurses to explore whether you would make a good candidate. To find out more whether Aesthetica can help you, contact us online or at 703-729-5553 to arrange an appointment. Dr. Phillip Chang is a board-certified plastic surgeon in Northern Virginia near Leesburg, Virginia and an expert in a wide variety of cosmetic treatments.
Our office can provide you with helpful information, schedule a free consultation, and walk you through the many services and procedures we provide.
Contact Dr. Chang's Office:
Stretch marks affect men and women of various ages and backgrounds. These silver, reddish, or purple streaks appear on different body parts, often evoking feelings of self-consciousness. But what exactly are stretch marks, and what causes them? In this detailed guide, we will delve deep into the types and causes of stretch marks, shedding light on this common skin concern.
Read More »