How to Help Dermal Fillers Last Longer

It's not difficult to understand why dermal fillers have become one of the most popular choices for patients who want to reverse natural aging signs: efficiency and price are contributing to the growing number of dermal filler procedures undergone every year in the U.S. On a constantly-growing market, dermal fillers are quickly becoming the top choice for patients who want to temporarily regain lost facial volume while minimizing fine lines and wrinkles.
How Long Do Dermal Fillers Last?
While there's no debate concerning the quality of dermal fillers, the topic which raises a lot of interest for patients is how to make dermal fillers last longer. The results of most dermal fillers can last anywhere from 6 to 24 months, depending on the product. However, patients can increase the longevity of dermal fillers by following a simple set of guidelines that we're about to discuss in this article.       
One of the most common causes for reduced result longevity is overexposure to the sun's UV rays. With the summer season heading to an end, most patients risk damaging their skin by spending dangerous amounts of time under the sun's harmful rays without taking proper safety measures.
We consider consistent protection against UV rays as one of the most effortless methods to ensure result longevity, especially post-treatment. During sun exposure, it is recommended that the patients apply broad-spectrum sunscreen – SPF 45 or higher – to their facial skin and avoid outdoor activities during peak UV hours. Additionally, a wide-brimmed hat can be a useful accessory during warm, sunny days.
While keeping dangerous UV rays away from the skin is an excellent first step, there is always room for improvement. Providing the necessary care to their skin is one of the best ways patients can improve the longevity of their results.
A skin care DIY plan requires constant hydration and the use of suitable moisturizing products, based on the plastic surgeon's recommendations. Patients who drink enough water will keep their skin hydrated and enhance the absorption effect of hyaluronic-based fillers for more volume and fewer wrinkles. Additionally, moisturizing products complement the effects of dermal fillers by keeping the skin youthful and radiant. After the procedure, the plastic surgeon will recommend the most suitable moisturizer for the patient's needs.
It should not surprise anyone that stress plays a significant role in today's society, considering the fast pace everyone has to follow. Whether it comes from the workplace or home, stress impacts our bodies in various negative ways. At the skin level, high-stress levels accelerate the release of hormones such as cortisol, which speed up the aging process and lead to premature aging signs.  
As a result, plastic surgeons deem reduced stress levels essential for increased result longevity. To achieve this, patients must identify and minimize unnecessary stress-inducers while including stress relief techniques into their schedules, such as yoga or meditation.    
Follow a Healthy Lifestyle
Along with proper skin care, choosing a healthy lifestyle has a considerable impact on both skin appearance and result longevity. A proper diet, based on whole, unprocessed foods, is the top suggestion for patients post-treatment. It is recommended that patients limit the intake of products that cause dehydration, such as sugar, caffeine, and salt, while choosing foods rich with antioxidants, such as berries.
In addition to a proper diet, staying away from bad habits, especially from smoking, is essential for a healthy lifestyle and, in turn, for healthy skin. The nicotine found in cigarettes harms blood vessels, leading to dehydrated skin and more pronounced wrinkles over time.
Regular Treatment Maintenance
Following a healthy lifestyle, based on proper diet, reduced stress levels, and proper skin care, is the secret for prolonging dermal filler results. However, this is not a permanent solution. Since the effects of every dermal filler procedure eventually wear off, patients must undergo regular treatment maintenance.
Plastic surgeons can help create a personalized maintenance schedule suitable for both the patient's needs and timetable. Undergoing regular maintenance treatments restores the patient's desired appearance and trains the muscles to respond more effectively to the applied dermal filler, improving result longevity.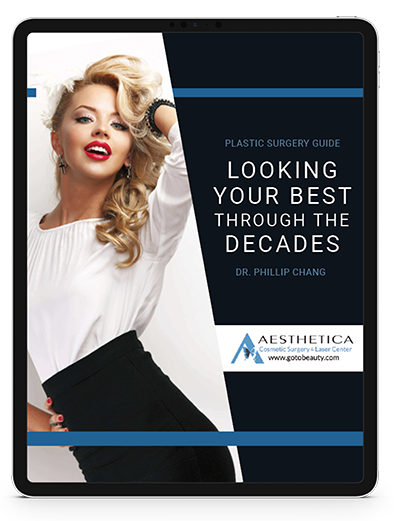 Insider's Roadmap to Every Decade of Life
Follow us on Youtube and watch our latest videos about plastic surgery procedures.
For those wondering whether dermal fillers might be the best cosmetic solution for you, we invite you to simply come in for a complimentary consultation with Dr. Chang or one of the cosmetic laser and injection nurses to explore whether you would make a good candidate. To find out more whether Aesthetica can help you, contact us online or at 703-729-5553 to arrange an appointment. Dr. Phillip Chang is a board-certified plastic surgeon in Northern Virginia near Leesburg, Virginia and an expert in a wide variety of cosmetic treatments.
Our office can provide you with helpful information, schedule a free consultation, and walk you through the many services and procedures we provide.
Contact Dr. Chang's Office:
In a world where first impressions matter, maintaining a youthful and radiant appearance has become a top priority for many. While aging is an inevitable part of life, the beauty industry has evolved to offer various solutions to help defy the hands of time. One such solution that has gained immense popularity is Juvederm, a revolutionary facial filler treatment. In this blog, we will delve into the world of Juvederm, exploring its benefits and how it can help you achieve a youthful appearance. Whether you're looking to reduce wrinkles, enhance your lips, or restore lost volume, join us as we uncover the transformative effects of Juvederm and discover how it can revitalize your confidence and self-image.
Read More »
How Long Do Dermal Fillers Last?