Considering a Lower Body Lift? Check out our FAQs
Sagging or excess skin and fat is an obstacle that many people face at some point in their lives. Various reasons are to blame, including aging, skin stretching due to pregnancy, and extreme weight loss. What is one supposed to do when their skin droops a little or a lot more than they want? Maybe there is some excess weight that just won't budge with exercise and diet? A body lift can fix just that! A body lift will give you back the body image and contour you are looking for, taking sagging and drooping skin away and leaving skin tight and toned!
A body lift is a procedure that removes and improves the appearance of loose or sagging skin and excess fat that usually lingers after substantial weight loss. It refines the contour of the area in which the procedure is performed. A lower body lift addresses specifically the area around the abdomen (including the sides and back), buttocks, and thighs. A body lift can be performed with other surgical procedures such as a breast augmentation or lift or a tummy tuck.
Who is a Good Candidate for a Lower Body Lift?
A good candidate for a body lift would be someone who has a significant amount of loose or sagging body tissue that wishes to look and feel their best in their own skin. It is also in the candidate's best interest to be committed to maintaining a healthy lifestyle through nutrition and exercise, being a non-smoker, and without severe medical conditions that could hinder the recovery process. The more prepared the patient is mentally as well as physically is also important. Ask lots of questions during the consultation!
How is the Procedure Performed?
A body lift is a surgical procedure. On the day of your procedure, the surgeon will confirm which areas will be addressed during the body lift. You will be sedated or put to sleep using anesthesia. The surgeon will make incisions and remove any excess skin. Excess fat may be removed using liposuction. The incisions will then be closed to lift and tighten the desired areas. The surgeon may tighten muscles specifically in the abdomen as well to improve contouring. On average, the surgery will take between three to four hours.
How about the Recovery from Body Lift Surgery?
Many patients chose to remain in the hospital for 2 to 3 days following their body lift surgery, giving nurses and doctors the chance to monitor their recovery and incision sites. However, an outpatient plan for home recovery may be an option for those patients that would prefer to return home immediately following their surgery. The plastic surgeon will wrap the surgical site in bandages and compression garments following the procedure. You shall receive instructions on caring for the incision area and any medications needed to aid the recovery process. There may be drains placed at the incision sites to help collect fluid. Again, detailed instructions will be given on how to care for those as well. Pain, soreness, swelling, and bruising at the incision sites are all expected side effects following the procedure. Medication may be prescribed to help manage the pain.
When Can You Return to Normal Everyday Activities?
Most patients will be able to resume all of their normal activities, including exercise and physical activity, within 2-3 months. Patients with less strenuous jobs can usually return to work within 1-2 weeks, while patients with more physically taxing jobs may need to take 2-3 weeks before returning to work.
How Long Will the Results of a Lower Body Lift Surgery Last?
Body lift results are immediate and permanent. If a stable weight is maintained, the body lift results will remain constant. A body lift does not prevent normal skin aging and loss of tone and elasticity. Things like aging, weight gain, and pregnancy will affect your results over time.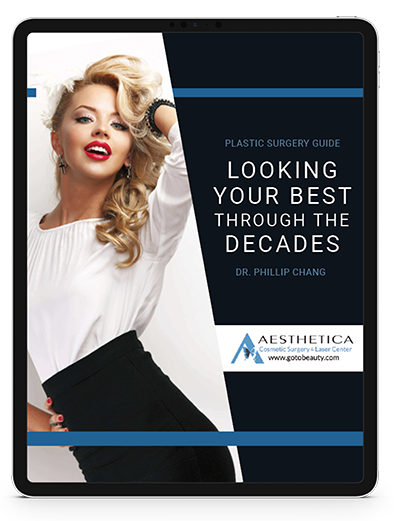 Insider's Roadmap to Every Decade of Life
Follow us on Youtube and watch our latest videos about plastic surgery procedures.
For those wondering whether a lower body lift might be the best cosmetic solution, we invite you to come in for a complimentary consultation with Dr. Chang or one of the cosmetic laser and injection nurses to explore whether you would make a good candidate. To find out more about whether Aesthetica can help you, contact us online or at 703-729-5553 to arrange an appointment. Dr. Phillip Chang is a board-certified plastic surgeon in Northern Virginia near Leesburg, Virginia, and an expert in a wide variety of cosmetic treatments.
Our office can provide you with helpful information, schedule a free consultation, and walk you through the many services and procedures we provide.
Contact Dr. Chang's Office:
What is one supposed to do when their skin droops a little or a lot more than they want? Maybe there is some excess weight that just won't budge with exercise and diet? A body lift can fix just that! Let's talk about a lower body lift procedure!
Read More »