Chemical Peels vs Laser Treatment: Which Would Work Best for You?

4

min read

Trying to decide between a chemical peel and a laser treatment? Both are great options for flawless skin but deciding which one you should get is simply a matter of which one is best for you and your situation. Both treatments accomplish the same goal of improving skin appearance and blemishes. However, they are different in technique, the imperfections you want to target based on your particular skin's needs, how long it can take to see improvement, and how long the results last. Along with the mentioned differences, there can be quite a price difference between the two types of treatments. So when deciding which one would be best for you, it is vital to learn about the differences in what each offers to make an informed decision with results you will be satisfied with.
Chemical peels work well for more basic skin issues such as fine lines, tone, texture. It treats your whole face at the same time since it covers everything. A peel removes the outer layer of skin cells to reveal the fresh skin underneath. So if that is what you want to target, then a peel would do the job. There are different levels of peels ranging from more superficial to more profound. There are light, medium, and deep peels. The result and duration of peels differ on what kind of peel that you get. Some last a month or two, and the deeper ones can last up to ten years. The type of peel you get would determine the duration of results and, therefore, the frequency you may want to receive the treatment.
One of the skin issues that peels have the advantage in targeting is acne. Peels are known for their ability to stop acne and are seen as one of the best therapies for doing so. Laser treatments can treat acne but are not as effective at stopping it from coming back. 
There are many different peels to choose from, which your provider can help you navigate. An example of different types of peels are the SkinMedica Peels: Rejuvenize and Vitalize. Both of these peels have incredible results and will leave your skin feeling fresh and looking healthy.
Laser treatments target specific areas on the face while leaving alone areas that do not need to be addressed. If you desire to treat more intense issues beyond the superficial surface level, then a laser treatment would be better. The laser treatments can address deeper skin issues as they go beyond the outermost layer. Lasers can be more exact because they are easier to control and target specific areas of the face. If your issues are scarring, broken skin vessels, pigment, or wrinkles, laser treatments are the way to go. An example of laser therapy is Broadband Light Laser (BBL), which is excellent for red skin and dark spots.
One advantage that laser treatments have over chemical peels is that laser treatments can be used safely on darker skin tones for deeper skin issues. Targeting more intense skin issues with chemical peels would require a stronger peel, but for someone with a darker skin tone, that can be too rough and cause an injury called post-inflammatory hyperpigmentation. So laser treatment may be a safer choice in that situation. 
The results of laser treatments tend to last longer than peels. For example, the results of a laser treatment may last a few years, whereas some peel results may last a few months. 
While there are many benefits to both kinds of treatments, it all depends on your particular situation with your personal skin needs and desires. Both deliver stunning results and rejuvenate the skin to a healthy and radiant glow. Speaking with your skincare team can help you decide which treatment you would like to move forward with.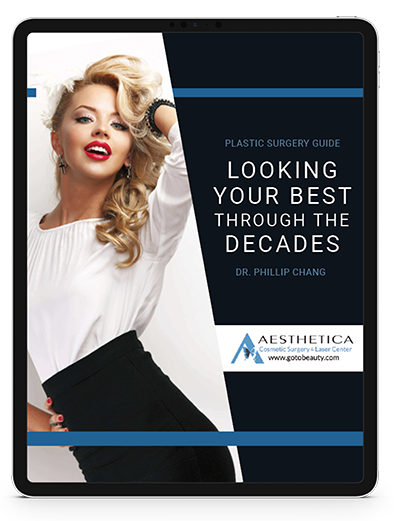 Insider's Roadmap to Every Decade of Life
Follow us on Youtube and watch our latest videos about plastic surgery procedures.
For those wondering whether a chemical peel or a laser treatment might be the best cosmetic solution for you, we invite you to simply come in for a complimentary consultation with Dr. Chang or one of the cosmetic laser and injection nurses to explore whether you would make a good candidate. To find out more whether Aesthetica can help you, contact us online or at 703-729-5553 to arrange an appointment. Dr. Phillip Chang is a board-certified plastic surgeon in Northern Virginia near Leesburg, Virginia and an expert in a wide variety of cosmetic treatments.
Our office can provide you with helpful information, schedule a free consultation, and walk you through the many services and procedures we provide.
Contact Dr. Chang's Office:
Stretch marks affect men and women of various ages and backgrounds. These silver, reddish, or purple streaks appear on different body parts, often evoking feelings of self-consciousness. But what exactly are stretch marks, and what causes them? In this detailed guide, we will delve deep into the types and causes of stretch marks, shedding light on this common skin concern.
Read More »