What Can Facial Fillers Do for You?

4

min read

Some things in life are simply inevitable: taxes, time passing, and wrinkles, to name a few! However, we can do things to minimize or put off the effects of aging on our skin, wearing SPF, having a good skincare routine, and staying hydrated, for example. But let's be honest, none of us are perfect, and days have passed that we've skipped the sunscreen, slept in our makeup, and put our skin routine on the back burner. Even if you have been perfect, everyone will get wrinkles eventually! Over time, we lose fat and protein in our face, causing our skin to sag and wrinkle. But, you don't have to let that slow you down or keep you from looking your best! Fillers are a great way to give your look a little boost and leave your face looking young, fresh, as smooth as silk. 
What Kinds of Fillers Are There?
There are several different types of dermal fillers currently on the market. Here as Aesthetica, we use:
Belotero –

 A hyaluronic acid-based dermal filler with immediate effects lasting anywhere from 6-18 months depending on the specific type of filler and location on the face. Belotero is used to:

Plump lips

Treat acne scarring

Fill in wrinkles and lines around your forehead, eyes, nose, and mouth

Diminish bags under the eyes

Contour cheeks, jawline, and nose bumps

Juvederm – 

This is another hyaluronic acid-based dermal filler. Like Boletero, Juvederm also provides immediate effects but tends to last a bit longer, anywhere from 1-2 years. Juvederm is usually used specifically to plump and fill lines in your cheeks, lips, and around the mouth. It is generally injected deeper than Belotero and has better results for more profound and severe lines and wrinkles. 

Sculptra – 

Sculptra is a poly-L-lactic acid-based dermal filler. It differs from Juvederm and Boletero because Sculptra's active ingredient stimulates the production of your body's own collagen. These types of fillers are often called stimulators. After a Sculptra injection, you will gradually see results over a few months as your body produces more and more collagen. This type of dermal filler is considered semi-permanent and can last several years, though you may need touch-ups along the way. Sculptra is best used for:

Filling in laugh lines

Plumping lips

Diminishing deep nasolabial folds
Non-invasive and Long Term?
As you can see, dermal fillers can be used to treat a wide variety of facial skin issues. They are a remarkably helpful tool in slowing down and even reversing the signs of aging and helping you achieve your own personal desired look. As compared to other procedures such as botox and facelifts, dermal fillers are less invasive, less costly, and can last longer in some instances.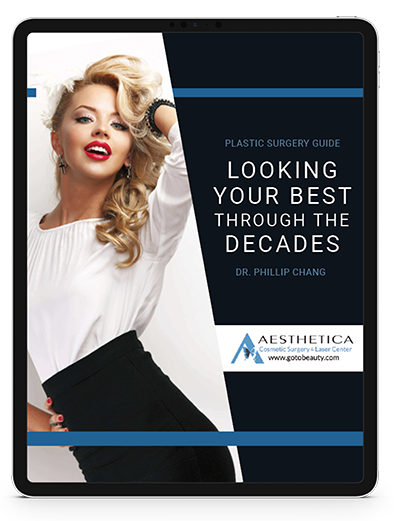 Insider's Roadmap to Every Decade of Life
Follow us on Youtube and watch our latest videos about plastic surgery procedures.
For those wondering whether dermal fillers might be the best cosmetic solution for you, we invite you to simply come in for a complimentary consultation with Dr. Chang or one of the cosmetic laser and injection nurses to explore whether you would make a good candidate. To find out more whether Aesthetica can help you, contact us online or at 703-729-5553 to arrange an appointment. Dr. Phillip Chang is a board-certified plastic surgeon in Northern Virginia near Leesburg, Virginia and an expert in a wide variety of cosmetic treatments.
Our office can provide you with helpful information, schedule a free consultation, and walk you through the many services and procedures we provide.
Contact Dr. Chang's Office:
Stretch marks affect men and women of various ages and backgrounds. These silver, reddish, or purple streaks appear on different body parts, often evoking feelings of self-consciousness. But what exactly are stretch marks, and what causes them? In this detailed guide, we will delve deep into the types and causes of stretch marks, shedding light on this common skin concern.
Read More »