What's the Difference Between IPL and BBL?

In the physical sense, the skin can be considered as our body's first line of defense. It gets direct exposure to sunlight, pollution, smoke, and any other external elements. Aside from this, aging and heredity can also cause it to produce unwanted skin conditions over time.
How can we rejuvenate our skin from these skin conditions? Through IPL and BBL treatments! These light-based therapies have been proven to effectively treat skin issues for many years, aside from other skin therapies like PRP (Platelet-Rich Plasma) and Microneedling.
But let's be honest. With lots of acronyms being thrown around, I know the first thing that comes to your mind is the difference between IPL and BBL. Essentially, they have the same treatment nature, but there is a fine line drawn between the two. 
Let's discuss each of these treatments, how they are performed, and how they differ from each other.
IPL or Intense Pulsed Light Therapy was one of the first light-based therapies that emerged on the market. It effectively treats rosacea, sun spots, scarring, enlarged pores, and dilated blood vessels.
During an IPL treatment, a light-emitting device is first calibrated to determine the corresponding level of heat that will address the specific skin issue. The device will then deliver the pulses of light to the skin, where it is being absorbed by the skin's melanin and red blood cells. 
The heat generated triggers a superficial injury, not to harm your skin but to activate its natural healing process. When your skin sheds itself, the result is glowing new skin, thanks to the newly produced collagen and elastin!
Melasma, for example, is a skin condition that causes brown spots around your face, which is caused by hormonal fluctuation due to aging. IPL can quickly and easily treat this condition.
However, for IPL treatment, you should be extra careful as Northern Virginia is swamped with entities that offer this service. Make sure that you trust only qualified professionals that also use medical-grade IPL equipment to ensure quality and lasting results.
When you undergo surgery through IPL, you will need to attend three to five treatment sessions to ensure the best results, depending on what area of the body is affected and the level of skin damage.
Now let's take about BBL or what is commonly known as Broadband Light Therapy. In a nutshell, BBL is the revamped version of IPL. It's the future of light-based therapy!
The BBL equipment has advanced cooling features, which grant high-powered energy while keeping the pain and side effects at a minimum. It also has a broader range of settings, so it is even more controllable. 
The BBL treatment aims to target skin problems, not just on the surface but deep down under the skin. This ingenious method has proven to address the following skin issues:
Rosacea
Irregular or uneven skin texture
Acne
Acne scarring
Dilated blood vessels
Fine lines
Birthmarks
Sagging skin
The heat that the BBL device harnesses will aim for dark pigments under the skin. This will help trigger the natural skin repair process and stimulate collagen growth.  
An astonishing feat the BBL boasts is the ability to effect rejuvenation at a molecular level. A study has revealed that BBL technology can make the skin younger by rejuvenating the genes.
Unfortunately, BBL treatment is not for everyone. Those with herpes infections, skin injuries, sunburn, and other related skin infections cannot undergo this treatment.
There is a big difference between the two treatments, but they also share some similarities like the ones below:
Both treatments are non-invasive
Both can treat numerous body parts
The number of treatment sessions varies on the patient's case
The duration of benefits
So how do they differ from each other? To start, the BBL treatment is more accurate and specific compared to IPL. Unlike IPL, BBL targets skin problems at the source, far below the skin layer. It is also more advanced than all other light-based therapies, not just IPL, because it can target darker skin types.
In terms of the number of treatments, BBL requires less than IPL. For example, if you are required to have 6 IPL treatments, for BBL you will only need 3. With a lesser number of treatments, there is minimal risk of complications and lesser downtime.
Yes, technology and performance-wise, BBL is far superior, but still, you have to be cautious in choosing your service provider and not just choose the cheapest one on the list.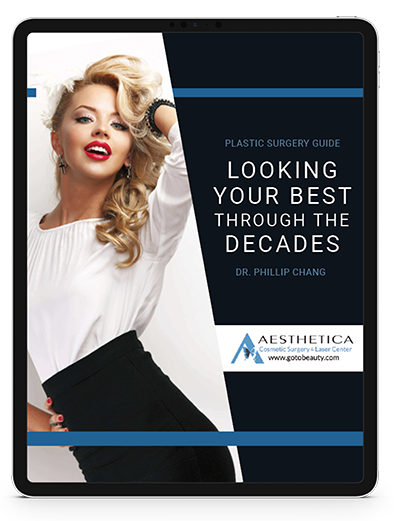 Insider's Roadmap to Every Decade of Life
Follow us on Youtube and watch our latest videos about plastic surgery procedures.
For those wondering whether IPL and BBL might be the best cosmetic solutions for you, we invite you to simply come in for a complimentary consultation with Dr. Chang or one of the cosmetic laser and injection nurses to explore whether you would make a good candidate. To find out more whether Aesthetica can help you, contact us online or at 703-729-5553 to arrange an appointment. Dr. Phillip Chang is a board-certified plastic surgeon in Northern Virginia near Leesburg, Virginia and an expert in a wide variety of cosmetic treatments.
Our office can provide you with helpful information, schedule a free consultation, and walk you through the many services and procedures we provide.
Contact Dr. Chang's Office:
If you're hoping to eradicate wrinkles and lines across your face, you've come to the right place. Through the use of either or both FDA-approved dermal filler brands, Juvederm and Restylane, you can beat the sun to the game of aging with an anti-aging solution.
Read More »