Everything You Need to Know About Keloid Scars and How to Have Them Removed
Keloids are bumpy, overgrown scar tissue that may become bigger than the original wound. They are very firm, prominent, and sometimes cause itching. If they grow large enough or find themselves on parts where they get a lot of friction, they might cause discomfort and make it difficult to move.
Keloids can look worse than they truly are, but they are generally harmless. However, they can negatively affect your self-esteem, especially if you have them on apparent areas like the earlobe, arms, face, or neck.
There are plenty of ways for you to minimize and flatten out keloids. However, if you want something done about your appearance right now, keloid removal surgery might be your best option. First, we are here to answer all your burning questions, including, "How much to get a keloid removed?" or whether there is a keloid removal doctor near me.
Who Is More Prone to Getting Keloids?
Factors such as genetics, ethnicity, and age can affect your tendency to develop keloids. For example, pregnant women and people under 30 are more prone to forming them because of the fluctuating hormones. Wounds in younger people also heal faster, which means that they scar a lot quicker. Keloids are also more common in darker-skinned people, Latinos, and Asians. Interestingly, people with lighter skin color rarely form keloids.
Studies have shown that people with a gene called AHNAK may be more likely to develop keloid scars versus those who do not. Nevertheless, you probably will not need a test for this gene if you have access to your family tree. Chances are, if your parents had keloids, you might develop them as well.
If you know for sure that you are genetically predisposed to keloids, you can prevent them by avoiding unnecessary piercings, tattoos, and surgeries. Remember that any wound can cause your scar tissue to build up. You might end up spending more money on keloid removal than on your new piercing. If you are injured, you can prevent keloid formation by using compression dressings and a silicone gel pad to keep the skin calm.
How Can I Manage My Keloids?
The best way to manage keloids is by preventing the formation of a large, hardened scar. While the scar is still new, you can prevent inflammation by using home remedies, including crushed aspirin tablets and garlic cloves. These should be applied to the skin, allowed to dry, and washed off in an hour or two. You can also apply moisturizing oils and creams to make the scar tissue softer. Lastly, use gentle exfoliators on the scar to slough it off little by little.
Your doctor may recommend corticosteroid injections, especially if the scar is still in its earlier stages. They might minimize the appearance of keloids, but they do not always work perfectly. If you decide on keloid removal surgery, you might still need corticosteroids to help soften the scar before your procedure.
Some small keloids can go away without surgery, but some large scars need to be surgically removed. Opting for cosmetic surgery on your keloid scars may be tricky since some procedures might end up causing more scarring. Therefore, it is critical to do your research first and consult an expert surgeon on the best possible option.
What Options Do I Have for Keloid Removal Near Me?
A trained, licensed cosmetic surgeon, who will take preventive measures to ensure that the surgery does not lead to more keloid formation, must perform surgical removal of the keloid.
Laser treatments are another option. Specialized beams of light will be applied to the skin surface to smoothen out any bumps. With this option, though, there is still a risk of irritation, redness, and more scarring. Therefore, a skilled surgeon will assess the likelihood of keloid formation following a laser treatment.
Cryotherapy or cryosurgery is possibly the most effective way to remove keloids. It works by freezing the scar with liquid nitrogen, cutting off oxygen to the tissue, and causing it to die out. The surgeon can then remove the dead scar tissue without any risk of scarring.
The cost of keloid removal will typically run from $300 to $3,000 depending on the size and area of the scar. However, costs aside, the success of the surgery largely depends on the skill of your cosmetic surgeon. Dr. Phillip Chang from Aesthetica Cosmetic Surgery & Laser Center is a highly skilled, well-trained, and multi-awarded plastic surgeon who is more than ready to deal with your keloid troubles. Make sure that you schedule a complimentary consultation with Dr. Chang to learn how his expertise and aesthetic approach can help you get rid of keloid scars in a pleasant, painless manner.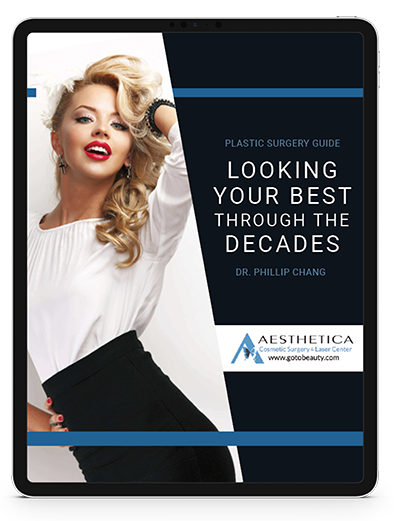 Insider's Roadmap to Every Decade of Life
Follow us on Youtube and watch our latest videos about plastic surgery procedures.
For those wondering whether keloid scar removal might be the best cosmetic solution for you, we invite you to simply come in for a complimentary consultation with Dr. Chang or one of the cosmetic laser and injection nurses to explore whether you would make a good candidate. To find out more whether Aesthetica can help you, contact us online or at 703-729-5553 to arrange an appointment. Dr. Phillip Chang is a board-certified plastic surgeon in Northern Virginia near Leesburg, Virginia and an expert in a wide variety of cosmetic treatments.
Our office can provide you with helpful information, schedule a free consultation, and walk you through the many services and procedures we provide.
Contact Dr. Chang's Office:
Age can quickly take its toll on our bodies, especially our faces. So many women wish to bring back their younger selves' beautiful shape and aesthetics. So, why not do something about it? Your dream looks might lay a mini-facelift away!
Read More »