Laser Hair Removal Side Effects: Should I Be Worried?

5

min read

The standards of beauty are constantly changing. Today, hair removal has become a famous form of beauty practice. Of course, it still goes down to every individual's personal preferences. But if you choose to get rid of body hair, you may be looking for a long-term or even a permanent method. Shaving, plucking, and waxing are some of the most used and famous ways to remove unwanted body hair. These techniques are short-term, allowing the hair to grow back quickly. 
This is why people may think again about their choice of hair removal. And so, laser hair removal, which has been around for ages, is gaining even more popularity nowadays. This procedure is non-invasive and non-surgical. It uses highly concentrated lasers and targets hair follicles to minimize future hair growth. This technique is effective in slowing hair growth but does not necessarily guarantee permanent removal of hair. 
Why Should You Opt for Laser Hair Removal?
Laser hair removal dispels a person's unwanted hair on the face, body, legs, armpits, and pubic area. You can get it done on any part of your body. Laser beams heat up and damage the hair follicles to suspend the production of unwanted hair temporarily. As a result, the hair grows back lighter, more refined, and even lesser in number. This technique also minimizes the risks of ingrown hairs that aggravate your skin, which you can get through other hair removal methods; the use of lasers keeps the surrounding skin safe. 
Each light flash only takes approximately less than a second but can ultimately treat various hairs in an excellent time. In addition, its speed eliminates the possibilities of hyperpigmentation in the treated areas. During the treatment, you will not feel the heat from the tiny laser beams. Instead, you may feel sensations like minor zaps or a light snapping of a rubber band on your skin that is less painful than waxing. 
After several sessions, most patients claim that they have permanently kept their hairs from coming back. Although laser hair removal requires several sessions and occasional maintenance, its multiple benefits, in the end, make it a lot of people's hair removal technique of choice. 
What Are the Risks of Laser Hair Removal?
Are there side effects of laser hair removal? People who are new to laser hair removal may be wary of the side effects it may bring. So before diving into the world of lasers, it is best to do thorough research. And most importantly, turn to your well-rounded plastic surgeon to address all your questions. In some cases, laser treatment can trigger more hair growth, which is something you are avoiding. Some hair types will grow thicker and longer with laser stimulation. But this is not something to be worried about. Your plastic surgeon will let you know if your hair is unsuitable and propose other hair removal methods that fit your needs. 
The skin may feel itchy and possibly look like goosebumps after the treatment but will subside in an hour or two. After a few days, the treated areas of the skin may appear sunburned. This is not something to be alarmed of as it is easily managed by applying moisturizers and cold compresses. 
Over the next month, the treated hair will fall out. Therefore, it is best to limit sun exposure. Applying sunscreen and using it for the following months will avoid skin discoloration. People with darker skin tones can have blisters, although this side effect is generally rare. Other potential risks include swelling, redness, and even permanent scarring.
It would help if you always chose a licensed professional to help you, someone who has a thorough knowledge of the skin and the use and effects of laser treatments. Qualified and experienced practitioners in licensed clinics like Dr. Phillip Chang, the head of Aesthetica Cosmetic Surgery & Laser Center, are who you should be looking for a highly safe procedure. They only use FDA-approved lasers that ensure effectiveness. 
Large areas would not be a problem as the advanced machine can cover them fast. When performed by a skilled professional, you should not be worried about any side effects of laser hair removal treatment. It should be less painful than plucking or waxing; however, that depends on the treated area and every patient's pain tolerance. However, if done under the hands of the inexperienced and performed improperly, it may pose more danger than good. Permanent changes in the skin and its color, burns, and scars may occur.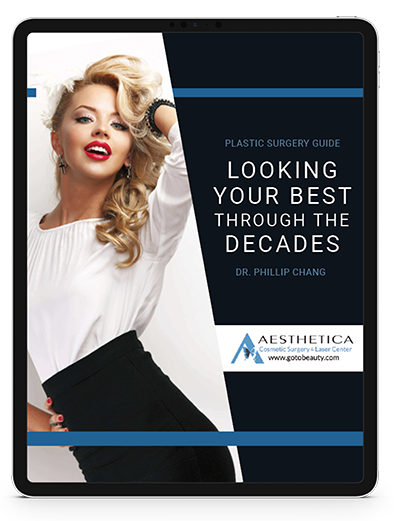 Insider's Roadmap to Every Decade of Life
Follow us on Youtube and watch our latest videos about plastic surgery procedures.
For those wondering whether laser hair removal might be the best cosmetic solution for you, we invite you to simply come in for a complimentary consultation with Dr. Chang or one of the cosmetic laser and injection nurses to explore whether you would make a good candidate. To find out more whether Aesthetica can help you, contact us online or at 703-729-5553 to arrange an appointment. Dr. Phillip Chang is a board-certified plastic surgeon in Northern Virginia near Leesburg, Virginia and an expert in a wide variety of cosmetic treatments.
Our office can provide you with helpful information, schedule a free consultation, and walk you through the many services and procedures we provide.
Contact Dr. Chang's Office:
Stretch marks affect men and women of various ages and backgrounds. These silver, reddish, or purple streaks appear on different body parts, often evoking feelings of self-consciousness. But what exactly are stretch marks, and what causes them? In this detailed guide, we will delve deep into the types and causes of stretch marks, shedding light on this common skin concern.
Read More »