Can A Saline Implant Rupture? Signs That You Need to Change Your Breast Implants

5

min read

Getting a saline implant might be one of the best decisions you've ever made, and you should feel ecstatic about it. Everything's the right size and in the right places, and looks splendid. You were so sure about this procedure that you confidently got it done without worrying so much. Or maybe there is one lingering question in your mind, can saline implants rupture, and what should I do?
The formulation for saline implants these days is more coagulated that prevents the same issues it had two decades ago, plus the capsule that holds the saline implant is now thicker and is less likely to tear or rupture. Still, it doesn't mean that there is no chance in the universe that these will last as long as you want them. So, to help you quell your nagging – and possibly barreling thoughts in your head, here are a few questions that will help clear things out. 
How Hard Is It for a Saline Implant to Rupture?
The development of saline implants over the years made the shells thicker to prevent spontaneous ruptures. Right now, with proper care, the cases of a rupture stand at only 1%. It will take significant trauma to put your implants at risk of leaking. This includes accidents (topping the list is vehicular accidents), accidental punctures during medical procedures in the area such as biopsies, or mishandling during the procedure. 
Nevertheless, with a good provider such as Dr. Chang, you won't need to worry about any of these, Especially about over or under filling the implants that can cause rupture. You won't need to think about the possibility of defects, mishandling, or accidentally nicking the implants while you're getting them. A superior practitioner will be able to discuss all of these with you and assure you that it should not be a reason for concern – you can quickly tell this by the practically nonexistent number of rupture or leak cases they've had. 
What Are Saline Breast Implant Rupture Symptoms?
There are a few obvious signs that will easily compel you to say, "My saline breast implant is leaking." This includes: 
Gradual or drastic decrease in breast size
Decrease in the fullness of the breasts
Decrease in the firmness of the breasts
Disfigured shape or lopsidedness
If you think you're just getting a little paranoid, you should also note that apart from the obvious ones, there are still a couple more symptoms that should raise the red flag. This includes headaches, nausea, and some discomfort (even possible soreness) just a couple of days after the implant was installed. 
Now that we're at this part, you might now start thinking if a saline implant leak can harm your health. The answer is no. The formulations in these implants are not dangerous, they are non-toxic, and you don't need to worry if your body gets exposed to the solution.
What Should I Do in the Event of Saline Breast Implant Rupture?
The first thing you need to do after you've realized your implants are leaking is not to panic. Remember that this poses no danger to your health, but it doesn't mean you don't need to get it fixed as soon as possible. Know that saline breast implants are not meant to last forever. These are typically good for a maximum of 10 years – assuming no accidents or trauma can cause leaks or ruptures. 
You have two options: get an implant replacement surgery or implant removal surgery if you no longer want to keep your implants. However, it would help if you considered a couple of things before you make your final decision.
If you want to decide to get rid of your implants thoroughly, you must discuss this with your practitioner so they can walk you through the process. This will include providing you with the recommendation not to immediately go through with it without first understanding what will happen if you don't get a breast lift afterward. If you don't do this, you'll end up with extra skin on your breasts that were stretched out by the implants and will no longer snap back in place.
On the other hand, if you want to have your implants repaired, you can opt to change the size of the original ones you had. So be careful with this decision, because if you decide to increase the size, you'll only get one shot, and changing your mind immediately after it's done will not be wise.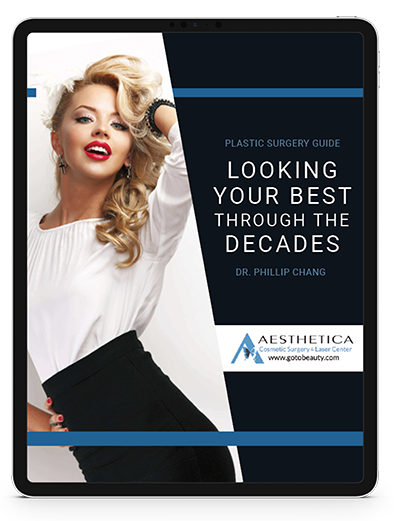 Insider's Roadmap to Every Decade of Life
Follow us on Youtube and watch our latest videos about plastic surgery procedures.
For those wondering whether breast augmentation might be the best cosmetic solution for you, we invite you to simply come in for a complimentary consultation with Dr. Chang or one of the cosmetic laser and injection nurses to explore whether you would make a good candidate. To find out more whether Aesthetica can help you, contact us online or at 703-729-5553 to arrange an appointment. Dr. Phillip Chang is a board-certified plastic surgeon in Northern Virginia near Leesburg, Virginia and an expert in a wide variety of cosmetic treatments.
Our office can provide you with helpful information, schedule a free consultation, and walk you through the many services and procedures we provide.
Contact Dr. Chang's Office:
Stretch marks affect men and women of various ages and backgrounds. These silver, reddish, or purple streaks appear on different body parts, often evoking feelings of self-consciousness. But what exactly are stretch marks, and what causes them? In this detailed guide, we will delve deep into the types and causes of stretch marks, shedding light on this common skin concern.
Read More »