Breaking Down the Top Breast Lift Myths

5

min read

Numerous women consider breasts to be their most feminine attributes. It is so sad to see your breasts sag over time, but the reality is simply that naturally perky breasts do not last forever. Factors such as aging, changes in weight, pregnancy, breastfeeding, genetics, and gravity can make your breasts sag and lose their elasticity. These are all normal stages and circumstances that any woman may have to go through. So if you feel the need to boost your image a bit, who's to stop you?
Getting a breast lift is not something you need to fear or be ashamed of. An expertly done breast lift can do wonders to boost your "girls" and your self-esteem. If you are looking to have a breast lift in Northern Virginia but have no idea where to start, you will find the answers to your questions right here. Find out more about the top breast lift myths below!
Common Breast Lift Myths Debunked
Myth #1: You Can Lift Your Breasts Naturally with Exercise
Exercise can strengthen the chest muscles and reduce fat around the area, but it does not do anything for skin elasticity. A breast lift is still the best option if you want immediate and noticeable results.
Myth #2: You Can't Breastfeed after a Breast Lift
Your decision to improve your breast shape does not have to affect your breastfeeding. Many mothers continue breastfeeding after successful breast lifts. Make sure to talk to your doctor about your plans for the future so he can include any crucial factors in his preparations.
Myth #3: A Breast Lift Can Increase My Breast Size
Implants are more suited for those who want to increase the volume of their breasts. Opting for a breast lift will result in a perkier, younger-looking shape, but it will not affect your breast size. Speak with your doctor about what kind of look you want to achieve. They will help you make the right decisions and choose a procedure that is appropriate for your goals.
Myth #4: There Will Be Hideous Scars
Minimal scarring is expected after the procedure. Scars will typically form around the areola and may extend downwards or may appear near the breast crease. More often, any scars will lighten and may disappear entirely over time. Still, you need to take care of your skin, especially while it is still healing. Plastic surgeons encourage the use of scar-reducing creams for some time after surgery.
Myth #5: You Can't Touch the Skin Near Your Nipples
Some women choose to reduce the size of their areolas. This can be done together with your breast lift procedure. Consult your surgeon beforehand if it is something that you want so that they can check if it is right for you.
How Long Will It Take to Recover from My Breast Lift?
Your healing time will take anywhere from one to two weeks, though most women can return to work after just a few days. Strenuous physical activities should be avoided for three to four weeks. Healing may depend on the type of procedure you have had and on how you have managed your body afterward. It is a good idea to take a few days and rest after your breast lift. Remember that you need to take care of your body and let it heal properly so it can bounce back healthy.
You may need to wear a supportive bra for a few weeks after your surgery. This will relieve the strain on your healing skin and help your incisions heal faster. The compression will also prevent too much swelling.
What Else Should I Consider before Getting My Breast Lift?
Choosing a skilled surgeon should be your top priority when considering where to get a breast lift. An excellent surgeon knows how to prepare you for the procedure correctly and gets it done efficiently without any worries. He will also inform you on what to expect to make the necessary arrangements and allow for a streamlined procedure.
If you are still looking for an expert on breast lifts in Northern Virginia, consider Dr. Phillip Chang, the founder of Aesthetica Cosmetic Surgery & Laser Center, as your top candidate. Dr. Chang is a well-recognized and respected specialist in the field of cosmetic surgery. For the past three years, he has been on the list of "Top 10 Plastic Surgeons" in Loudoun County and has earned many awards for his talent and compassion towards his patients.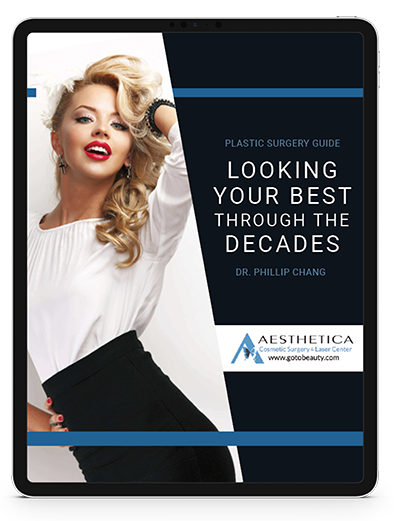 Insider's Roadmap to Every Decade of Life
Follow us on Youtube and watch our latest videos about plastic surgery procedures.
For those wondering whether a breast lift might be the best cosmetic solution for you, we invite you to simply come in for a complimentary consultation with Dr. Chang or one of the cosmetic laser and injection nurses to explore whether you would make a good candidate. To find out more whether Aesthetica can help you, contact us online or at 703-729-5553 to arrange an appointment. Dr. Phillip Chang is a board-certified plastic surgeon in Northern Virginia near Leesburg, Virginia and an expert in a wide variety of cosmetic treatments.
Our office can provide you with helpful information, schedule a free consultation, and walk you through the many services and procedures we provide.
Contact Dr. Chang's Office:
Navigating the world of breast augmentation means facing some crucial decisions, and one of the most discussed is whether to place implants over or under the chest muscle. This article delves into the nitty-gritty of both options, highlighting the pros and cons to help you make an informed decision.
Read More »