Mommy Makeover Recovery Expectations

5

min read

One of the most beautiful gifts in life is that of pregnancy and childbirth. Holding a precious little one is a feeling that no parent ever forgets. However, after childbirth, sometimes mothers want a little bit of help in getting a new figure. Here at Aesthetica, we love helping mothers' achieve their body goals with our Mommy Makeovers!
What is a Mommy Makeover?
A mommy makeover sums up numerous cosmetic surgical procedures aimed to help re-shape the body to a "pre-baby"-looking condition. Since pregnancy changes the body in a myriad areas, such as the breasts and the abdomen, many mothers opt for multiple procedures. The plastic surgeon usually performs these procedures during one trip to the medical facility, though they could choose to span the treatments over several days.
NOTE: A Mommy Makeover is meant for mothers who are finished having children, and should be undergone once the youngest child is past infancy.  A Mommy Makeover isn't meant for brand-new mothers nor mothers expecting more children.
Why Do Women Choose to Get a Mommy Makeover?
Pregnancy and the postpartum period bring significant changes to the woman's body. Sometimes, even the most healthy and fit women want a boost to help shape their body to a pre-baby appearance. The blessing of both becoming a mother and raising your offspring shouldn't mean that the days of feeling sexy are over — and we're here to help you achieve your goals and feel better than ever with your new baby.
The Problem of Guilt Trip
Like in every case, the arrival of a child takes up the majority of a new mother's schedule: breastfeeding, caring for the baby, etc. Often, society expects the new mother to direct her attention toward her baby 100%, and not leave any time to herself. Although if a mother neglects her own wellbeing and sense of self, it can be detrimental to the newborn's fruitful upbringing. With society's expectations looming, some new mothers experience a sense of guilt when they try to indulge in self-care, called mommy guilt.
The so-called mommy guilt appears when mothers fail to live up to the expectations generated by the society, by the media, or by friends. These, sometimes, unreasonable expectations keep mothers away from improving their self-confidence. However, these emotions are nothing to be ashamed of – more women all across the U.S. harness the beneficial aspects of mommy makeovers to help regain their much-needed self-confidence and give themselves much-deserved attention. Always remember: a happy mother is a great parent.
There are several things you can focus on in advance that will ease the whole recovery process. The starting point would be a well-stacked resting area for yourself. Try to find as many pillows as possible (the bigger, the better), so that your resting body will get the support it needs. Moreover, you should put everything else, such as snacks, laptops, chargers, or even a crossword puzzle book within reach: be ready to kill a lot of your time while waiting on your recovery process to finish.
What Happens Immediately after Surgery?
A mommy makeover doesn't require patients to remain overnight in a medical facility; once you've received your compression garments and pain medication, you can return home to your baby. Because of anesthesia and the pain medication, plastic surgeons do not allow patients to return home on their own after a mommy makeover; a family member or a friend will have to pick you up.
For a Quick Recovery, Rest is Gold
Mommy makeovers that include a tummy tuck take a higher toll on women: more downtime is required. During this time, you must devote yourself to rest and peace of mind — activities such as taking care of the household or running after the baby are off the table. This can easily lead back to the mommy guilt feelings.
While this feeling can be overwhelming, it is imperative that you refrain from all activities that could potentially ruin your mommy makeover results and harm the mother in the long-run. Try to focus on your recovery for upward to 1-2 weeks, after which pain medication is no longer required. At the same time, caring for your baby is essential, so make sure that you arrange for childcare and help around the house for a few days.       
The road to full recovery usually takes around three months, with significant improvements being noticeable from the first two weeks. As you hit week 4, your abdominal compression binder will be complementary, the swelling will disappear, and your energy levels will return to preprocedural levels.
From this moment onward, you will be more than capable of running after your toddler and taking care of your household, while, at the same time, enjoy your newfound confidence and stunning appearance.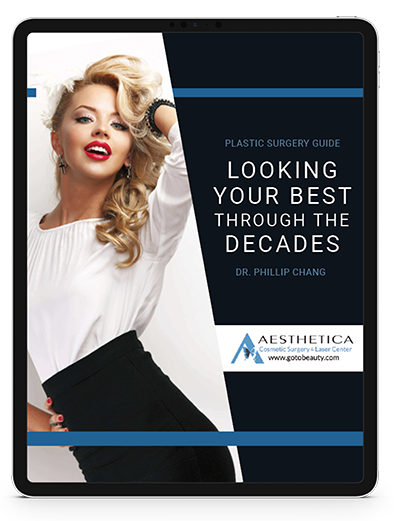 Insider's Roadmap to Every Decade of Life
Follow us on Youtube and watch our latest videos about plastic surgery procedures.
For those wondering whether a mommy makeover might be the best cosmetic solution for you, we invite you to simply come in for a complimentary consultation with Dr. Chang or one of the cosmetic laser and injection nurses to explore whether you would make a good candidate. To find out more whether Aesthetica can help you, contact us online or at 703-729-5553 to arrange an appointment. Dr. Phillip Chang is a board-certified plastic surgeon in Northern Virginia near Leesburg, Virginia and an expert in a wide variety of cosmetic treatments.
Our office can provide you with helpful information, schedule a free consultation, and walk you through the many services and procedures we provide.
Contact Dr. Chang's Office:
Stretch marks affect men and women of various ages and backgrounds. These silver, reddish, or purple streaks appear on different body parts, often evoking feelings of self-consciousness. But what exactly are stretch marks, and what causes them? In this detailed guide, we will delve deep into the types and causes of stretch marks, shedding light on this common skin concern.
Read More »