Have you ever looked at the before and after photos from breast augmentation or breast reduction? If you have, then you'll notice that the end results are all similar. Of course, each woman's body is unique and looks different, but there are commonalities. Why? Because the surgeon knows exactly what makes a beautiful breast.
How do they know what makes beautiful breasts? They use information gathered from studies. Believe it or not, even across cultures, certain breast shapes, sizes, and measurements are preferred.
What Does Science Tell Us About Beautiful Breasts?
Researchers are starting to discover the numbers and measurements behind what people think constitutes a beautiful breast. Over 1,000 participants were recruited for the study, and all were shown many images of the same breasts, just altered to have different measurements and shapes. Participants then selected which ones they found to be beautiful.
The research showed that men and women alike had the same preference for breast size and shape. The research also gave participants different views of the same breasts. The participants all favored the same breasts regardless of view.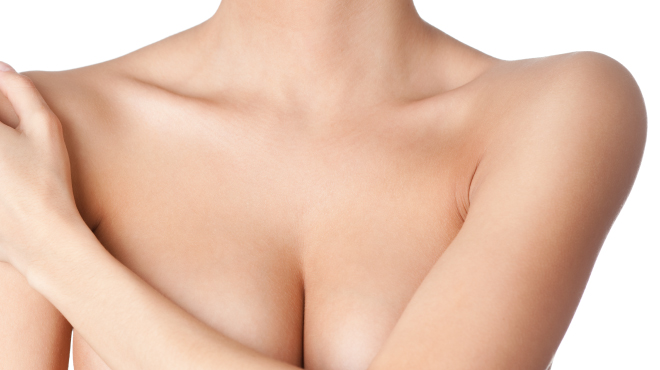 The Ratios And Measurements That Make Perfect Breasts
It was once thought that the larger the breasts, the better. However, science is now showing us that more people care less about the size and more about shape. In fact, the perfect breasts are perky, firm, and have a teardrop shape.
Ratios For The Best Shape
Researchers have discovered the ratio for the perfect breast shape. This ratio is called the 45:55 and means that the perfect breast has 45% of the tissue above the nipple line and 55% below it. In other words, the perfect breast is 10% fuller below the nipple line than above it.
Where Your Nipple Should be Positioned
Studies also show us that perfect breasts have nipples that are pointed up at a 20-degree angle. The more nipples droop, the less attractive the breasts are.
The Area Above the Nipple
The third area researchers have discovered is important to determining breasts attractiveness is the area above the nipple. The perfect breast has an area that slopes straight down or inward.
The Area Below the Nipple
Lastly, research reveals that the perfect breast has an area below the nipple that has an acute curve. It's hypothesized that men find this area attractive because it makes for an easier area to cup.
Research also shows that men and women alike prefer medium sized breasts over large ones as long as they have the 45:55 ratio. A B-cup or small C-cup was rated as the ideal and most attractive size.
The 45:55 Ratio Is Consistent Through The Ages
If you look at ancient Greek statues from around 100 BC, they have this 45:55 ratio and are medium sized. These statues also have breast with perfect nipple size and angle. This tells us that our tastes in what constitutes perfect breasts haven't changed.
This Ratio Is Also Consistent Across Cultures
In another study, researchers polled participants from Cameroon, Brazil, Czech Republic, and Namibia. Their breasts preferences all showed they favored the same size and shape of breasts. This provides us with a good guess that breasts preferences don't change that much across cultures.
Procedures To Give You Beautiful Breasts
There are a few out there that are lucky enough to have perfect, beautiful breasts. However, if your breasts don't look the way you would like, there are many procedures that you can have done.
This is the most common type of plastic surgery performed in the nation. The goal of breast augmentation is to give you bigger, natural looking breasts. This procedure is done by placing silicone or saline implants in your breasts. Fat transfer is another way cosmetic surgeons can give their patients fullness and shape.
Silicone implants are silicone shells filled with silicone gel, and they feel more like real breasts. Saline implants are silicone shells filled with sterile saline (either before or after insertion into the breast pocket) and pose less of a risk if they were to leak. Fat transfer uses liposuction to remove fat from other parts of your body in order to transfer it to your breasts. This is a good option for those wanting a smaller, more natural effect.
Breast Augmentation With Lift
This procedure is for those who have sagging breasts and need to add volume. During the procedure, a silicone or saline implant is placed under the muscle. Excess skin is removed to give you a tighter appearance.
This procedure removes excess skin and tissue while firming up the remaining tissue leaving you with a perkier, more youthful appearance. This is a good option if you have a loss of breast fullness, have drooping breasts or nipples, or have lost breast firmness. The approach we take will depend on the shape and size you're going for.
Most often, women have a breast reduction for health reasons. Large breasts are heavy and can cause back pain. It also has the highest satisfaction rating of any plastic surgery procedure available.
During a reduction, breast tissue and fat are removed to give you smaller breasts. This is done through one of the three types of incisions we use for a breast lift. We'll also take steps to decrease areola size and elevate the nipples to give you the appearance you want. After the procedure, you'll have smaller, perkier breasts.
During this procedure, old implants are removed and replaced with new ones. This is done in order to change the type of implant material or change the size of the implant. Another goal of this procedure is to reshape the breast by doing a lift or altering the breast pocket for the implant.
This procedure is for those who are unhappy with the appearance of their nipples due to breastfeeding, genetics, or other cosmetic reasons. Nipple repair includes restoration of the nipple and areola with the following:
Nipple reduction to reduce size or projection of nipples
Correction of nipple inversion
Areola reduction to change the size of the areola to be more complementary to breast size
The procedure is generally performed along with other breast surgeries; but as a stand-alone procedure, it's simple and doesn't require general anesthesia.
For those wondering whether breast augmentation might be the best cosmetic solution for you, we invite you to simply come in for a complimentary consultation with Dr. Chang or one of the cosmetic laser and injection nurses to explore whether you would make a good candidate. To find out more whether Aesthetica can help you, contact us online or at 703-729-5553 to arrange an appointment. Dr. Phillip Chang is a board-certified plastic surgeon in Northern Virginia near Leesburg, Virginia and an expert in a wide variety of cosmetic treatments.
Our office can provide you will helpful information, schedule a free consultation, and walk you through choosing the right procedure for you.
Contact Dr. Chang's Office:
Stretch marks affect men and women of various ages and backgrounds. These silver, reddish, or purple streaks appear on different body parts, often evoking feelings of self-consciousness. But what exactly are stretch marks, and what causes them? In this detailed guide, we will delve deep into the types and causes of stretch marks, shedding light on this common skin concern.
Read More »