Whether they are big or small, perky or heading South, all women and men have breasts. But, what do we know about them?
1. Breasts Aren't Just Made Of Fat
They are also mammary glands and ducts. When you get pregnant, the milk ducts fill with milk to help feed your baby. Under the glands is muscle and tissue, which separates your breast from your ribs. Alas, as we age fat takes over, our muscle loosens and down they droop.
2. Your Left Breast Is Bigger Than Your Right
Who knows why!! It is usually one fifth larger than the other. Nazanin Khakpour M.D., a surgical oncologist at Moffitt Cancer Center says "They are sisters, not twins." Asymmetrical breasts are the norm.
3. Gaining Weight Can Make Your Breasts Larger
And losing weight can make them shrink! It all depends on the amount of fat tissue you have. The more fatty tissue in your breast, the bigger the changes in them when you change weight.
4. The Average Bra Size In The USA Is 34DD
And nearly 80% of women are wearing the wrong size. It's important to wear the correct size as they can improve posture and prevent spine and back problems. And they perk your breasts up in such a great way.
Did you know? Women in ancient Rome wrapped fabric around their breasts while they exercised, creating the first sports bras!
5. Breastfeeding Won't Cause Breasts To Droop
But smoking might! Smoking messes with our elastin, which keeps skin supple. Although breasts change shape during pregnancy and breastfeeding, they don't mess with the elasticity of the skin.
6. Don't Sleep On Your Stomach
It can cause your breasts to change shape. Basically, lying on your front can make the breast ligaments stretch causing sagginess. Best position for perky breasts – your back.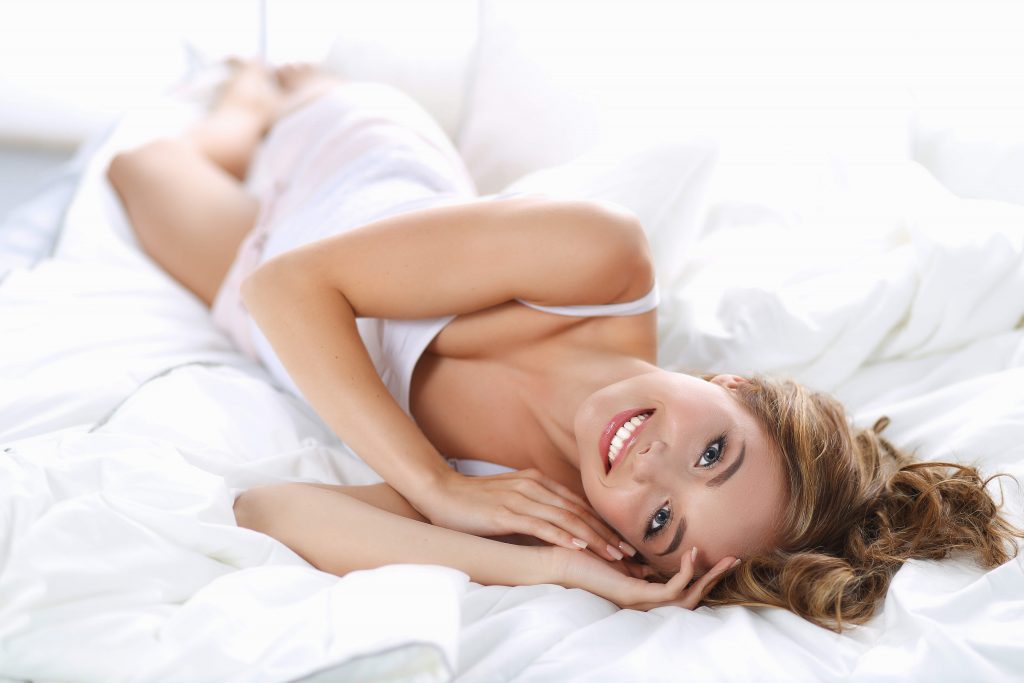 7. There Are 4 Types Of Nipples
Protruding, flat, puffy and inverted. All of these are perfectly normal and healthy.
8. The Average Breast Weighs Around 1 Pound
The heaviest and largest breasts in the world belong to Annie Hawkins-Turner. She wears a size 48V which she has specially made and her breasts weigh nearly 100 pounds!
9. More People Than You Think Have A Third Nipple
Harry Styles, Mark Wahlberg and Tilda Swinton all have one and it hasn't stopped them from getting out there and becoming celebrities. Others, like Carrie Underwood had theirs removed. It's not a big deal.
10. Breasts Stop Growing Eventually
Usually when you get to 25 years of age. Weight gain could add a few pouds, but what you have at 25 is what you have for life.
Last Thing To Know: Breast Augmentation Is Extremely Popular
In 2018, 313,735 people had a boob job – up 4% from 2017. Most women have them after having children and generally only go up one bra size.
FAQs About Breast Augmentation
Want more information on breast augmentation?
For those wondering whether breast augmentation might be the best cosmetic solution for you, we invite you to simply come in for a complimentary consultation with Dr. Chang or one of the cosmetic laser and injection nurses to explore whether you would make a good candidate. To find out more whether Aesthetica can help you,
contact us online
 or at 703-729-5553 to arrange an appointment. Dr. Phillip Chang is a board-certified plastic surgeon in Northern Virginia near Leesburg, Virginia and an expert in a wide variety of cosmetic treatments.
Our office can provide you will helpful information, schedule a free consultation, and walk you through Vectra 3D Imaging of your desired augmentation size.
Contact Dr. Chang's Office:
We often hear about the joy connected to jewelry but not its impact, particularly when it comes to our earrings and earlobes. Or, perhaps it isn't beautiful, weighted earrings, but instead an injury or the typical impact of aging that's caused an issue with one or both of your earlobes? If you need information about earlobe repair, we've got everything you need to know here!
Read More »