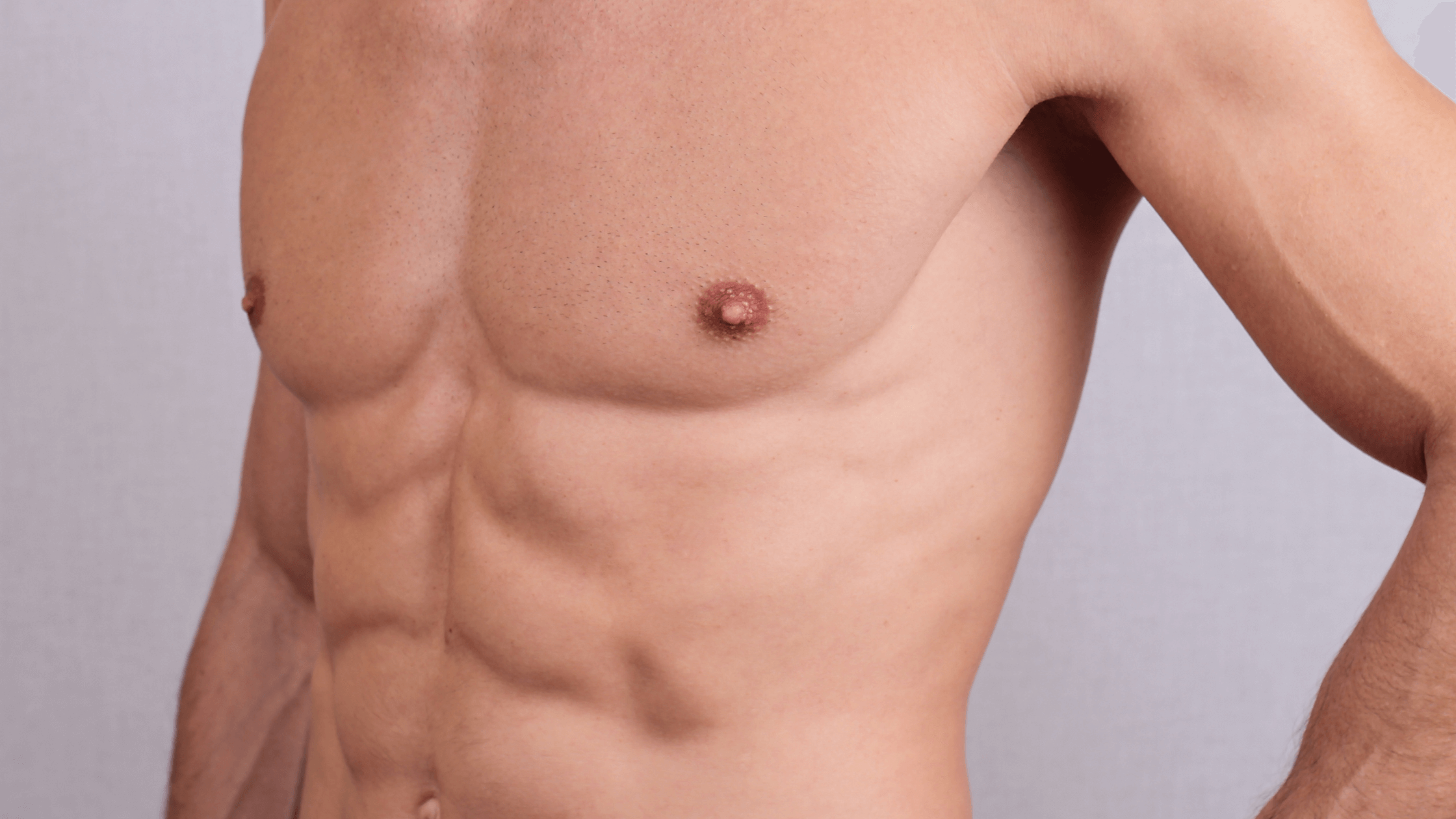 With the cosmetic world's spotlight on non-invasive procedures, CoolSculpting emerges as a vanguard, especially in chest contouring. 
Tailored to eliminate stubborn fat pockets, CoolSculpting offers an innovative avenue for those seeking a chiseled chest without the surgical ordeal!
The Nexus Between CoolSculpting and Chest Contouring
CoolSculpting's prowess isn't limited to common areas like the abdomen or thighs. Its precision and versatility make it equally effective for chest contouring, allowing men to achieve a more masculine and sculpted chest appearance.
Understanding Gynecomastia
Gynecomastia is a condition causing an enlargement of the glandular tissue in the male chest. 
Often mistaken for mere fat accumulation, gynecomastia is influenced by hormonal imbalances, certain medications, and genetic factors. 
The resulting appearance can be a source of embarrassment and a hit to one's self-confidence, making treatments like CoolSculpting a beacon of hope for many.
The Science Behind CoolSculpting for Gynecomastia
While gynecomastia involves glandular tissue, it often accompanies fat accumulation in the chest area. 
CoolSculpting exposes the unwanted fat cells to freezing temperatures, causing them to crystallize and eventually perish. The body then naturally processes and removes these dead cells.
Why CoolSculpting is a Game-Changer for Gynecomastia
The journey to address gynecomastia used to mean surgical procedures with inherent risks and lengthy recovery periods. 
Enter CoolSculpting, a non-invasive technique that has revolutionized our approach to "man boobs:"
Targeted Treatment:

CoolSculpting is adept at targeting specific areas

. In the case of gynecomastia, the device is precisely focused on the enlarged glandular tissue, ensuring the surrounding area remains unaffected.

No Incisions, No Scars:

Traditional methods often leave scars, a lasting reminder of the condition. Being non-surgical, CoolSculpting ensures the chest remains free from any scarring.

Short Treatment Duration:

A typical CoolSculpting session for gynecomastia lasts

35 to 45 minutes

, allowing patients to slot it in during a lunch break.
Post-Treatment Expectations and Care
As the popularity of CoolSculpting in chest contouring continues to rise, understanding the post-procedure journey becomes as essential as the treatment itself. 
While the non-invasive nature of CoolSculpting offers the allure of minimal downtime, the path to achieving the desired outcomes is enhanced by careful aftercare.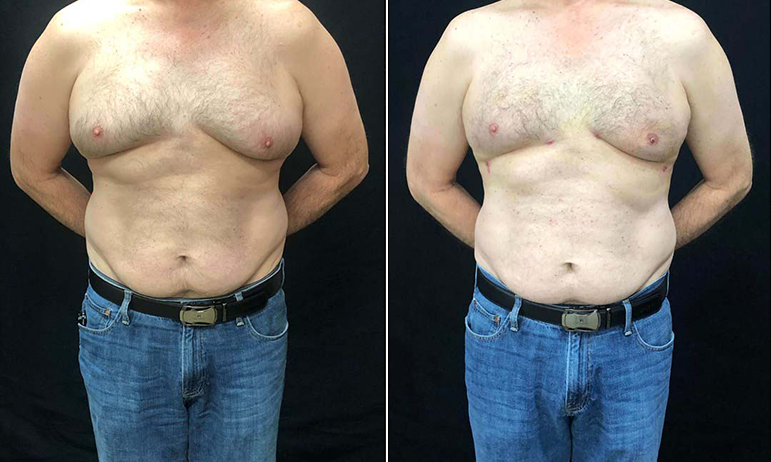 CoolSculpting Aftercare for Chest Contouring: Essential Guidelines
Gentle Post-Procedure Care
The skin in the treated area might exhibit mild symptoms such as redness, tenderness, or a tingling sensation. 
These symptoms are a natural response and generally subside within a few hours to days. 
Handling the skin with care is vital to ensure comfort and prevent any worsening. 
Refrain from using abrasive skincare products or rigorous scrubbing for at least 48 hours. Opt for gentle cleansing and pat the area dry rather than rubbing.
Drinking sufficient water aids in expediting the elimination of the crystallized fat cells targeted during your CoolSculpting treatment. 
Aim for at least 8-10 glasses of water daily, supporting the post-treatment phase and promoting overall skin health and vitality.
Moderate Physical Activity
While CoolSculpting boasts minimal downtime, giving your body the rest it needs is prudent. 
It's advisable to avoid strenuous workouts or heavy lifting for a day or two following the procedure. 
You may resume light activities like walking, but always listen to your body and give it the rest it signals for.
The chest area may feel a tad sensitive after your CoolSculpting treatment. 
Wearing tight or restrictive clothing can cause discomfort and result in unnecessary friction on the treated region. 
Loose, breathable fabrics are ideal in the days following treatment. Consult your care provider regarding when to resume wearing compression garments.
While CoolSculpting is a non-invasive procedure with a high safety profile, every patient's body reacts uniquely. 
It's imperative to monitor the treated area for any unusual signs. Severe redness, pronounced swelling, or persisting localized pain warrants a consultation with your specialist.
In essence, CoolSculpting aftercare for chest contouring is about mindfulness. Being attuned to your body's responses and following these guidelines allows optimal results and a smoother recovery journey!
Begin Your CoolSculpting Journey Today!
Meet us at 19500 Sandridge Way, Suite 350, Leesburg, VA 20176, or call us at (703) 574-4342 for a complimentary consultation with Board-Certified Plastic Surgeon Dr. Phillip Chang before moving forward with your procedure. If everything matches up, our team will help you navigate the entire process from beginning to end. Also, remember to check out our blog and social media for more information on cosmetic surgery trends!
"Male Chest Coolsculpting: Photos, Costs, Reviews."

DaVinci Body Sculpting

, 20 Nov. 2021, davincibody.com/coolsculpting/treatment-areas/male-chest/. Accessed 10 Sep. 2023.

"What Is Gynecomastia? How Does It Affect Men and Boys?"

WebMD

, WebMD, www.webmd.com/men/what-is-gynecomastia. Accessed 10 Sept. 2023.

Prokupek, Dr. Dale. "Can CoolSculpting® Treat Gynecomastia in Men?"

Beverly Hills, CA Medical Aesthetics

, Aesthetic Body Solutions, 26 Jan. 2021, absbeverlyhills.com/blog/can-coolsculpting-treat-gynecomastia-in-men. Accessed 10 Sept. 2023.

Wisco, Lucie. "Coolsculpting: How to Prepare, Procedure, Cost, before and After."

Healthline

, Healthline Media, 15 June 2018, www.healthline.com/health/coolsculpting#risks-and-side-effects. Accessed 10 Sept. 2023.

"Patient Reviews and Testimonials on CoolSculpting®."

Patient Reviews and Testimonials on CoolSculpting®

, www.coolsculpting.com/eliminate-stubborn-fat/see-results/. Accessed 10 Sept. 2023.

"How Much Water Should You Drink after Coolsculpting?"

Ethos Spa

, 6 Sept. 2023, www.myethosspa.com/how-much-water-to-drink-after-coolsculpting/. Accessed 10 Sept. 2023.

WestlakeDermatology. "Exercising after Coolsculpting: What You Should Know – Westlake Dermatology."

Westlake Dermatology & Cosmetic Surgery®

, 8 Nov. 2022, www.westlakedermatology.com/blog/coolsculpting-and-exercise-what-to-konw. Accessed 10 Sept. 2023.
Our office can provide you with helpful information, schedule a free consultation, and walk you through the many services and procedures we provide.
Contact Dr. Chang's Office:
Stretch marks affect men and women of various ages and backgrounds. These silver, reddish, or purple streaks appear on different body parts, often evoking feelings of self-consciousness. But what exactly are stretch marks, and what causes them? In this detailed guide, we will delve deep into the types and causes of stretch marks, shedding light on this common skin concern.
Read More »