What is a Thigh Lift and Other FAQs

4

min read

If you were to ask a woman what's the one thing they wished they could improve about their body with a snap of a finger, I guarantee many would say to have tight and toned thighs! Thighs tend to be a problem area for women across the board. Weight settles in our hips and thighs and can seem almost impossible to slim down even with the most rigorous diet and exercise. In many cases, people choose to get thigh lift surgery to help reshape and contour their thighs and lower body. As a matter of fact, over 10,000 people had thigh lift surgery in 2019 alone. Thigh lift surgery can help you get the thighs you've always wanted and turn some heads as you strut into 2021!
What is Thigh Lift Surgery?
Thigh lift surgery is a procedure done to remove excess skin and fat around the thigh area. A thigh lift can tighten loose and sagging skin and help reshape the thigh, resulting in a smoother, better-contoured thigh and lower body.
Who is an Ideal Candidate For Thigh Lift Surgery?
An ideal candidate for thigh lift surgery is a nonsmoker, who maintains a healthy lifestyle, and has sagging or flabby thighs, and would like to tighten and tone their lower body. Those people who have accomplished dramatic weight loss and are left with a lot of excess skin would also benefit from thigh lift surgery. A thigh lift would be able to remove the extra skin so they could enjoy the legs they worked so hard to achieve.
Will a Thigh Lift Remove Cellulite and Stretch Marks?
Because thigh lift surgery removes excess skin and fat, the appearance of cellulite and stretch marks can be improved. The overall result will be a smoother, slimmer, and shapelier leg. Let your doctor know if you are concerned about cellulite and stretch marks so they can customize a surgical plan to meet your desired outcomes.
How Long Will My Thigh Lift Last?
Your results from a thigh lift surgery are lasting. A thigh lift surgery does not stop the natural aging process so that skin will loosen over time. Things like pregnancy and significant weight fluctuations will affect your results as well. Living an active lifestyle along with a healthy diet will help maintain and prolong the results of your thigh lift. 
What is the Recovery Time for a Thigh Lift?
Most patients only need pain management medication for about 2-3 days following a procedure and can return to work in about 2-3 weeks with mild to moderate soreness. To reduce swelling, compression wraps should be worn for four weeks. You may return to light walking with 10lb weights after five days and aerobic exercise and up to 20lb weights after 21 days. You may return to driving 7-10 days following the procedure, given that you have been off of narcotic medications for at least 48 hours.
What to Expect On the Day of Surgery?
On the day of surgery, you will review your thigh lift's goals and desired outcomes with your doctor. You will be given anesthesia for your comfort during the surgery. Depending on what you are getting done and what thigh area is being worked on, incisions will be made, fat and skin may be removed, and incisions will be closed. Depending on the amount of work being done, the procedure should take around 3 hours.
What to Expect Immediately Following a Thigh Lift Surgery?
Following your surgery, dressings and bandages may be applied to the incision sites. In some cases, a small tube may be temporarily placed under the skin to drain excess fluid. You will be given instructions on properly caring for the incision sites and how to take any pain management medications that may be prescribed properly. Swelling and numbness of the thighs may last anywhere from 3-6 months following your surgery.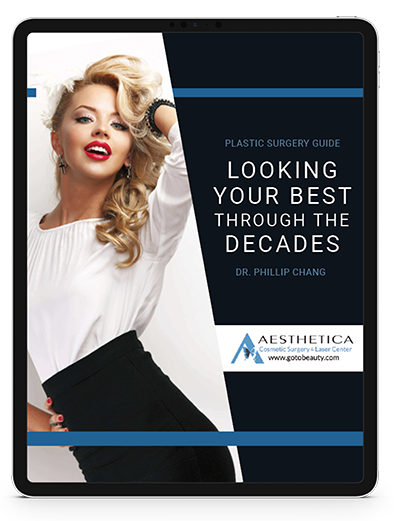 Insider's Roadmap to Every Decade of Life
Follow us on Youtube and watch our latest videos about plastic surgery procedures.
For those wondering whether a thigh lift might be the best cosmetic solution for you, we invite you to simply come in for a complimentary consultation with Dr. Chang or one of the cosmetic laser and injection nurses to explore whether you would make a good candidate. To find out more whether Aesthetica can help you, contact us online or at 703-729-5553 to arrange an appointment. Dr. Phillip Chang is a board-certified plastic surgeon in Northern Virginia near Leesburg, Virginia and an expert in a wide variety of cosmetic treatments.
Our office can provide you with helpful information, schedule a free consultation, and walk you through the many services and procedures we provide.
Contact Dr. Chang's Office:
Stretch marks affect men and women of various ages and backgrounds. These silver, reddish, or purple streaks appear on different body parts, often evoking feelings of self-consciousness. But what exactly are stretch marks, and what causes them? In this detailed guide, we will delve deep into the types and causes of stretch marks, shedding light on this common skin concern.
Read More »