BOTOX for Migraines: Is It Worth It?

5

min read

Do you have chronic migraine that gets in the way of your work, your school, or even your household chores? If your answer is yes, then the answer to the question is also a YES; BOTOX for migraines is worth it, and we will tell you why.
Migraine is more than a simple lousy headache. Chronic migraine is in the top 20 most disabling diseases. Migraine attacks (more than the excruciating pain) get in the way of our job, our studies, and our time with our loved ones.
BOTOX has been around for a while, yet not all people know it can be a preventive therapy against migraine. So how can BOTOX help migraines diminish? Is it as effective as they say it is?
You might have tried all types of over-the-counter and prescription pain killers. Unfortunately, most of these have side effects, and some will also cause you headaches.
BOTOX stands out as a migraine treatment because it has a standardized dosage for all, no matter how severe your condition is. You don't ingest, so your stomach and other internal organs are safe. It is targeted directly to the areas where it is needed.
You might have heard of BOTOX as a cosmetic treatment for wrinkles. It has helped people smoothen out those fine lines and creases for more than three decades.
BOTOX is also approved for other muscle disorders. For example, it was proven to prevent and ease chronic migraine problems only a decade ago.
The FDA made a clinical study on 1,384 adults in 122 different sites in North America and Europe. In October 2010, the FDA announced its approval of Botox as a migraine treatment.
The adults chosen for the study were already reporting chronic migraine symptoms. However, after six months of treatment, they noted incredibly reduced hours of symptoms per month.
Nowadays, BOTOX migraine injections are readily available in most health clinics. It is a valuable addition to the minimal options in easing chronic migraine symptoms.
BOTOX as a migraine treatment, however, is not for everybody. So how would you know if you qualify for BOTOX migraine injections?
According to the FDA, BOTOX is advisable only for people experiencing chronic migraine. Chronic migraine is when you suffer severe symptoms that last for more than 4 hours per day and occur over 15 times per month.
The FDA does not approve BOTOX for those who have episodic migraine or people experiencing fewer and less frequent symptoms. Studies were also done on this group but did not yield effective results.
BOTOX as a Migraine Treatment
Does BOTOX help migraines disappear? How does BOTOX help for migraines exactly?
Chemicals in the brain called neurotransmitters carry pain signals to our nerve endings, thus causing headaches. BOTOX acts as a roadblock to prevent these chemicals from getting to our heads and neck.
BOTOX will not make all your migraines disappear, but the considerable huge percentage of lesser attacks is already a miracle. Not to mention your added productivity at work and presence at family gatherings which you mostly miss because of migraines.
Results vary from person to person but can be experienced as early as two to ten days. There will be a follow-up consultation to check on your progress to provide appropriate adjustments.
BOTOX effects last for three months. If you don't see the result right away, the American Migraine Foundation suggests giving it another go. AMF said to try at least two sessions before giving up on BOTOX for good.
If BOTOX works for you, you'll be amazed at how safe it is to use indefinitely. There are no known side effects except for skin redness and droopy eyelid, but these will all eventually wear off after a few hours.
BOTOX for Migraine near Me
How to find BOTOX for migraine injection sites? If you are in Leesburg, Winchester, Fairfax, or nearby areas, don't hesitate to contact us! We at Aesthetica Cosmetic Surgery and Laser Center are here to help!
Our founder and head, Dr. Phillip Chang, will be more than glad to have a chat with you. He is board-certified and has won many awards, including "Super Doctor 2011- 2013" and "Compassionate Doctor Recognition" for 2011, 2012, and 2015.
For the past three years, Dr. Chang has also been hailed as one of the "Top 10 Doctors" in Loudon County. He was recognized for his patients and fellow physicians' fantastic skill set and attitude.
We at Aesthetica Cosmetic Surgery and Laser Center for over two decades have helped many people with varied problems. Testimonials on our website from satisfied patients will speak for themselves.
We have a team of experts and specialists who will be with you throughout your Botox treatment process. We will provide you with all the information you need before and after the treatment.
If you aren't from Virginia, do come down and visit us! Take the time to dip into the gorgeous community of Lansdowne while you are here. Our favorite lodging, shopping, and dining spots here are truly worth the visit.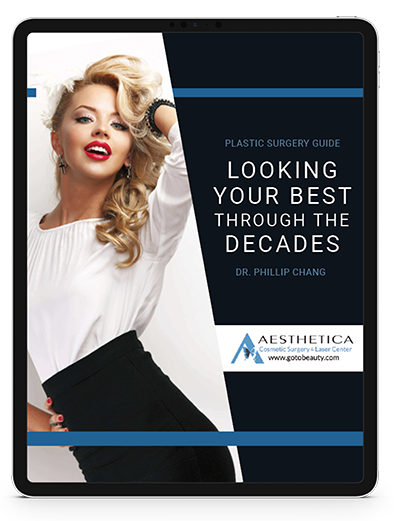 Insider's Roadmap to Every Decade of Life
Follow us on Youtube and watch our latest videos about plastic surgery procedures.
For those wondering whether BOTOX might be the best cosmetic solution for you, we invite you to simply come in for a complimentary consultation with Dr. Chang or one of the cosmetic laser and injection nurses to explore whether you would make a good candidate. To find out more whether Aesthetica can help you, contact us online or at 703-729-5553 to arrange an appointment. Dr. Phillip Chang is a board-certified plastic surgeon in Northern Virginia near Leesburg, Virginia and an expert in a wide variety of cosmetic treatments.
Our office can provide you with helpful information, schedule a free consultation, and walk you through the many services and procedures we provide.
Contact Dr. Chang's Office:
Navigating the world of breast augmentation means facing some crucial decisions, and one of the most discussed is whether to place implants over or under the chest muscle. This article delves into the nitty-gritty of both options, highlighting the pros and cons to help you make an informed decision.
Read More »