Which Celebrities Had Breast Reductions?
With such advancements in the medical field of today's beauty enhancements, there are so many options for men and women to achieve the exact look and feeling they want. Breast reduction surgery is among one of those options. Breast lifts and implants are what most people think of when breast alteration is discussed. But there are a plethora of reasons that a woman might want to reduce the size of their breasts. Back and neck pain are often cited as a reason to have breast reduction surgery, as well as ill fitting clothes and bras. And can you imagine how difficult it can be exercising with larger than average breasts? Many women decide to undergo breast reduction surgery because they want to look and feel their best and feel confident in their own skin. There are many celebrities that have shared their stories of breast reduction surgery as well:
Dana Elaine Owens, belovedly known as Queen Latifah, is among one of the many celebrities to undergo breast reduction surgery. She reduced her breast size from F to DD. She cites back and neck pain as the reason she wanted the reduction. She says she "…had lost 25 lbs and my breasts didn't go anywhere!" She decided to go ahead with the surgery in an effort to alleviate her pain.
Throughout the entirety of the series, Modern Family's Alex Dumphey, grew from a young girl to a grown woman right before our eyes. Her breast size was always in the media's limelight after a red carpet event. Which is one of the many reasons Ariel Winter decided to undergo breast reduction surgery. She states that "people commented more on my cleavage than they did on my talent." When asked why Ariel decided to go through with the surgery at such a young age, she responded, "I was in excruciating pain. I couldn't sit up straight. It was always super uncomfortable for me to sleep, it was uncomfortable to sit, it was uncomfortable to walk. I remember breaking down in dressing rooms because I couldn't find a bathing suit! They just didn't have a top that would fit me. I just didn't feel right." Post surgery, Ariel says she is happier than she has ever been and that she notices the biggest change in her overall mood and confidence!
Comedian and actress known for several amazing roles including her hilarious character Frankie Heck in ABC's "The Middle", Patricia Heaton is not shy about the surgical work she has had done on her body. She underwent breast reduction surgery after having 4 children, claiming, "My breasts were hanging down to here from breastfeeding those babies, and my nipples were like platters. I wanted to fit in the gowns that I finally got to wear."
American actress, talk show host, producer, director, author, and entreupreuneur, Drew Barrymore shares several reasons for her 2007 breast reduction surgery. While back and neck pain were issues she wanted alleviated, she also claims that men were constantly looking at her breasts. She says even her own attention was directed to her breasts far more than she would like. She also said she had difficulties fitting in her clothes.
In the spotlight from a very young age, recording her first number 1 album "Paper Roses" at the tender age of 12,  Marie Osmond decided to have breast reduction surgery in her 20s. She said that health problems were the main reasons for having the surgery. She also says that the surgery helped to eliminate neck and back pain she was experiencing due to her large breast size.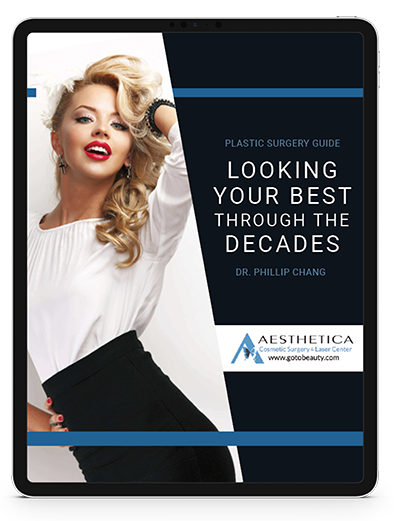 Insider's Roadmap to Every Decade of Life
Follow us on Youtube and watch our latest videos about plastic surgery procedures.
For those wondering whether breast reduction surgery might be the best cosmetic solution for you, we invite you to simply come in for a complimentary consultation with Dr. Chang or one of the cosmetic laser and injection nurses to explore whether you would make a good candidate. To find out more whether Aesthetica can help you, contact us online or at 703-729-5553 to arrange an appointment. Dr. Phillip Chang is a board-certified plastic surgeon in Northern Virginia near Leesburg, Virginia and an expert in a wide variety of cosmetic treatments.
Our office can provide you with helpful information, schedule a free consultation, and walk you through the many services and procedures we provide.
Contact Dr. Chang's Office:
Age can quickly take its toll on our bodies, especially our faces. So many women wish to bring back their younger selves' beautiful shape and aesthetics. So, why not do something about it? Your dream looks might lay a mini-facelift away!
Read More »