Gynecomastia is a condition that causes enlargement of breast tissue in men. For many, it is a source of embarrassment and shame. But it's not uncommon. Somewhere between 50% and 60% of adolescent males and up to 70% in of men aged 50 to 69 years old suffer from gynecomastia according to statistics collected by the National Institutes of Health.
What causes it? Hormonal surges during puberty can cause a rapid growth in male breast tissue. For some, the breast tissue shrinks after puberty, but for many the tissue remains. Gynecomastia can also be caused by weight gain, the use of anabolic steroids, the use of marajuana, and the use of certain medications. 
The good news is, having cosmetic surgery to correct the effects of gynecomastia is becoming more and more common among men. But, how do you know if you have gynecomastia and if the surgery is right for you?
The majority of men do not develop breasts, but all men are born with a small amount of breast tissue. If a hormonal imbalance occurs, it can cause this growth in this tissue that would otherwise not show. One of the first signs of gynecomastia is a lump of fatty tissue under the nipple that is tender or sore. This could make you concerned that you have cancer, but breast cancer in men is not common. Your doctor will likely perform tests to rule it out.
Sometimes, one lump will grow larger than another, and you may end up with what is termed asymmetric or unilateral gynecomastia, meaning it only occurs in one breast. Mammograms and MRIs should be used to determine if the growth is indeed gynecomastia.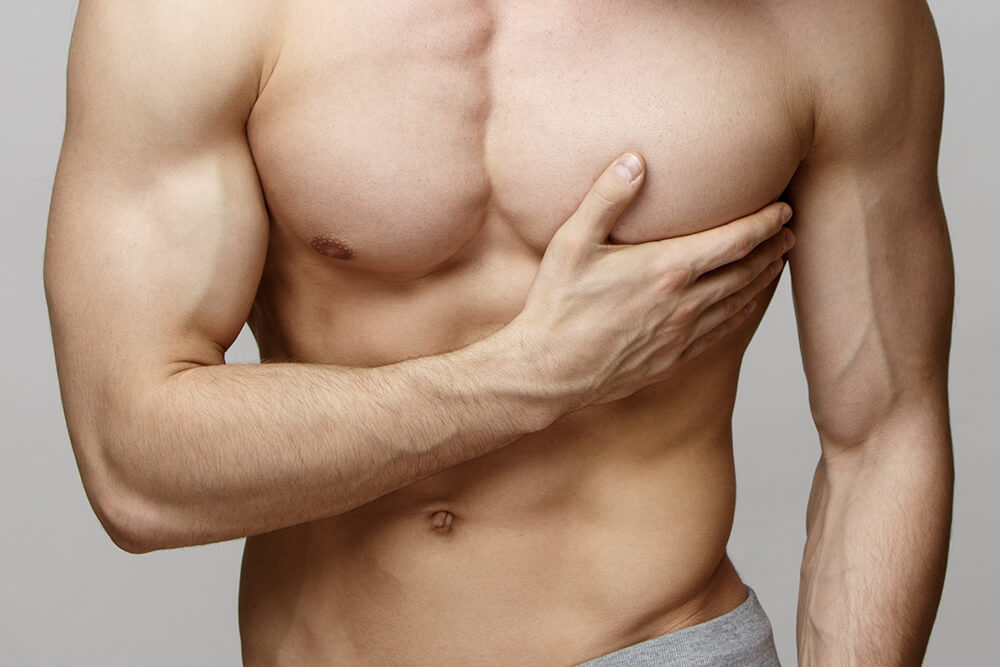 What Does Treatment and Surgery Look Like?
Most patients who have gynecomastia also have an excess of fatty tissue in the breast area. Once diagnosed, treatment typically will involve liposuction of the excess fat in the area and surgical removal of the excess glandular tissue in the breast. The removal of breast tissue will be done via a small incision in the nipple-areolar complex and/or a small incision in the skin of the breast (this usually only happens in extreme cases).
How Do I Prepare for Gynecomastia Surgery?
Consult with your physician first, but typically they will suggest stopping medication that will increase your risk of bleeding, stopping smoking, and modifying your nutrition to help support faster healing after surgery.
Most surgeons perform the procedure under general anesthesia, but it can also be performed under oral sedation with a local anesthetic. Many surgeons will use drains after surgery to reduce the pooling of fluids in the body. You will likely use compression garments and ice vests to help handle swelling.
What is Recovery After Surgery Like?
Your recovery time will depend on the severity your individual case. For those who only require liposuction, you can typically return to work and exercise within a week. If you require removal of breast tissue, your recovery  will typically be about two to four weeks before you can return to normal routines.
Should I Look for Any Complications?
Gynecomastia is generally considered very safe; however, any surgical procedure carries inherent risks. Be sure to look for excessive bruising, bleeding, fluid collections, contour irregularities, loss of nipple skin, visible scarring, numbness of the nipples, inverted nipples, lose breast skin and asymmetries. Let your doctor know immediately if any of these conditions develop. But these complications are unlikely, especially if you are under the care of a board certified plastic surgeon. 
Wondering if gynecomastia surgery is for you?
We invite you to simply come in for a complimentary consultation with Dr. Chang or one of the cosmetic laser and injection nurses to explore whether you would make a good candidate. To find out more whether Aesthetica can help you, contact us online or at 703-729-5553 to arrange an appointment. Dr. Phillip Chang is a board-certified plastic surgeon in Northern Virginia near Leesburg, Virginia and an expert in a wide variety of cosmetic treatments.
Our office can provide you with helpful information, schedule a free consultation, and walk you through the many services and procedures we offer.
Contact Dr. Chang's Office:
We often hear about the joy connected to jewelry but not its impact, particularly when it comes to our earrings and earlobes. Or, perhaps it isn't beautiful, weighted earrings, but instead an injury or the typical impact of aging that's caused an issue with one or both of your earlobes? If you need information about earlobe repair, we've got everything you need to know here!
Read More »