What to Expect During Rhinoplasty Recovery

Rhinoplasty, more commonly known as a nose job, has become one of the favorite choices for patients who consider harmonizing their facial features through cosmetic surgical procedures. In 2019 alone, more than 200,000 nose reshaping procedures were performed all across the U.S., making it the fourth most popular cosmetic surgery procedure in the country. Together with the aesthetic aspects, a successful rhinoplasty brings a myriad of benefits, such as building self-confidence, which are responsible for the ever-growing popularity of this procedure.
The Benefits of Rhinoplasty
Until recent years, patients undergoing a rhinoplasty were mostly aiming at the aesthetical benefits brought by this procedure. Nowadays, however, we are noticing a significant shift in the rhinoplasty trend: patients are turning themselves toward the medical and the psychological benefits.
On a medical level, rhinoplasty has become a popular choice for patients who experience:
Congenital or long-term breathing issues
Headaches, constant nasal congestion, and sinus pressure caused by issues with the sinuses
Snoring
Birth defects, such as a lump, curve, or undeveloped nose
Pain caused by a broken nose
Together with these benefits, rhinoplasty works wonders on patients whose self-esteem needs a boost. Once the results become visible, walking in front of a mirror will become enjoyable once again.
Rhinoplasty is an outpatient procedure, which means you can leave the operating room and go home, without the need for extensive hospital time. After the surgery, you will go through two distinct recovery periods: initial recovery and complete healing.
Initial recovery is limited to approximately seven to fourteen days, based on the plastic surgeon's recommendations. After the procedure, you will experience different levels of swelling and bruising, which are easily manageable with prescribed medication. We strongly advise that you take a couple of days off work for a thorough recovery and follow all the plastic surgeon's suggestions. Once the initial recovery period is over, you can go out in public and return to their normal activities.
While the initial recovery process is generally quick, healing will continue for a period of upward to three years. Since it is an outpatient procedure, rhinoplasty does not involve the incision level that we find in other cosmetic surgery procedures, such as a facelift or tummy tuck. Because of this, the skin must undergo a natural process of shrinking to the new, underlying framework which takes up to a year for the nasal bridge and three years for the tip.
Rhinoplasty Recovery Timeline
The thought of a one-year long recovery from rhinoplasty can discourage many patients from undergoing this procedure. However, the healing process is constant – you will notice improvements on a daily basis. With this in mind, it might be helpful to break down the recovery process into milestones:
1 Week: The plastic surgeon will remove the splint. You can resume your daily activities.
2 Weeks: Most of the swelling and bruising caused by the procedure have disappeared.
3 to 4 Weeks: You can return to physical activities such as cycling, swimming, and jogging.
6 Weeks: The bones regain their stability, making it safe for you to wear glasses again.
3 to 6 Months: The sensation of numbness in your nose has disappeared.
1 Year: The healing process is complete.
Useful Tips for Rhinoplasty Recovery
Understandably, you are eager to see the results of your rhinoplasty procedure right away, but you need to be patient with yourself. Meanwhile, to ensure proper, speedy recovery, listening to your doctor and your body is essential. Get plenty of rest, and consult with your plastic surgeon about any concerns you might have.
A speedy recovery is closely connected to a healthy diet and lifestyle. Choose a nutrition plan based on foods rich with protein, vitamin A, and vitamin C. These nutrients will give your body a helping hand with repairing damaged tissue, improving its immune system, and stimulating the production of collagen. Keep away from harmful habits, such as alcohol and smoking, for enhanced results.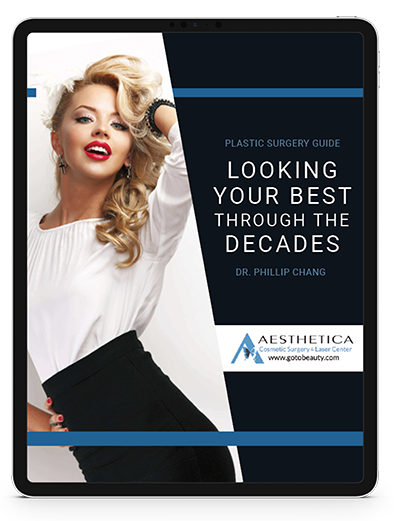 Insider's Roadmap to Every Decade of Life
Follow us on Youtube and watch our latest videos about plastic surgery procedures.
Is Rhinoplasty the best cosmetic solution for you?
For those wondering whether rhinoplasty might be the best cosmetic solution for you, we invite you to simply come in for a complimentary consultation with Dr. Chang or one of the cosmetic laser and injection nurses to explore whether you would make a good candidate. To find out more whether Aesthetica can help you, contact us online or at 703-729-5553 to arrange an appointment. Dr. Phillip Chang is a board-certified plastic surgeon in Northern Virginia near Leesburg, Virginia and an expert in a wide variety of cosmetic treatments.
Our office can provide you with helpful information, schedule a free consultation, and walk you through the many services and procedures we provide.
Contact Dr. Chang's Office:
If you're hoping to eradicate wrinkles and lines across your face, you've come to the right place. Through the use of either or both FDA-approved dermal filler brands, Juvederm and Restylane, you can beat the sun to the game of aging with an anti-aging solution.
Read More »