Sagging skin, wrinkles, deep creases – all of these are signs of aging skin. Unfortunately, aging can't be stopped. It's an inevitable reality. However, while the clock can't be turned back, the un-welcomed effects of aging don't have to be a tell-tale sign of age. Wrinkles, creases, and sagging skin can be remedied in order to give anyone a fresher face and renewed confidence that will make everyone think you've drank from the fountain of youth.
No doubt you've heard of the facelift procedure. The facelift is one of the most popular cosmetic procedures for anti-aging results. According to plasticsurgery.org, over 125,000 people in America got a facelift done in 2017. That's a lot of people! So what exactly is a facelift, and how does it work? Read below to find out!
As we get older, our skin gets thinner, making our face more susceptible to droopiness. Elastin and collagen, the proteins that keep our face elastic, tight, and hydrated, begin to break down. This causes wrinkles, deep creases, and sagginess. An unhealthy diet, dramatic weight changes, smoking, dehydration, and sun damage can all make wrinkles, creases, and sagging even more prominent.
A facelift is a cosmetic procedure performed by a beautician surgeon to tighten the patient's skin for a younger, tighter look and "reverse" the effects of aging on the skin. Facelifts pull back the patient's skin to better accentuate facial structure and smooth skin.
How does a Facelift work?
Since all people are unique, each facelift will be unique for each person's desires and facial features. An experienced cosmetic surgeon will work closely with you to create a fully customized experience that will best fit your expectations and result in looking your best.
A traditional facelift starts with the beautician administering local anesthesia and sedatives. Then, the beautician makes an incision from the hairline to around the earlobe by the lower hairline. Depending on the patient, the beautician may also make an incision by the chin around the neck if that's a targeted area. Then, the beautician will separate the skin from the muscle and fat so it can be manipulated. Sometimes, if necessary, the surgeon will use small liposuction or a fat trim to rid of excess fat.
Under the skin the beautician folds a tissue called the superficial muscolaponeurotic system (SMAS) against itself, "lifting" the face. This folding and tightening will refine the face, smooth the skin, and form nicely against the face structure. It will highlight the cheekbones, tighten the jaw, and pull the neck back. To finish, the surgeon will pull back the skin, cut or laser off any excess, then close the incision with stitches or glue. 
A facelift procedure can take from 1-5 hours while recovery can range from 5 days to a few weeks. People aged 35+ are eligible for facelifts, although 50+ is usually the recommended time to consider a facelift.
What kinds of Facelifts are there?
There are many different types of facelifts to fit every face! 
As explained earlier, the traditional facelift targets the underlying muscles and tissues to refine the face and rid of wrinkles, creases, and sagging. It's one of the most popular facelifts, since it addresses the entire face for a uniform, smooth, youthful look. 
The mini (or mid) facelift is a more subtle "mini" type of facelift that specifically targets the "mid" face, hence the name. This type of facelift lifts the cheeks, jowls, eye puffiness, and the wrinkles/creases in the mid-face. This type of facelift involves an S-shaped incision around the sideburn area during a 2-4 hour procedure. Some forms of the mid-facelift include incisions above the ear and in the mouth in order to pull fat pads over the cheekbones.
Did you know Dr. Phillip Chang is credited with developing the popular mini-facelift?
The upper facelift incorporates techniques to lift the eyes, eyebrows, and eyelids for a more "awake" look, rid of crows feet, and smooth forehead wrinkles. This facelift can also include a brow lift, a forehead lift, an eyelid lift, and some use of BOTOX for the best results.
A neck lift isn't directed at the face, but is often very complimentary when done with the rest of the face. This lift rids turkey neck, loose necks, and hanging chin by pulling back the excess skin under the chin and around the neck for a younger, shapelier neck. It refines the profile. This lift is often produces the most dramatic improvements.
Facelift Before And After Photos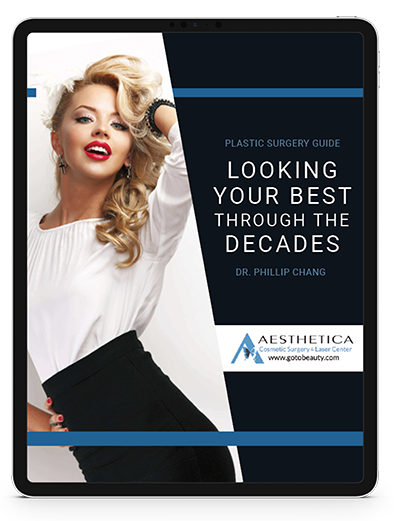 Insider's Roadmap to Every Decade of Life
Follow us on Youtube and watch our latest videos about plastic surgery procedures.
Mini-Facelift Before And After
Traditional Facelift Before And After
Are you looking for a facelift that will look natural and fresh? We invite you to simply come in for a complimentary consultation with Dr. Chang or one of the cosmetic laser and injection nurses to explore whether you would make a good candidate. To find out more whether Aesthetica can help you, contact us online or at 703-729-5553 to arrange an appointment. Dr. Phillip Chang is a board-certified plastic surgeon in Northern Virginia near Leesburg, Virginia and an expert in a wide variety of cosmetic treatments.
Our office can provide you with helpful information, schedule a free consultation, and walk you through the many services and procedures we provide.
Contact Dr. Chang's Office:
In a world where first impressions matter, maintaining a youthful and radiant appearance has become a top priority for many. While aging is an inevitable part of life, the beauty industry has evolved to offer various solutions to help defy the hands of time. One such solution that has gained immense popularity is Juvederm, a revolutionary facial filler treatment. In this blog, we will delve into the world of Juvederm, exploring its benefits and how it can help you achieve a youthful appearance. Whether you're looking to reduce wrinkles, enhance your lips, or restore lost volume, join us as we uncover the transformative effects of Juvederm and discover how it can revitalize your confidence and self-image.
Read More »