What is a Botox Party and Should You Go?

In 2020, even the word "party" has become almost taboo. Parties of any kind are basically a thing of the past. But, what about botox parties? Are they still happening in the era of social distancing? And most importantly, are they safe?
Since 1999, Botox has been the most popular cosmetic procedure – its ease and effectiveness have inspired millions to use Botox injections to reduce wrinkles and frown lines. Because of its popularity, Botox has become almost commonplace. It uses a small, safe, diluted amount of a toxin to temporarily paralyze the facial muscles and reduce the appearance of wrinkles. Through the years, the science has been all but perfected (over 7.6 million Botox injections were given in the US in 2019 alone!), but it's not perfect. For this reason, just like any other MEDICAL procedure, it's best executed in a MEDICAL environment.
It's probably been a while since you've been to a party that wasn't on Zoom, but if you are considering a Botox party in the coming months, we can hardly blame you! Since Botox injections have become so popular and so easily provided, it's totally understandable that people would want to receive them at home and in a social setting. A Botox party is a planned event, usually hosted at a home, where individuals can receive Botox injections from someone trained to provide them (like a nurse practitioner or physician's assistant). The pros of a party like this are clear: it's more comfortable to have it done at home, it's fun to do it with your friends, and it might even be cheaper if you've gotten a group rate! But, let's talk about the cons.
While Botox is considered one of the safest cosmetic procedures, it's still not without the risk of side effects. These side effects can often be easily controlled in a medical setting, but when the injections are provided at home, that might not be the case. The toxin can cause pain, bruising, or muscle weakness at the injection site, and more seriously, there's a slight risk that it spreads to other parts of the body. If you have an allergic response at a licensed clinic, you will receive immediate medical care; if this happens at home, it will turn into an emergency situation. Additionally, medical offices are carefully sterilized to insure a safe injection site. When injections are given at a home, the risk of bacterial infection just goes up. Lastly, when you receive Botox from a professional, you can guarantee the source of the Botox and the training of the administrator, which cannot be said for home injections. It's important to note – Botox parties aren't even legal in all states!
In 2021, Botox parties will probably lose popularity for a multitude of reasons. But if you and your COVID buddy were considering getting home injections together, please consider the above reasons before going through with it! Finding a licensed Botox provider is the best way to guarantee the highest safety precautions, as well as the best chance of success for the procedure! Talk to your dermatologist or cosmetic surgery office today about getting Botox done the right way – and feel more confident (while staying safe!) in the year to come!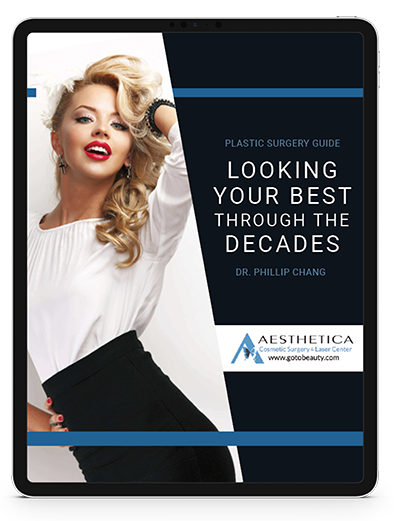 Insider's Roadmap to Every Decade of Life
Follow us on Youtube and watch our latest videos about plastic surgery procedures.
For those wondering whether Botox Injections might be the best cosmetic solution for you, we invite you to simply come in for a complimentary consultation with Dr. Chang or one of the cosmetic laser and injection nurses to explore whether you would make a good candidate. To find out more whether Aesthetica can help you, contact us online or at 703-729-5553 to arrange an appointment. Dr. Phillip Chang is a board-certified plastic surgeon in Northern Virginia near Leesburg, Virginia and an expert in a wide variety of cosmetic treatments.
Our office can provide you with helpful information, schedule a free consultation, and walk you through the many services and procedures we provide.
Contact Dr. Chang's Office:
Getting breast implants is a huge deal for women! Many women enjoy their new breasts and how they provide a better outlook on themselves and their bodies. However, it may not be the case for everyone. Some women who get their breasts done may feel like this decision is irreversible and are stuck with them for the rest of their lives. But this is not true! If you are unhappy with your implants, you can enlist the help and expertise of a Board-Certified Plastic Surgeon like Dr. Phillip Chang for a breast implant removal procedure!
Read More »