What Every Woman in Northern Virginia Needs to Know about Mommy Makeovers and Where Best to Craft Your Beautiful Experience

Motherhood is the prime of life that brings a lot of fulfillment, love, and value to women. It's the stage when you become the center of everything at home, devoting your utmost care and affection to your family, especially your children. However, women make substantial personal sacrifices during this fundamental life stage. You will observe drastic changes in your physical body, mainly on your breasts and abdomen, because of pregnancy, childbirth, and breastfeeding.
Regain Your Confidence with the Mommy Makeover Set of Procedures
You may feel less confident and a bit frustrated because of the differences in your body shape, thinking that you may never be able to get back that pre-pregnancy body contour. You may have tried following a serious diet and exercise routine but still can't achieve substantial results. Relax, and don't worry, we have some good news for you: you can solve the problem through what we call the "mommy makeover." Let us start your journey as you go back to that pre-pregnancy figure that is youthful, slimmer, and sexier! Let's explore this article and find the top clinic in Northern Virginia for mommy makeover procedures.
What is a Mommy Makeover?
A mommy makeover refers to a set of customized surgical procedures designed to return a woman's body to its pre-pregnancy state. In short, a mommy makeover is a combination of body contouring surgeries that correct, lift, and tighten your body parts that were left flabby and loose during your motherhood. 
Cosmetic Procedures in a Mommy Makeover
Every procedure in a mommy makeover is uniquely tailored for each woman. The practitioner's assessment will depend on your specific concerns and the areas of your body that you want to reshape or improve. Your cosmetic surgeon can also evaluate your current figure and give recommendations to help you choose what procedure to include on your mommy makeover package.
A mommy makeover usually includes the following standard procedures: a tummy tuck, breast augmentation, breast lift, and liposuction. The surgeon personalizes the process according to your needs.
A tummy tuck has become one of the most common and popular inclusions of a mommy makeover in Northern VA. It is a safe procedure that eliminates the excess skin in the abdominal area. The tummy tuck shapes and tightens the area to create a superior contour in your abdomen. This procedure will resolve the problem of having loose and stretchy skin caused by pregnancy.
Due to pregnancy and breastfeeding, your breasts may have lost their volume, became saggy, droopy, or too large due to significant stretching. However, a breast augmentation procedure will restore your breasts' fullness and youthful appearance. You may also consider getting a breast lift to elevate and tighten your breasts. Other options include breast reduction, augmentation with implants, and the combination of all these procedures.
Some fatty tissue on your flanks, thighs, and hips may require surgical efforts that proper diet and exercise cannot achieve. You can have those stubborn fatty tissue pockets removed by your cosmetic surgeon through the process of liposuction and get an improved overall body contour.
Why Should I Get a Mommy Makeover?
You know the answer: you want to bring back that radiating confidence! After all the sacrifices that you made during motherhood, you deserve to get back that sparkle and let the best in you shine again. Treat yourself with a mommy makeover and let other people appreciate your full beauty because you absolutely deserve it!
Best Mommy Makeover in Northern Virginia
Aesthetica Cosmetic Surgery & Laser Center treats every mommy makeover procedure in a unique way. If you are in Ashburn, Fairfax, Winchester, or any part of Northern VA, this is the right place for you to get the best mommy makeover.
The clinic's highly acclaimed cosmetic surgeon, Dr. Phillip Chang, who is Board-Certified by the American Board of Plastic Surgeons, delicately designed Aesthetica's mommy makeover specialty procedures. He helps restore a woman's body to what it looked like before she had children through a combination of multiple fat reductions, skin lifting, and tightening measures.
The state-of-the-art facility and technology of Aesthetica Cosmetic Surgery & Laser Center, partnered with the top expertise of their cosmetic surgeon, will make sure that you will have the best mommy makeover experience.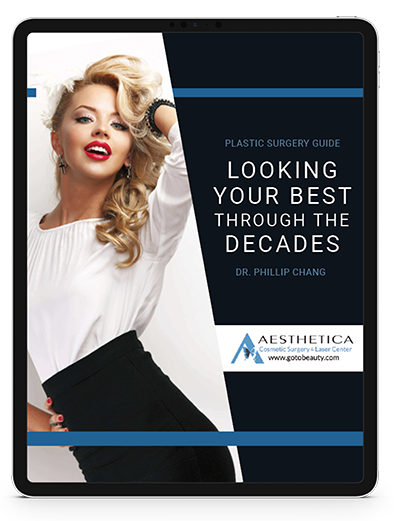 Insider's Roadmap to Every Decade of Life
Follow us on Youtube and watch our latest videos about plastic surgery procedures.
For those wondering whether mommy makeover might be the best cosmetic solution for you, we invite you to simply come in for a complimentary consultation with Dr. Chang or one of the cosmetic laser and injection nurses to explore whether you would make a good candidate. To find out more whether Aesthetica can help you, contact us online or at 703-729-5553 to arrange an appointment. Dr. Phillip Chang is a board-certified plastic surgeon in Northern Virginia near Leesburg, Virginia and an expert in a wide variety of cosmetic treatments.
Our office can provide you with helpful information, schedule a free consultation, and walk you through the many services and procedures we provide.
Contact Dr. Chang's Office:
In today's article, we'll discuss the different types of fillers, the upsides and downsides of each dermal filler, and the ways different dermal fillers can affect different treatment areas. By the end of this journey, you will conclude that dermal fillers are the right nonsurgical option for your aesthetic goals!
Read More »