Want To Learn More About Our Fire and Ice Facial?

What if you could rejuvenate your skin, reduce fine lines, get rid of acne and get back that youthful glow with no downtime? Thanks to the Fire and Ice Facial you can! The Fire and Ice clinical facial gives your skin that instant hydrating boost and deep cleansing treatment that encourages skin cell regeneration to give you the healthy skin you've been wanting. The Fire and Ice Facial is the perfect crossover from typical over the counter skin care treatments and the more invasive chemical peels.
How Does the Fire and Ice Facial Work?
The facial includes the application of two different masks. These two masks work together to encourage mild to invasive peeling of the skin. 
The first mask uses heat to encourage blood flow, smooth your skin and aids in the resurfacing of the outer layer. It contains sugar cane (glycolic acid), citric acid, lactic acid, maleic acid, Vitamin B3, retinol and antioxidants. 

The second mask works to keep your skin hydrated using cooling effects to leave your skin feeling rejuvenated and gives you the healthy glow. It works with the help of Hyaluronic Acid, Aloe Vera, Green Tea Extract, Licorice Extract, Grape Seed Extract, and Rosemary Extract. 

The application of the heating and cooling masks combined with specific facial massage techniques encourages and stimulates skin cell regeneration. The natural ingredients included in the facial even help to clear up acne, acne scarring, and reduce hyperpigmentation. 
The technique is designed for a quick and safe resurfacing of the skin with zero downtime. It is the perfect facial to get before any major life event such as a wedding or graduation.
How To Prepare for Your Fire and Ice Facial?
Minimal preparation is required on the patient's part before the procedure. Just make sure to stop any current skincare products for 72 hours before the facial and avoid laser or waxing for at least 48 hours prior.
The treatment itself takes about an hour. It begins with the Gentle Cleansing Complex to prep the skin by cleaning off any products, oils and dirt clogging the pores. Next the Intensive Resurfacing Mask is applied (this is the fire part). It will feel warm and tingly and is kept on for 3-5 minutes or for as long as can be tolerated. It is then gently wiped away using a cool, damp towel. The Gentle Cleansing Complex is then reapplied to clear away any excess. The Rejuvenating Mask is then applied to lock in moisture along with frozen cooling globes for the "Ice" part of the facial.
After The Fire and Ice Facial
You will notice a dramatic difference in your skin immediately following the procedure with no downtime. You will notice a tightening in your skin giving you that glow. The treatment should last about a month with the use of other professional-grade skincare products.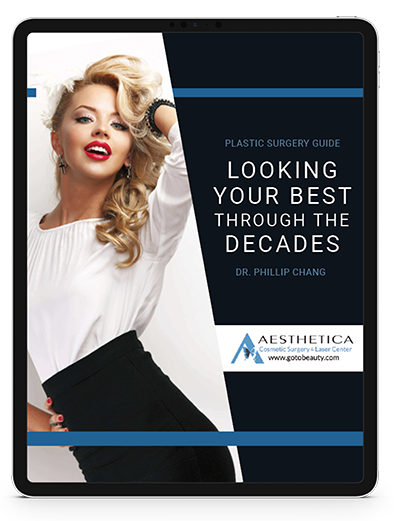 Insider's Roadmap to Every Decade of Life
Follow us on Youtube and watch our latest videos about plastic surgery procedures.
For those interested in learning more about our Master Esthetician procedures, contact us online or at 703-729-5553 to arrange an appointment. Renee Martin is our experienced Master Esthetican and she works alongside Dr. Phillip Chang who is a board-certified plastic surgeon in Northern Virginia near Leesburg, Virginia, and an expert in a wide variety of cosmetic treatments.
Our office can provide you with helpful information, schedule a free consultation, and walk you through the many services and procedures we provide.
Contact Dr. Chang's Office:
Getting breast implants is a huge deal for women! Many women enjoy their new breasts and how they provide a better outlook on themselves and their bodies. However, it may not be the case for everyone. Some women who get their breasts done may feel like this decision is irreversible and are stuck with them for the rest of their lives. But this is not true! If you are unhappy with your implants, you can enlist the help and expertise of a Board-Certified Plastic Surgeon like Dr. Phillip Chang for a breast implant removal procedure!
Read More »