Want To Exchange Your Breast Implant?

5

min read

From A cup to E cup, breasts are a staple of femininity and fun, so it's no surprise that breast implants are one of the most popular cosmetic procedures in America. Every woman wants to be proud of her breasts, and sometimes a breast augmentation is just what we need to get there. However, not all implants are a one-shot-wonder. As time passes, tastes can change, or goals can adjust. Sometimes women want to exchange their implants to keep their breasts in good shape and keep their confidence high.
Are you interested in exchanging your breast implants? Read below to find out more!
Changing Breast Implants for Personal Desires
Maybe you've had your breast implants for many years, or maybe only for a short amount of time. Either way, you're ready for a change! Whether you're tastes, ideal aesthetics, or lifestyle has changed, you can exchange your implants for something that much more closely represents what you desire and how you want to look. You may want to change your implants because….
You want different sizes. If you're ready to size up, then the implant change will be fairly simple and similar to your first implant procedure. If you're looking to size down, the procedure may be more complicated depending on the size you're looking for and how much laxity your skin has. Sometimes, you may need a breast lift along with changing implants if you're decreasing size.
You want a different type of implant. If you want to switch out the feel of your breast implants (from firm to soft or visa versa), this can be done through changing the type of implant you have. Silicone breast implants tend to be firmer, while saline breasts are softer. If you're looking for the pros and cons of each texture, click here to learn more. 
You want a different texture. Similar to the point above, you may want to change the texture of your implant from smooth to textured, or visa versa.
You want other breast work. You may want a breast lift or other breast work to help your breast aesthetic be what you desire, whether this be with or without breast implants.
Whatever the reason you may want to change your breast implants, what's most important is that your desires are reflected! Your breast implants are for your confidence — we want you to feel like you're putting your *breast* foot forward in life.
Changing Breast Implants Because of Problems
While some may want to change their breast implants for aesthetic or personal desires, others may want to change their implants to avoid (or correct) implant problems. While the "breast implants ought to be changed every 10 years" myth isn't true, it is important to keep an eye on how your breasts are doing – whether they need maintenance, or whether anything is feeling "off." You may want to change your implants because…
You're experiencing swelling. If your breasts are suddenly swollen and tender, you will want to get your implants changed.
Your implants are asymmetrical. Your implants may have shifted or simply been placed incorrectly. You will want a surgeon to correct this by changing implants.
Your implants moved…a lot! Some women's breast implants slip out-of-place and may even end up in places like the armpit. You'll certainly want those implants changed.
Your implants ruptured or hardened. These implants may have gotten injured or simply aged. It's time to get them replaced.
If you're experiencing complications or problems with your implants, talk to your beautician right away! They will want to help you resume comfort and have peace of mind about your breasts.
What to Expect When Changing Breast Implants
Before the actual procedure, your beautician will talk with you in a consultation in order to understand how they can best help you. Whether you're looking to increase your implant size, correct an issue, or any other reason — your beautician will want to know what you're looking for and will give you recommendations. 
Depending on what you're looking to have done, your beautician may just replace your implant. For average breast implant exchanges, your surgeon will make the cuts where the previous incisions were, then replace the implant (very similar to the original procedure). However, for other procedures like downsizing, accounting for over-stretched skin, or developed ptosis (droopiness) your beautician may have to do additional procedures in order to get your breasts in tip-top shape. If you'd like to know exactly what your beautician will do in order to freshen your breasts, talk with them about your expectations.
As time passes, our bodies naturally change. Even breast implants are no exception! Since our bodies age around them, they're bound to feel some affect from aging. This can include pregnancy, menopause, significant weight loss/gain, and breastfeeding. All of these factors can stretch breast skin, move breast implants, and overall change breast contour. In addition to a breast implant exchange, a breast lift will best address these issues. Not only will a breast lift tighten your skin and re-contour your breasts, but it can also reposition your nipples and help your breasts appear more natural, youthful, and healthier. That's a sweet deal!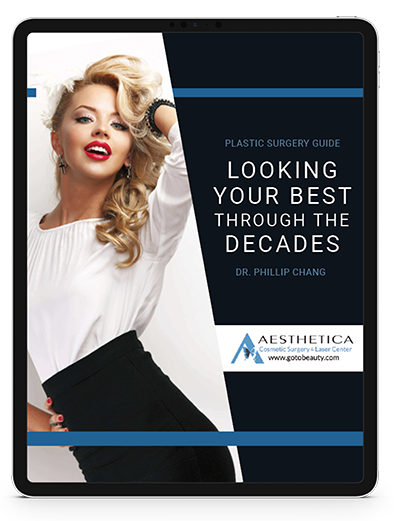 Insider's Roadmap to Every Decade of Life
Follow us on Youtube and watch our latest videos about plastic surgery procedures.
For those wondering whether breast augmentation might be the best cosmetic solution for you, we invite you to simply come in for a complimentary consultation with Dr. Chang or one of the cosmetic laser and injection nurses to explore whether you would make a good candidate. To find out more whether Aesthetica can help you, contact us online or at 703-729-5553 to arrange an appointment. Dr. Phillip Chang is a board-certified plastic surgeon in Northern Virginia near Leesburg, Virginia and an expert in a wide variety of cosmetic treatments.
Our office can provide you with helpful information, schedule a free consultation, and walk you through the many services and procedures we provide.
Contact Dr. Chang's Office:
Stretch marks affect men and women of various ages and backgrounds. These silver, reddish, or purple streaks appear on different body parts, often evoking feelings of self-consciousness. But what exactly are stretch marks, and what causes them? In this detailed guide, we will delve deep into the types and causes of stretch marks, shedding light on this common skin concern.
Read More »