Top Cosmetic Surgery Myths Debunked

Trying to inform yourself on the subject of plastic surgery can be compared to stepping on a minefield: the internet has made knowledge more accessible to the public, but the risk of misinformation has grown exponentially. Here, we try to help you wade through the internet by debunking the most common rumors surrounding plastic surgery
Misinformation has become a part of our culture, and the damage caused by it can seriously affect a broad segment of the population. Because of this, even plastic surgery, now common, falls victim to misinformation. For this dilemma, there is only one answer: always do your research.
We know that it is impossible to completely eradicate misinformation from our daily lives, which is why today, we've taken it upon ourselves to debunk the most common plastic surgery myths.
Myth #1: Plastic Surgery is Expensive
One of the essential factors in deterring many people from plastic surgery is the misconception surrounding prices. For most, plastic surgery involves expensive procedures, affordable only by the wealthy. However, is plastic surgery that expensive?
It isn't wrong to assert that patients found it more complicated to undergo cosmetic procedures in the past. Today, however, declining prices are changing the way we describe the typical plastic surgery patient. The whole industry has turned toward middle-income earners willing to improve their appearance and regain self-confidence.
If you're considering plastic surgery, forget about the costs and choose the right procedure for you (a comprehensive list of prices can be consulted here).
Additionally, most plastic surgery offices (like Aesthetica) offer free consultations where you can speak with a plastic surgeon end determine general estimate of the cost to achieve your beauty goals.
Myth #2: All Providers are the Same
Like any other medical procedure, plastic surgery is a serious topic that requires a lot of research. The truth is, there is a growing number of plastic surgeons on the market, and not all of them are created equal – while many of them have hundreds of successful procedures and before-and-after photos to back their credentials, some plastic surgeons lack the required expertise. Always remember that research can make the difference between a successful procedure and a botched one.
As you search for a provider, always make sure:
That the plastic surgeon has received the American Board of Plastic Surgery (ABPS) certification, which proves your provider is part of an elite group of specialists.
That your provider has performed a specific procedure often enough.
That your provider has published a collection of before-or-after photos.
Once you've found the right Board-Certified Plastic Surgeon, never hesitate to ask them all the questions you have. The more you and your provider are on the same page, the more pleasant your overall experience will be.
Myth #3: Plastic Surgery Leaves No Scars
Have these arguments changed the way you think of plastic surgery? Are you considering a procedure? Fantastic. When performed by a skilled professional, plastic surgery will provide optimal results with minimal side-effects. However, bear in mind that a surgical incision is bound to leave a little scar – there's simply no way to avoid that. It all depends on how the surgical incision is closed.
Once again, research can make a difference. An experienced Board-Certified Plastic Surgeon has the required expertise to minimize the appearance of scars before they become permanent and choose subtle locations for the scars. Additionally, your provider can recommend topical treatments and dermabrasion to help scars heal faster and minimize scar visibility.            
Myth #4: Plastic Surgery is All about Aesthetic Appearance
Even though we live in a world where access to information is practically unlimited, there are still people who believe these statements: plastic surgery is all about aesthetic appearance, without any benefit to your health. Such misinformation can be very harmful since it ignores one of the essential aspects of plastic surgery: reconstructive plastic surgery.
Not all of us are born with perfect skin. Some people have skin disorders, such as birthmarks or bruises. Others are suffering from genetic weight problems or are dealing with the after effects of a medical procedure or accident. In some instances, these conditions can seriously aggravate and even pose a threat to the patient's life.
For these patients, reconstructive plastic surgery can provide a chance at a happy life and regaining confidence and self-esteem.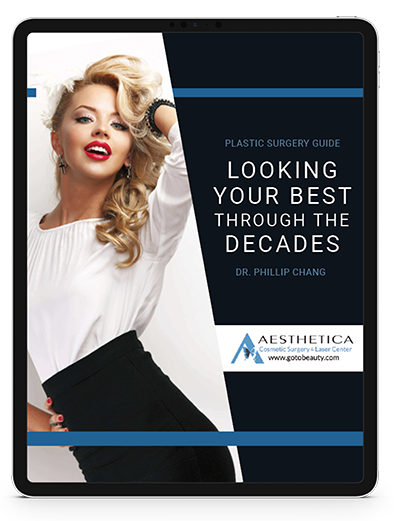 Insider's Roadmap to Every Decade of Life
Follow us on Youtube and watch our latest videos about plastic surgery procedures.
If you have more questions concerning plastic surgery, we invite you to simply come in for a complimentary consultation with Dr. Chang or one of the cosmetic laser and injection nurses to explore whether you would make a good candidate. To find out more whether Aesthetica can help you, contact us online or at 703-729-5553 to arrange an appointment. Dr. Phillip Chang is a board-certified plastic surgeon in Northern Virginia near Leesburg, Virginia and an expert in a wide variety of cosmetic treatments.
Our office can provide you with helpful information, schedule a free consultation, and walk you through the many services and procedures we provide.
Contact Dr. Chang's Office:
If you're hoping to eradicate wrinkles and lines across your face, you've come to the right place. Through the use of either or both FDA-approved dermal filler brands, Juvederm and Restylane, you can beat the sun to the game of aging with an anti-aging solution.
Read More »