The Astonishing Benefits of SmartLipo You Should Consider For Your Body-Contouring Goals

5

min read

Getting rid of excess fat is a lot of hard work. For mothers who have been a lot busier after giving birth, maintaining a diet and giving time for exercise can be a challenge. So if you're considering reducing those excess fats through liposuction, more innovative technology can help you achieve desired body aesthetics.
SmartLipo is a form of lipolysis assisted by laser where the cannula, with a laser attached, pierces through the skin. The process involves a very tiny incision with precise back and forth movements. The laser device heats the fat to melt and liquefy them and makes them easier to suction.
This procedure works best for the chin, neck, upper arms, belly, and thighs. While it can instantly remove the said fats, a proven practice to prevent new fat cells from emerging is to associate it with a healthy diet and good exercise habits. If you are not sure if this procedure is for you, here are the benefits you can expect from SmartLipo.
While you won't experience any benefits during this time, take note of the best practices before the treatment. Your discipline will make an impact after the surgery, especially with the results.
During consultations, your practitioner will go through your medical history to prevent future complications. Take note that this procedure is not advisable for pregnant women. Your appointment will revolve around documenting your current medications, previous conditions, and drugs that trigger allergies, if there are any.
Your trusted professional will advise you to stop taking aspirin, Advil, herbal medicines (especially if they trigger blood clotting), and drinking alcohol. They will also prohibit medications that would affect liver function. These medical prohibitions will last one week before and after the procedure.
Expect antibiotic prescriptions to take diligently on the week before the treatment. During the same period, you should drink more fluids up to 2 quarts daily.
Of course, you should provide room for a short recovery time, especially if you are working. You can't drive alone after the procedure. Make sure you have company to assist you after the procedure.
You will need gauze pads and band-aids during the procedure. Make sure to bring car seat covers and bed sheet covers because it's going to be messy. Remember that only accredited facilities should perform this procedure.
Now, if you think your body and mind are ready for the procedure, here's what you can benefit from SmartLipo.
Do not be self-conscious about your breakfast on the day of treatment. Eat regularly and make sure not to get on the facility with an empty stomach. The procedure will last about four hours. Bring loose clothing and remove your jewelry.
So what benefits can you expect during the treatment? SmartLipo is minimally invasive compared with traditional liposuction. There are no large incisions needed. It means that it will not make long incisions. There are no significant cuts for stitching, unlike other surgeries. The procedure is not painful, so it's much bearable and comfortable. They will apply anesthesia on the treated area before starting the treatment.
Unlike a weight loss surgery, SmartLipo will only take fat from desired areas. There is no unnecessary suction of body parts. The small tube will make targeted incision and suction of excess liquefied fat. The laser beam lights ensure that it melts the excess fats only on the exact areas treated.
Discipline and patience are the keys to SmartLipo post-operative care. Wear a compression garment for two weeks as body support. Absorbent dressings and bedsheet covers will help in minimizing the drainage caused by the operations. When removing the compression garment for the first 24 hours, do so while sitting up. Do not stand yet 10 minutes after garment removal. Be diligent when following SmartLipo post-op instructions. With some patience, your hard work will pay off.
The reason why you undergo SmartLipo treatment is that you want to remove excess fats. The fats melt and are sucked away by the laser device. And since the treatment has eliminated the fat cells, make it last by having a healthy diet and regular exercise. All it takes is a little discipline to maintain the results of your treatment.
Traditional liposuction often leaves sagging skin. Laser lipolysis is also better at working on cellulite. The heating process from the treatment prompts the skin to produce more collagen, which gives birth to firmer and younger skin. Collagen is the protein that is responsible for rejuvenating your skin. It leaves minimal scarring, unlike with traditional liposuction.
It doesn't take weeks for you to get back to work. The pain can only be present within one to two days. Make sure to take your prescribed medicines. Don't forget to wear a compression garment for the first two weeks. After two weeks, you can wear it only when you're awake.
The good news is these results will start getting visible within a month, so you'll likely find contoured spots on treated areas in the next three months. So if you're ready for it, Aesthetica's open for consultations and inquiries about SmartLipo.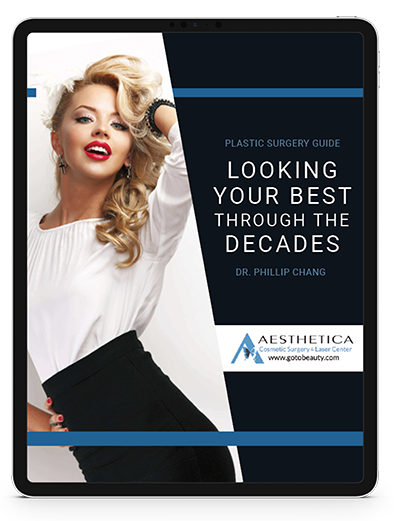 Insider's Roadmap to Every Decade of Life
Follow us on Youtube and watch our latest videos about plastic surgery procedures.
For those wondering whether SmartLipo might be the best cosmetic solution for you, we invite you to simply come in for a complimentary consultation with Dr. Chang or one of the cosmetic laser and injection nurses to explore whether you would make a good candidate. To find out more whether Aesthetica can help you, contact us online or at 703-729-5553 to arrange an appointment. Dr. Phillip Chang is a board-certified plastic surgeon in Northern Virginia near Leesburg, Virginia and an expert in a wide variety of cosmetic treatments.
Our office can provide you with helpful information, schedule a free consultation, and walk you through the many services and procedures we provide.
Contact Dr. Chang's Office:
Stretch marks affect men and women of various ages and backgrounds. These silver, reddish, or purple streaks appear on different body parts, often evoking feelings of self-consciousness. But what exactly are stretch marks, and what causes them? In this detailed guide, we will delve deep into the types and causes of stretch marks, shedding light on this common skin concern.
Read More »