Retaining your youthful glow gets more and more difficult with each passing year. Men and women across the country invest in anti-aging procedures in order to reduce the signs of aging. How do you make sure you're getting the best results for the money that you're spending? 
Make Safety Your First Priority
When talking about getting the best results for your money, this does not mean "bargain hunting" for procedures. In the case of any cosmetic procedure, you should never shop around for the cheapest prices without also taking into consideration the qualifications and certifications of your physician or esthetician. 
Always make sure to ask how often they perform the procedure you are considering. Chances are, if they don't perform it often, you will not end up with the results you want. If you're looking at having a surgical procedure, make sure that your physician is Board Certified and has hospital admitting privileges.
Implement Preventative Habits
The first way to prevent aging skin is to apply sunscreen daily. The sun damages skin and amplifies the effects of aging. Healthy eating and regular exercise can also do wonders for maintaining healthy skin.
The first defense against wrinkles that have already appeared is a good over-the-counter retinoid cream. Retinoid is derived from Vitamin A and will appear as "retinol" on the list of active ingredients in any of these creams. Dermatologists can also prescribe stronger retinoid creams that you can't find on store shelves.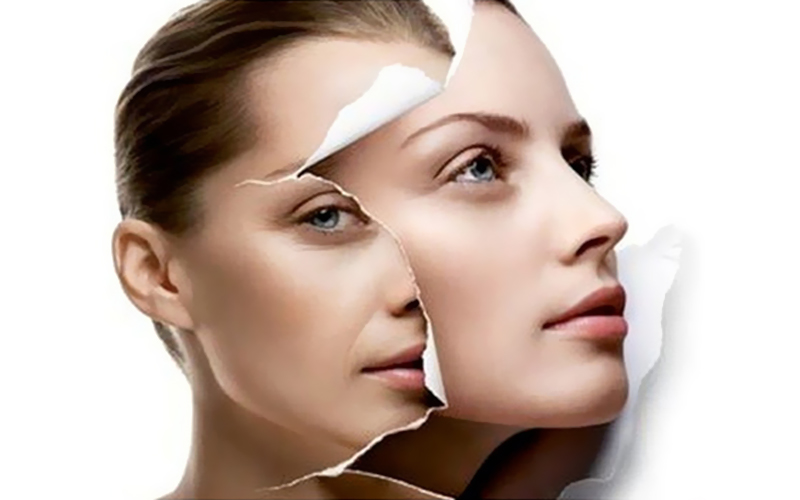 Peptides are short sequences of amino acids that can be useful for reducing the appearance of fine lines and wrinkles, however, they do not work as well as retinoids. Peptide creams encourage older skin that has stopped producing collagen to begin making new collagen again.
Microdermabrasion or Microneedling
If you're looking for something a bit more heavy duty than a facial cream, microdermabrasion is a good place to start. It uses tiny, fine particles or a diamond tipped wand to slough off cells from the top layer of skin to encourage new skin growth. Although the procedure is not typically described as painful, it is usually uncomfortable. The skin heals quickly so no recovery period is required, but you may need several procedures performed spaced a few weeks apart. 
Microneedling has the same effect but uses tiny sterile needles to puncture the skin which encourages collagen growth as the skin heals. A numbing cream is applied to the face prior to starting the treatment to ensure comfort for the patient.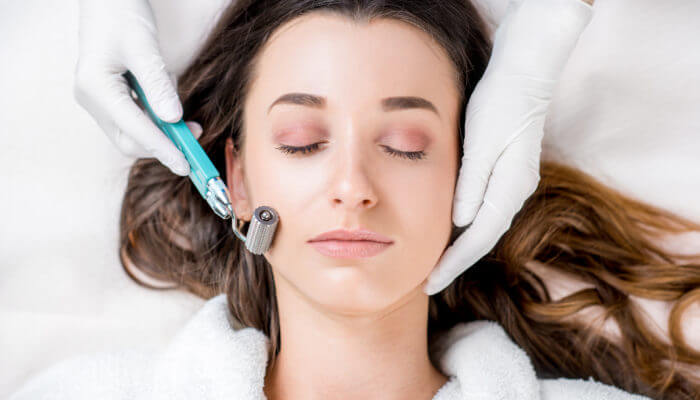 A high-intensity light is used to zap skin to tighten and improve the look of wrinkles and scars. The intensity of the procedure can vary which means that recovery time can also vary. Typically you will see redness anywhere from one day to two weeks after the procedure.
This is another procedure that can have a recovery time ranging from a few days to a few weeks depending on the intensity. Peels are designed to target dull skin, age spots, acne, wrinkles, fine-lines, skin discoloration and any number of other imperfections. The results of a peel can last anywhere from several months to several years depending on the intensity.
Botox injections, containing botulinum toxin, have become very common. It is injected into specific facial muscles that cause wrinkles in the face, and the Botox temporarily paralyzes them. This paralysis results in the reduction of the appearance of these wrinkles. The effects of the injections last between three to six months.
Injections of fillers, such as hyaluronic acid, add volume to skin and can reduce the look of wrinkles as well as fill in hollows. Hyaluronic acid is a naturally occuring sugar that gets lost as you age so injecting it into wrinkles essentially replaces something that was lost. The effects generally last six months to a year.
Procedures that lift certain areas of the face, neck, eyelids, and forehead can give a tighter appearance. These procedures all used to involve larger incisions, but now can be done endoscopically which reduces the appearance of scars. A highly skilled surgeon will ensure your scars are placed in hidden areas. Though more expensive, these treatments last much longer the facials or injectables.  
Youthful skin can be yours!
During the stay at home order, we invite you to schedule a VIRTUAL consultation with Dr. Chang or one of the cosmetic laser and injection nurses to learn how you can stay home AND stay beautiful. Dr. Phillip Chang is a board-certified plastic surgeon in Northern Virginia near Leesburg, Virginia and an expert in a wide variety of cosmetic treatments.
Our office can provide you with helpful information, schedule a free consultation, and walk you through the many services and procedures we provide.
Contact Dr. Chang's Office:
Getting breast implants is a huge deal for women! Many women enjoy their new breasts and how they provide a better outlook on themselves and their bodies. However, it may not be the case for everyone. Some women who get their breasts done may feel like this decision is irreversible and are stuck with them for the rest of their lives. But this is not true! If you are unhappy with your implants, you can enlist the help and expertise of a Board-Certified Plastic Surgeon like Dr. Phillip Chang for a breast implant removal procedure!
Read More »