Questions to Ask At Your Cosmetic Surgery Consult

4

min read

Some of the most important parts of a cosmetic procedure happen before the procedure itself. Having a successful consultation with your provider prior to your procedure can be the difference between being completely satisfied with the results and needing to go back for tweeks. In general, the people who ask more questions at their consultation are more likely to get the result they want. While there are no wrong questions to ask, knowing some of the key questions will ensure that you get the results you want.
Here are the TOP 4 questions that will ensure your procedure results are exactly what you want.
1. Are you Board Certified in Cosmetic Surgery?
This is the most important question you can ask your physician to not only get the results you want, but also to ensure your safety during the procedure and proper recovery after the procedure. In the U.S., any licensed physician can legally perform a cosmetic procedure, but that does not mean that any licensed physician is qualified or that they know the proper practices for the procedure. 
A board certified cosmetic surgeon has completed a very specific training in order to get the certification. In order to keep their certification, they need to complete ongoing education and training hours yearly. This ensures that they stay up to date on the safest and best practices for their specialty.
2. Do You Frequently Perform the Procedure I Am Having?
They may be a licensed and certified cosmetic surgeon but that does not guarantee they are an expert in the specific procedure you are having. It's fairly common for cosmetic surgeons to specialize in certain procedures which means they are more familiar with the procedure and any complications that can arise from it. It also means they have worked with a lot of different patients performing the same procedure and are able to adjust the procedure to fit you specifically. The more they have performed the procedure, the more before and after photos they have available so you can get an idea of their aesthetic and if it fits what you are looking for.
3. What Type of Anesthesia Will I Receive and Who Will Be Providing It?
No matter what procedure you are having done and who is doing it, you will likely be receiving some form of anesthesia. Local and general anesthesia are typically very safe when performed by a qualified provider. You want to make sure you have a board certified anesthesiologist or a certified nurse anesthetist.  Having a dedicated anesthesia team means that you will be monitored throughout the procedure which allows the cosmetic surgeon to focus on their procedure.
4. What Will My Recovery Be Like?
Asking this question will give you an idea about how much time you will need to take from typical activities like work, children, exercise, etc. Prior to the procedure it is important to know how much time recovery will take and if you will need to make sure you have additional help if required. You should also ask about what restrictions you will have after the procedure and for how long. As an example, if you have a tummy tuck you will likely need to avoid lifting heavy objects (such as small children) for some time. 
If any of the constraints after surgery make you nervous or do not seem to be something that you are able to limit at this time, you may make the decision to postpone surgery or your doctor may have suggestions for less invasive procedures.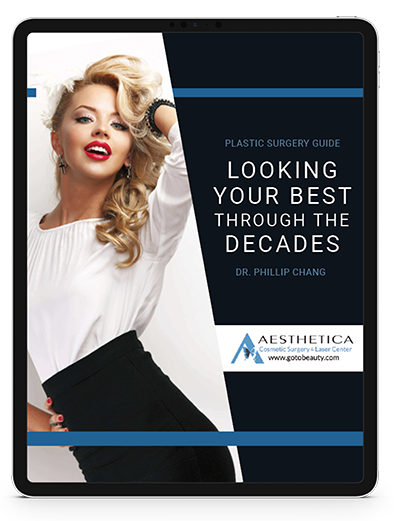 Insider's Roadmap to Every Decade of Life
Follow us on Youtube and watch our latest videos about plastic surgery procedures.
If you are considering a procedure, we invite you to simply come in for a complimentary consultation with Dr. Chang or one of the cosmetic laser and injection nurses to explore whether you would make a good candidate. To find out more whether Aesthetica can help you, contact us online or at 703-729-5553 to arrange an appointment. Dr. Phillip Chang is a board-certified plastic surgeon in Northern Virginia near Leesburg, Virginia and an expert in a wide variety of cosmetic treatments.
Our office can provide you with helpful information, schedule a free consultation, and walk you through the many services and procedures we provide.
Contact Dr. Chang's Office:
Navigating the world of breast augmentation means facing some crucial decisions, and one of the most discussed is whether to place implants over or under the chest muscle. This article delves into the nitty-gritty of both options, highlighting the pros and cons to help you make an informed decision.
Read More »