No More Extra Abdominal Skin – Say Hello to Panniculectomy!

5

min read

There's nothing easy about being overweight. Whether those excess pounds came from pregnancy or health conditions,  it's tough to deal with them, especially when you've decided that you want to get rid of them for good. Once you've lost weight, though, there's the issue of sagging skin. Your skin won't magically tighten after you've shed those last few pounds.
Don't fret – there's good news! You can tighten your skin with surgery, making sure that those uncomfortable flaps of loose skin will never bother you again. One standard procedure is the tummy tuck, which you might have heard of already. Another type of surgery you can turn to is panniculectomy, which targets sagging of the lower abdomen.
What's the Difference between a Tummy Tuck and a Panniculectomy?
Panniculectomy is the surgical removal of the pannus or the excess skin that hangs right underneath the belly button. This skin is sometimes called the "apron" because of the way it sits on your abdomen. Extreme weight loss, aging, and pregnancy can cause this excess skin to develop. Excess skin may not bother some people; however, it may cause rashes and odor build-up, which may be bothersome.
Unlike a tummy tuck, which tightens the appearance of your abdominal muscles and restores their integrity, a panniculectomy only affects the loose skin. Because of this, it isn't considered a cosmetic procedure. Still, it can have a cosmetic effect since it makes your tummy appear much flatter afterward. Therefore, you can opt for a panniculectomy together with other cosmetic abdominal surgeries to save time.
The two procedures can't keep extra weight off. You have to maintain your goal weight through proper diet, exercise, and a healthy lifestyle. Neither of these procedures can get rid of stretch marks either, though they may improve the appearance of your skin. Since these are surgical methods, expect that there will be some scarring—no need to worry, though since proper care and management can effectively lighten scars over time.
What to Expect during and after the Procedure
A qualified plastic surgeon will conduct the panniculectomy. Ensure that you choose an excellent surgeon to minimize risks and ensure that you have a safe, stress-free procedure. You will receive general anesthesia for the surgery, which could last for up to five hours.
Your surgeon will make a horizontal cut from your hipbone. They might also need to make a vertical cut extending to your pubic bone. The extra skin and fat will then be removed. Once the surgeon is done, they will stitch and tape your skin together.
There might be swelling, pain, and discomfort after the procedure. Your doctor will insert drains to make sure that fluid and blood are removed to minimize swelling. Most surgeries are done as outpatient procedures so that you can go home right after. Arrange for someone to drive you home.
You may have to wear compression garments for a few weeks after the surgery. Stitches will be removed after a week, but you should refrain from any strenuous activities in the meantime. Complete healing should take a few months. So remember to take it slow and follow the instructions given to you after the surgery.
Improving your body is a journey. Not all of us are born genetically gifted. Many people have to work hard to get the body that they want. Whatever you decide should be for your benefit and should feel right for you. However, it's most important to consult with a health professional before you make your final decision.
Any surgery poses some risks. Aside from incision scars, panniculectomy can cause bleeding, swelling, pain, blood clots, infections, and nerve damage. This is why it's so important to choose a seasoned and talented surgeon.
Dr. Phillip Chang, a certified member of the American Society of Plastic Surgeons and a leading name in cosmetic surgery, is more than qualified to perform a panniculectomy. He will make sure to examine and consult with you first before going through the procedure so you can prepare for it mentally and physically.
Most patients are satisfied with the results of their surgeries. They can lose anywhere from five to ten pounds, and their self-esteem significantly improves with the positive change in their bodies. Just make sure that you keep your wounds clean and live a healthy lifestyle while your body is healing. You'll be posting your panniculectomy surgery before and after photos in no time.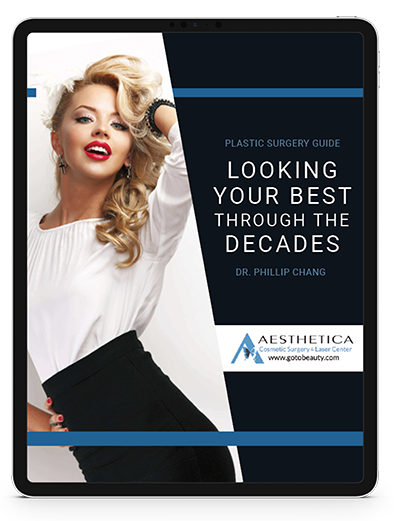 Insider's Roadmap to Every Decade of Life
Follow us on Youtube and watch our latest videos about plastic surgery procedures.
For those wondering whether a panniculectomy might be the best cosmetic solution for you, we invite you to simply come in for a complimentary consultation with Dr. Chang or one of the cosmetic laser and injection nurses to explore whether you would make a good candidate. To find out more whether Aesthetica can help you, contact us online or at 703-729-5553 to arrange an appointment. Dr. Phillip Chang is a board-certified plastic surgeon in Northern Virginia near Leesburg, Virginia and an expert in a wide variety of cosmetic treatments.
Our office can provide you with helpful information, schedule a free consultation, and walk you through the many services and procedures we provide.
Contact Dr. Chang's Office:
Stretch marks affect men and women of various ages and backgrounds. These silver, reddish, or purple streaks appear on different body parts, often evoking feelings of self-consciousness. But what exactly are stretch marks, and what causes them? In this detailed guide, we will delve deep into the types and causes of stretch marks, shedding light on this common skin concern.
Read More »