Mini vs. Full Facelift – The Facts

5

min read

Facelifts have been in the Top 5 most requested cosmetic procedures for decades, even with the advent of non-surgical options. Sometimes fillers and Botox can't fix aging, droopy faces, and more drastic action is required. That's when a Facelift becomes the preferred route. But in recent years, it's newer, younger sister has been making noise: the Mini-Facelift. A shorter, less invasive surgery that can be done in the surgeon's office rather than a hospital. This cuts down costs for the patient and helps with recovery time. What are the differences between the two?
The Mini-Facelift concerns the mid to lower section of the face. It pulls up saggy jowls, provides a tighter jawline, fills out cheek area, and can help with the upper neck area by tightening loose skin. It is also effective in reducing marionette lines – those deep lines between your nose and chin.
Dr. Chang has extensive experience in performing mini-facelifts at his practice. Most patients only require sedation and local anesthetic. He takes great care in hiding the minimal scars behind the ear and in the hairline. The procedure takes around 2 hours to complete. The patient is kept comfortable and happy throughout the process.
Who Is A Good Candidate For A Mini-Facelift?
Most candidates are in their 40s and 50s, are in good health, don't smoke, and have realistic expectations about what a mini-facelift can achieve. They have found that as they age their faces are less firm and skin has become saggy. But this is still at the mild to moderate stage. They don't always need to have their brows and eyelids done at this age.
Because the surgery is performed in office and under sedation, recovery time is quicker than a traditional face-lift. There will be smaller scars and most patients return to work a week after surgery, and stitches are removed around day 10.
A mini-facelift costs less because it is done in office and no general anesthetic is used. Hospital costs are a major cost in all cosmetic procedures. The procedure is shorter than a full facelift which reduces the cost of the surgeon.
Some results can be seen instantly, but there is swelling and bruising which can affect what you can see. Dr Chang sees his patients on regular check ups and monitors progress and ensures everything is healing correctly. Full results should be seen around 2 months after.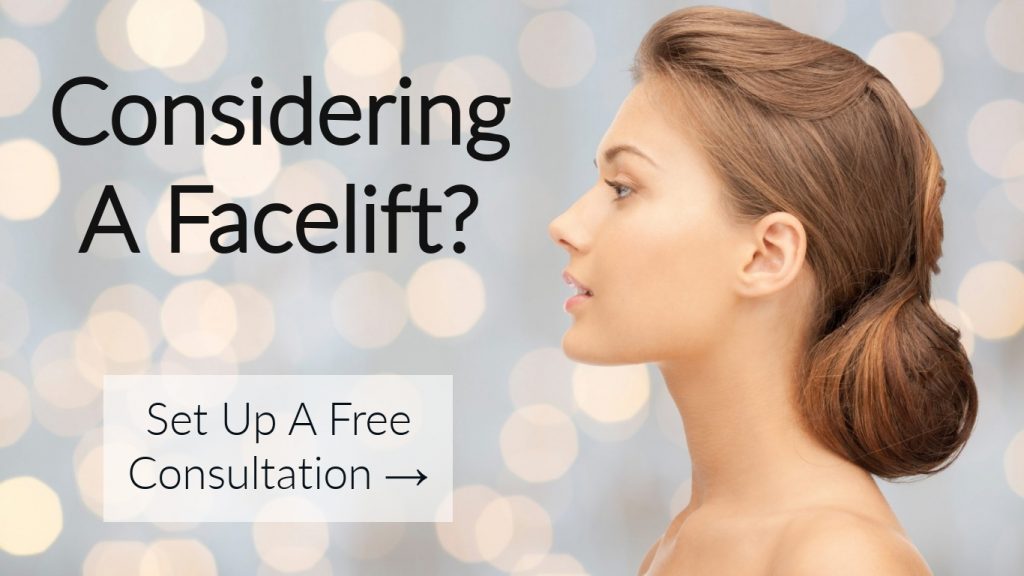 For people who have more severe sagging and loose skin over their face and neck, a full facelift may be required. Dr Chang can perform these in office but many people prefer to have it performed under general anesthetic.
A Full Facelift consists of any of the following:
Upper eyelid Lift
Lower eyelid reduction
Neck lift
Brow Lift
Jowl and cheek lift
The whole of the face is lifted up, not only by pulling up and removing excess skin but also by suturing the SMAS fibrous layer under the skin. This double lift ensures a long lasting result.
Who Is A Good Candidate For A Full Facelift?
People age differently. Someone in their 50s who has great genetics, never smoked  or sunbathed, eats a very healthy diet, and exercises regularly may look younger than someone in their 40s who has smoked, sunbathed, and doesn't exercise or eat as well.
Generally though, a good candidate is someone in good health, doesn't smoke, has severe neck droop, and very low skin elasticity. They may require multiple procedures such as those listed above.
Recovery time is slower because the full facelift is more invasive, and there will be more scars to heal. Like the mini-facelift, Dr. Chang is very concerned with hiding the scars behind the ears and in the hairline. If a neck lift is performed, a compression wrap will be required. Most patients take a couple of weeks off work and can return to normal activities around 4 weeks later.
Most patients arrive at their free consultation knowing they want something done to their face to look younger, smoother, and firmer. Dr. Chang will take time to go over the desires of the patient and suggest a surgery that works best for them. Over 70% of facelift surgeries are done by Dr. Chang in office. Watch the video below of the mini-facelift procedure to get an idea of how comfortable the patient is during the surgery. It is a completely personal decision and no way is right or wrong.
Warning: It's a live procedure, so don't watch if you're squeamish.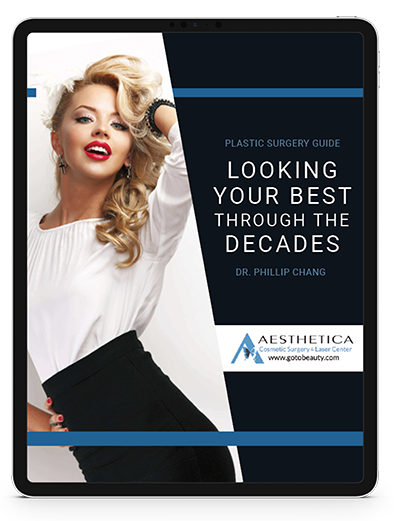 Insider's Roadmap to Every Decade of Life
Follow us on Youtube and watch our latest videos about plastic surgery procedures.
Are you looking for a facelift that will look natural and fresh? We invite you to simply come in for a complimentary consultation with Dr. Chang or one of the cosmetic laser and injection nurses to explore whether you would make a good candidate. To find out more whether Aesthetica can help you, contact us online or at 703-729-5553 to arrange an appointment. Dr. Phillip Chang is a board-certified plastic surgeon in Northern Virginia near Leesburg, Virginia and an expert in a wide variety of cosmetic treatments.
Our office can provide you with helpful information, schedule a free consultation, and walk you through the many services and procedures we provide.
Contact Dr. Chang's Office:
Stretch marks affect men and women of various ages and backgrounds. These silver, reddish, or purple streaks appear on different body parts, often evoking feelings of self-consciousness. But what exactly are stretch marks, and what causes them? In this detailed guide, we will delve deep into the types and causes of stretch marks, shedding light on this common skin concern.
Read More »