Even though the popular fat-freezing treatment was first FDA-cleared back in 2010 (believe it or not, yes, that was already a decade ago!), lots of people still wonder, "Is CoolSculpting safe?" Don't you worry your pretty little mind because the answer is a resounding: "Yes!"
Can you believe that it is thanks to kids eating popsicles that these scientists founded the now infamous procedure known as Cryolipolysis ®, the scientific method behind modern CoolSculpting technology? 
Where Did CoolSculpting Come From?
Years ago, researchers from Harvard University, Dieter Manstein, M.D., and R. Rox Anderson, M.D., observed that some children who regularly sucked on popsicles developed dimples in their cheeks. This specific study was based on the hypothesis that targeting fat cells with cold (or in the kids' case, frozen) temperatures can freeze and eliminate fat cells altogether, without harming the skin surrounding the fat cells themselves. 
Many plastic surgeons are serious fans of CoolSculpting and encourage the non-invasive procedure. One need only look to Hollywood to see countless examples of actresses who have undergone the popular treatment to freeze away some excess fat pockets and get red carpet ready.
CoolSculpting Earned It's FDA Approval
Even though it's been a year since CoolSculpting earned its FDA approval, it is the only treatment utilizing fat-freezing technology that has been cleared by the FDA to this day. Currently, eight different treatment areas have been approved: the love handles (also known as flanks or muffin top) came first, eventually followed by the flanks, abdomen, bra fat, thighs, chin fat, banana rolls, back fat, and even the upper arms.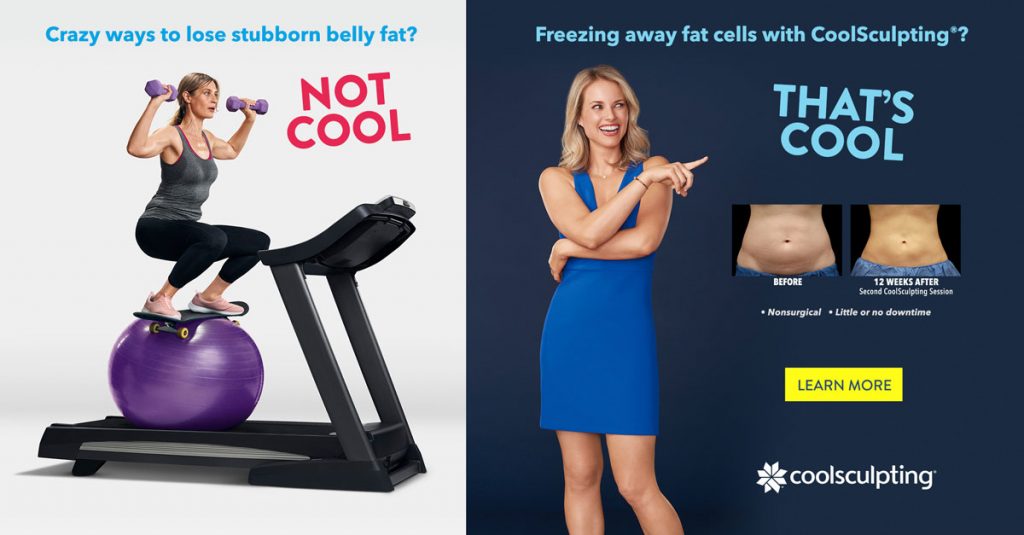 The love handles were the original approved location for CoolSculpting treatment (2010), followed two years later (2012) by the abdominal area. When you look at yourself in the mirror in the morning and begrudge what you might call tummy fat, a pot belly, or a post-baby bulge, you're criticizing the exact abdominal area which CoolSculpting treats. 
Over the next few years, the FDA extended its approval to CoolSculpting treatments for fat under the chin and along the neck, the fat along traditional bra straps, the fat below the buttocks (which looks a bit like a banana from a distance), and fat elsewhere on the back.
With their latest FDA approval to freeze away fat from upper-arms, there is no reason to settle for the dropping that accompanies traditional aging or the fat pockets which countless hours at the gym just can't seem to make go away. 

CoolSculpting Treatments: As Unique As You!
CoolSculpting has received endless attention and love from patients, plastic surgeons and doctors, news reporters, and the fat-reduction peanut gallery online.  CoolSculpting addresses precise problem areas – areas just as diverse as the patients who come in looking for solutions. Finally, a treatment option which is just as unique as you are! 
So Real Talk, Is CoolSculpting Safe?
Although everyone is a little bit different, let's let the numbers speak for themselves. Over 6 million CoolSculpting treatments have been successfully carried out in the United States over the past decade. Thanks to these millions of treatments and satisfied patients, CoolSculpting has been time-tested and clinically proven. Over 100 magazines have lauded its success and thousands of Board Certified Plastic Surgeons across the nations have praised its results as superb, lasting, satisfying, and worth the investment. 
There is no doubt that you will be in exceptional hands when you choose a licensed CoolSculpting service technician to undergo your very first treatment. 
You will not only walk away satisfied with the treatment (remember that it takes a few days for the swelling to go down and a few weeks to see your final results), but excited to return for your follow-up visits to maximize your overall final results in the months and years to come. Once a CoolSculpting patient, always a CoolSculpting proponent.
Over 83% of Patients Loved Their Results!
Of over a thousand testimonials on Realself.com, a website where consumers share their experiences with aesthetic procedures, over 83 percent say Coolsculpting deserves your time and money. Though CoolSculpting isn't going to have the same results as a liposuction or serious weight loss treatment, for those with stubborn pockets of fat which just won't go away, CoolSculpting offers a safe, nonsurgical option! 
CoolSculpting is a far more than a 'trendy' choice – it's a life changer. With increased confidence, a restoration of former beauty, and new slimmer body to show off, you'll love your CoolSculpting results! Schedule a consultation with Dr. Chang to determine if CoolSculpting is the best fat reduction option for your body.
Our office can provide you with helpful information, schedule a free consultation, and walk you through the many services and procedures we provide.
Contact Dr. Chang's Office:
Stretch marks affect men and women of various ages and backgrounds. These silver, reddish, or purple streaks appear on different body parts, often evoking feelings of self-consciousness. But what exactly are stretch marks, and what causes them? In this detailed guide, we will delve deep into the types and causes of stretch marks, shedding light on this common skin concern.
Read More »