You have decided that you want to have plastic surgery. Maybe you feel it's time to shift the post pregnancy weight, you want the excess skin from your arms removed, or you are considering breast augmentation.
Before scheduling any surgery or procedure, you should have a consultation with the surgeon and ensure they are a board certified physician. It is important to feel comfortable with your physician and make sure that you both have realistic expectations for what to expect out of the procedure. You should make sure you are asking the right questions during your consultation in order to properly prepare for the procedure. It is also important to be prepared and know what to expect at the consultation. Each procedure is different, but there are some general things you can do to prepare.
Things to Do and Think About Before Your Plastic Surgery Consult
Make sure to research your procedure ahead of time. Have a general understanding of how the procedure will be performed. Read personal blogs and watch videos. Think about realistic expectations for what you want to have done. Understand that there may be scars and postoperative care plans that you need to manage.
Don't be afraid to bring in images of how you would like your body to look. If you plan on having a breast augmentation, think about sizing and shape. 
Think Underwear. If you're having a breast or body procedure, make sure to wear undergarments that you are comfortable in and happy for others to see you in. The doctor will ask you to remove clothing in the area the procedure will be performed. 
Questions. Make sure to write down any questions or concerns you may have for the doctor. We have a list of questions further down that will help you during your consult.
Your medical history. You will be asked questions about your medical history. Don't hold back on your answers! It is important your surgeon knows about any allergies or underlying health concerns, it will help your doctor and their team prepare for a safer, more efficient surgery. Make sure to have a list of any current medications or supplements you are on as well.
What to Do During Your Plastic Surgery Consult
Look around. Once you arrive at the office for your appointment, make a note of the cleanliness and organization of the office; is it professional and does it make you feel safe? Do the staff make you feel comfortable? 
Your surgeon. When you meet your surgeon, do they make you feel comfortable? Do they seem knowledgeable about the procedure they will be performing? Do they listen to you and understand your expectations? Do they help you understand your options? This will be the doctor that you are trusting to perform a medical procedure on you, so you will want to make sure that you trust them fully.
Keep an open mind. It is important to know that what you want may not be the right thing for your body. Your surgeon will weigh your wishes with what they believe will be the most aesthetically natural look for you.
Ask About Imaging. Some surgery offices have imaging systems such as the Vectra 3D Imaging system at Aesthetica. These can show you how you will look with the changes surgery will make. It is particularly good for breast augmentation. You may go into the consult wanting one thing, but after viewing the images decide on something different.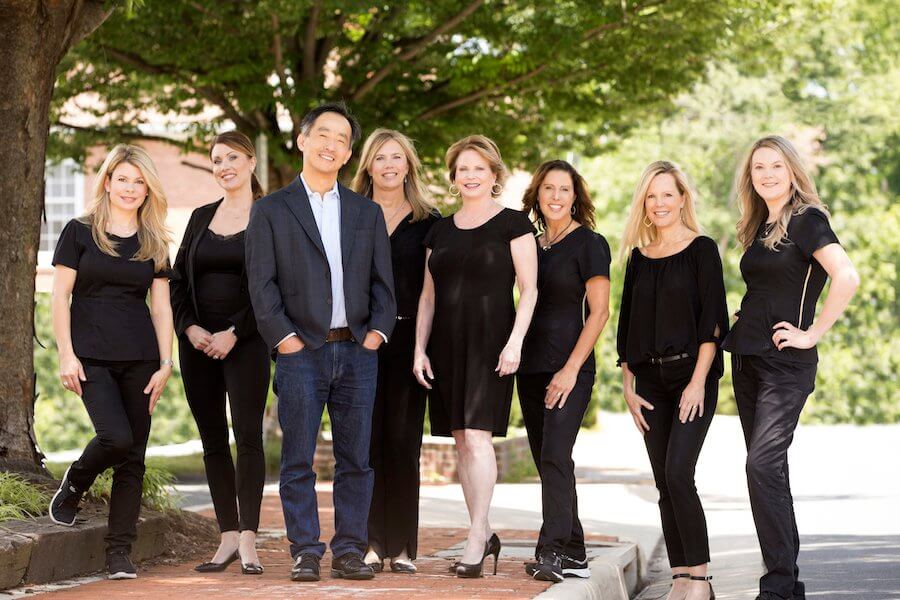 Questions to Ask During Your Plastic Surgery Consult
Don't be afraid to ask lots of questions! You are considering a permanent surgery and you should be prepared.
Here is a list of questions we recommend asking:
Am I a good candidate for a plastic surgery procedure? 
How many times have you performed the procedure?
What are the benefits? Risks?
How long is the procedure?
What board certification do you hold?
Where will the surgery take place?  
Who will  perform the anesthesia? What are their credentials?
What type of anesthesia is required?
What are the credentials of your surgical staff? 
How would you respond with an emergency during the procedure? 
Do you have before and after results from patients with similar physical attributes to me? 
How much time will I need to recover?
Why a Plastic Surgery Consult is Important
The more prepared you are for your consultation, the more confident you will feel about your surgery options and what they can achieve. Every office is different and every doctor has a different aesthetic look and feel to their work. You will want to make sure that you like the doctor's work and feel comfortable in the office. That's why it is important to read the reviews of previous patients, ask to see before and after photos, and consult with a number of surgeons before deciding.
Schedule a consultation today!
During the stay at home order, we invite you to schedule a VIRTUAL consultation with Dr. Chang or one of the cosmetic laser and injection nurses to learn how you can stay home AND stay beautiful. Dr. Phillip Chang is a board-certified plastic surgeon in Northern Virginia near Leesburg, Virginia and an expert in a wide variety of cosmetic treatments.
Our office can provide you with helpful information, schedule a free consultation, and walk you through the many services and procedures we provide.
Contact Dr. Chang's Office:
While thread lifts present a tantalizing promise of subtle lifting, BOTOX holds a tried-and-true legacy of smoothing out life's little lines. As we delve into this comparison, we'll shed light on the strengths and limitations of each and discover why BOTOX might have the upper hand in this beauty bout. Join us as we navigate the nuances of these aesthetic contenders!
Read More »