Here's Why You Should Switch From SmartLipo to CoolSculpting

5

min read

The ideal body, for most people, is tricky to achieve. We wake up early to hit the gym and spend hours on our workout. We take time to curate the perfect, healthy meal plans and then take even more time preparing them. Staying healthy and keeping your goal weight is far from easy. Yet, sometimes, even if we have done everything perfectly, there will still be annoying bulges of fat that will not seem to go away. Good thing that we now have plenty of options for stubborn fat pockets.
Two of the most popular options are SmartLipo and CoolSculpting. Both have their pros and cons, but the question is, "What is your best option for eliminating those extra fat pads?" Everyone has different needs. You may have heard about SmartLipo post-operative care and how much attention it requires. Read on to find out more about both procedures to help you decide.
What to Expect during the SmartLipo and CoolSculpting Procedures
SmartLipo is done by first applying local anesthesia on the target site, then inserting a small laser device through a tiny incision. The laser melts the fat around the area, and the liquefied fat is removed. For small areas with fewer fat cells, the surrounding tissue can absorb the liquid. The laser not only removes fat but also encourages cells to produce collagen, so SmartLipo has the added benefit of skin tightening.
Since this is a minimally invasive procedure, there should be bruising and swelling after the procedure. There is also the possibility of scarring. Doctors advise that you have someone take you home after your surgery and note your SmartLipo post-op instructions.
CoolSculpting uses a unique applicator on the skin's surface for a non-invasive procedure. The applicator freezes fat cells using technology known as cryolipolysis. The frozen cells then die off and gradually leave the body.
You may experience some bruising, soreness, or swelling, but only for a few days. Typically, CoolSculpting has no downtime. You will be able to get on with your life as usual, as you wait for the full effects of your procedure to show.
Expect a downtime of around 1-2 weeks after a SmartLipo procedure. You will have to change your gauze and dressings regularly in the first few days since many drainages will still be flowing out of your incision. You must also keep your wounds clean and apply an antibacterial ointment on them. Compression garments should be worn for at least a month after the procedure. All in all, recovering from SmartLipo requires a lot of your time and attention.
As for CoolSculpting, you can waltz out of the doctor's office and carry on as you will. Just remember to keep yourself hydrated after your procedure. Drinking plenty of water will help your lymphatic system move the fat cells out of your body much more quickly.
Do not expect to have your ideal shapely body immediately after. For both procedures, it takes time for your body to flush out the fat cells. Noticeable results will usually take a few weeks up to a month. If you opt for CoolSculpting, you will be able to see the full effects of your surgery in three months. The effects of SmartLipo may take several months up to a year.
Things to Remember before Choosing CoolSculpting
All things considered, CoolSculpting seems to be the clear winner here. Though effective, SmartLipo needs a lot of time and post-operative care. With CoolSculpting – no downtime and quicker results! That means you can bounce back the next day and patiently (or rather excitedly) wait for your unwanted fat pockets to disappear. As a bonus, the effects of CoolSculpting are permanent. This does not mean that you will never gain weight, but for most people, fat does not seem to return to the trouble areas after the procedure. Make sure to maintain a healthy diet and exercise to keep excess weight off. A healthy lifestyle is essential no matter what your body type is.
Keep in mind that finding a good doctor is critical before choosing to undergo any fat reduction procedure. Everyone is unique and has different needs. An expert doctor will consider factors such as genetics, age, and body type before recommending the best option for you. Dr. Phillip Chang, founder of Aesthetica Cosmetic Surgery & Laser Center, is one of the leading plastic surgeons in his field. He has found fame not only through his talent but also in his compassion for his patients. Therefore, when you are ready to take that step, Dr. Chang will gladly help you find out what your body needs.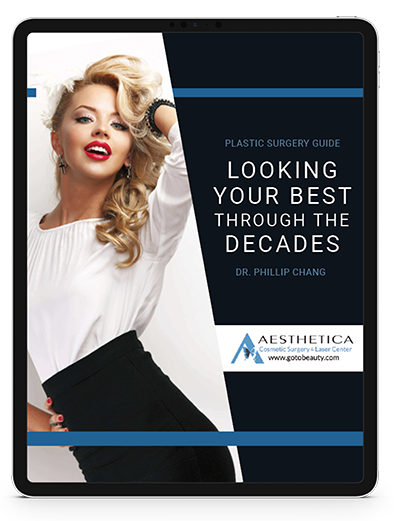 Insider's Roadmap to Every Decade of Life
Follow us on Youtube and watch our latest videos about plastic surgery procedures.
For those wondering whether CoolSculpting might be the best cosmetic solution for you, we invite you to simply come in for a complimentary consultation with Dr. Chang or one of the cosmetic laser and injection nurses to explore whether you would make a good candidate. To find out more whether Aesthetica can help you, contact us online or at 703-729-5553 to arrange an appointment. Dr. Phillip Chang is a board-certified plastic surgeon in Northern Virginia near Leesburg, Virginia and an expert in a wide variety of cosmetic treatments.
Our office can provide you with helpful information, schedule a free consultation, and walk you through the many services and procedures we provide.
Contact Dr. Chang's Office:
Stretch marks affect men and women of various ages and backgrounds. These silver, reddish, or purple streaks appear on different body parts, often evoking feelings of self-consciousness. But what exactly are stretch marks, and what causes them? In this detailed guide, we will delve deep into the types and causes of stretch marks, shedding light on this common skin concern.
Read More »