Have you visited the beach yet this summer? It doesn't take long to realize that bodies come in all sorts of beautiful shapes and sizes. Some women are thin and willowy like Jennifer Anniston, while others have voluptuous curves like Kate Upton.
And even throughout history, body types considered "beautiful" have changed. In the 1920's, boyish figures were preferred while women considered "most beautiful" in the 1980s had more athletic figures. What gives? 
It really comes down to math – it's ratios between a woman's curves that hold true regardless of body size. These numbers have been studied by scientists and plastic surgeons. Plastic surgeons like Dr. Chang who study the relationships between all a woman's curves are sure to give you the curves you desire while remaining beautifully proportionate. 
Why Do Women Have Curves Anyway? It's Science.
Have you every wondered why the female body is naturally curvy? A baby girl is born with about 12% body fat and keeps that up until she goes through puberty. At that time, her body fat percentage will go up to 25%-30%. 
Scientists attribute this body fat increase to changing hormones and the arrival of estrogen. They believe that it's to prepare a woman for childbearing, to nourish the child during pregnancy, and afterward when the baby is nursing. Scientists believe that men are more attracted to these curves because they're a sign of fertility.
The Ideal Curves: Let's Do Some Math!
The perfect shape has been the subject of research for years now as scientist try to determine the numbers behind what society finds attractive. They have been able to come up with a few different ratios that determine why both Marilyn Monroe and Twiggy have beautiful bodies. 
Back to Buttocks Measurement
Scientists at the University of Regensburg set out to determine the common waist-to-hip ratio among beautiful women of many body types. They found that women with a waist-to-hip ratio of 0.7 were considered the most attractive. Incredibly, this ratio holds true across both decades and cultures!
The waist-to-hip ratio is obtained by dividing the waist circumference by the hip circumference. For example, if a woman has a 25-inch waist and a 36-inch hip, she would have a waist-to-hip ratio of .7.
The waist-to-hip ratio is nearly the same for both boys and girls until puberty. Estrogen then causes a girl's hips to widen as fat stores accumulate on the hips and thighs. Scientifically speaking, wider hips are another indicator of fertility. And as Shakira says, "Hips don't lie." 
Bust size relative to waist and hips is also important. A good plastic surgeon knows that breasts should be proportionately similar to hips – certainly not markedly bigger. The magazine Psychology Today reported that men gravitate toward larger busts and hips and smaller waists with waists roughly 66% of the hip and breast sizes. The scientific reason for this goes, again, back to fertility.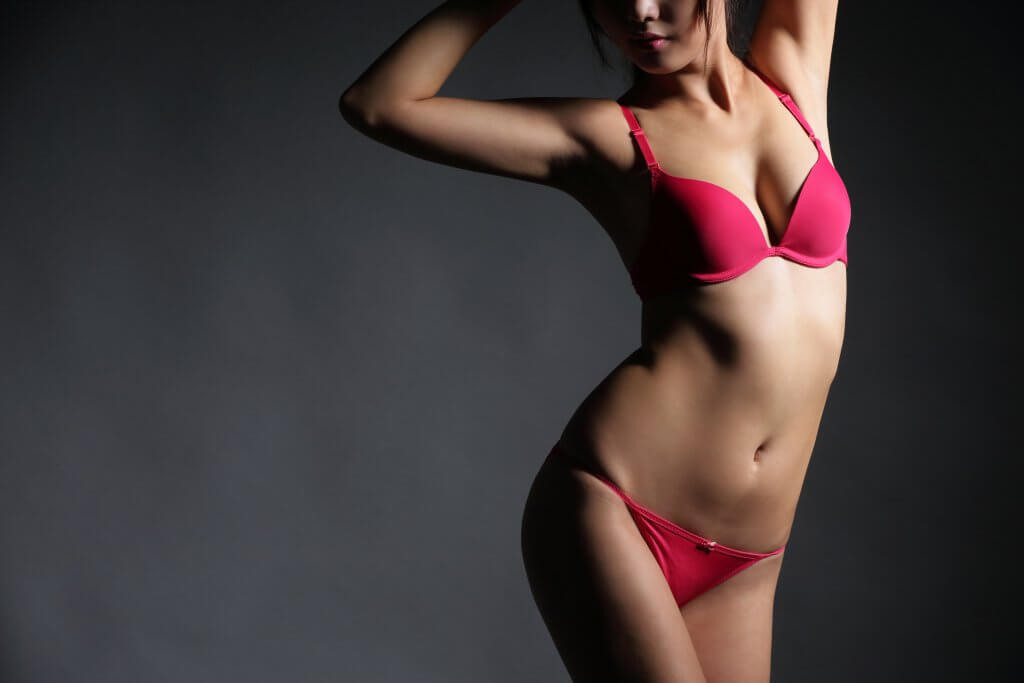 Ready to Love Your Curves?
Women have  many gorgeous shapes and sizes. And at the end of the day, regardless of what science says, the real question is "Do your curves make you feel confident and sexy?" At Aesthetica, we want you to love your body. Our talented team knows and understand the best ratios between your curves. We can advise you on the best curve proportions for your body type and help you obtain curves that you love. Here are some of the services we provide:
The Brazilian Butt Lift is a rapidly growing procedure that allows you to have that round, shapely butt without having to use implants. The procedure uses liposuction to remove pockets of fat from unwanted areas. The fat is then purified and artfully injected into your buttocks to achieve a natural, shapely look.
A fat transfer is a great procedure for restoring volume in areas that you have lost due to dramatic weight loss or aging. During the procedure, fat is liposuctioned from areas of your body and then injected into other areas using syringes. This procedure is used to contour and shape your body to give you volume in the right areas.
Are you exercising and eating well and still can't get rid of stubborn fat? Liposuction may be for you!  Fat is removed by a cannula from stubborn areas such as your flanks and tummy. This procedure allows the surgeon to contour your body and give you a more curvy appearance. 
A lower body lift uses several different procedures to shape and contour the lower half of your body. The procedure removes sagging skin and unwanted fat on your butt, flanks, thighs, stomach, and lower back. It's a great option for those who have lost a substantial amount of weight or those whose bodies have changed drastically due to pregnancy.
A thigh lift is used to remove and tighten sagging skin on the thighs. This procedure is a great option for those who have loose skin due to age or from gaining and losing weight over and over. The scar can also be hidden in the groin if only a small amount of skin is being removed.
The tummy tuck is a common request for women post child-bearing. The two main goals of the procedure are to tighten the abdominal muscles and to remove excess fat, creating a more hour-glass shape.
Breast augmentation is another procedure designed to enhance your curves. There are a variety of breast augmentation surgeries depending on your needs. We'll discuss with you the look you're going for and determine which procedure will achieve your desired look. And our Vectra 3D Imaging technology will help you visualize what you will look like post-surgery!
Get Your Confident Curves!
Do you want more information about plastic surgery procedures? We invite you to simply come in for a complimentary consultation with Dr. Chang or one of the cosmetic laser and injection nurses to explore whether you would make a good candidate. To find out more whether Aesthetica can help you, contact us online or at 703-729-5553 to arrange an appointment. Dr. Phillip Chang is a board-certified plastic surgeon in Northern Virginia near Leesburg, Virginia and an expert in a wide variety of cosmetic treatments.
Our office can provide you will helpful information, schedule a free consultation, and advise you on which procedures will provide your desired results.
Contact Dr. Chang's Office:
Stretch marks affect men and women of various ages and backgrounds. These silver, reddish, or purple streaks appear on different body parts, often evoking feelings of self-consciousness. But what exactly are stretch marks, and what causes them? In this detailed guide, we will delve deep into the types and causes of stretch marks, shedding light on this common skin concern.
Read More »