Are COVID-19 Saliva Tests as Reliable as Nasal Swab Tests?

2020 is proving to be a very unusual year. Last fall, we were thinking about buying mums and looking forward to the influx of Pumpkin Spice products and the wisp of cool weather. This fall, we are wishing and hoping for a small degree of normalcy, that schools will get to open to in person classes again, and that we don't end up in lockdown again. As our states open up and colleges start again, the rates are rising and people are looking for convenient, safe and accurate tests to use if they find themselves suffering from the COVID-19 symptoms.
Safe, Reliable and Convenient COVID-19 tests
Fortunately pharmaceutical companies are working hard to find a vaccine for COVID-19 and create reliable, simple-to-use testing kits. There are a wealth of tests available under the FDA approved Emergency Use Authorization guidelines. And with the slew of newer saliva based tests, it means that people have access to tests that are not so invasive. And now studies have shown that the saliva based tests perform as well as nasal swab tests.
COVID-19 Saliva Testing Kits Available
Our self-collection testing kit uses a hassle-free saliva sample to determine if you are infected with COVID-19. You don't need to go to your doctor or a pharmacy to be tested. Just order online and it will be delivered to your door. Follow the instructions to register yourself on the lab website, spit in the tube and post via the complimentary return mailer. Within 72 hours of the lab receiving the sample, you can access the results via the lab website. And all from the safety of your home. If it's positive, it is automatically reported to the appropriate authorities.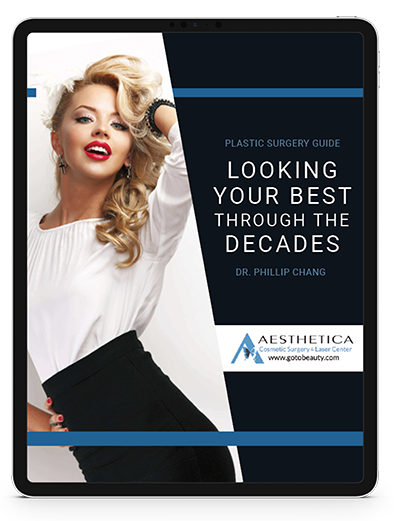 Insider's Roadmap to Every Decade of Life
Follow us on Youtube and watch our latest videos about plastic surgery procedures.
If you are worried that you are experiencing symptoms of Covid-19, please stay home and get tested. Our tests are available at our online store and are shipped the same day.
Our office can provide you with helpful information, schedule a free consultation, and walk you through the many services and procedures we provide.
Contact Dr. Chang's Office:
If you're considering a belly button lift, you're not alone. This procedure is becoming increasingly popular, and for a good reason. A belly button lift — also known as belly button surgery or umbilicoplasty — can provide several benefits, including improved appearance, increased confidence, and better self-image. Here at Aesthetica, we believe being well-informed is the best first step in your plastic surgery journey! Today's article will discuss the benefits of a belly button lift in detail. We'll also take a look at some of the most common questions people have about this procedure.
Read More »