7 Anti-Aging Treatments That Won't Break the Bank

5

min read

Twenty years ago, admitting to having a cosmetic procedure or surgery was not something readily done. Sure, many people were having lifts, tucks, and injections, but talking about it was a faux pas. And most often, the procedures were for the wealthy or those who could afford such luxury. However, over the past ten years, social media has drastically changed this mentality. Not only is admitting you've had a procedure done acceptable, it's celebrated. With things like Instagram and TikTok being the trend-setting platforms for many beauty standards and influencers sharing their beauty secrets and which procedures to get that will give you the trendy looks, it's no wonder there has been an increased demand for affordable procedures. Of course, some of the most popular and affordable procedures are anti-aging treatments. You've probably heard of a facelift or neck lifts which are both more expensive and invasive procedures, but we've put together a list of anti-aging treatments that will give you the youthful glow without breaking the bank. 
Microdermabrasion is a procedure that entails a professional using a textured metal wand to scrape away dead skin cells, bumps from trapped oils, and some sun spots to refine the texture of the skin. It's basically a fancy facial scrub with longer-lasting results. It's a great way to clean up your skin with minimal discomfort and is also an excellent way to prepare for a chemical peel.
Cost: Starting from $150
A chemical peel is exactly what it sounds like: some sort of acid (glycolic, lactic, alpha, and beta hydroxy) is applied to the face and removes the top layer of skin to reveal a new layer. Peels correct brown spots and hyperpigmentation. A chemical peel may sound a little scary, but in reality, they are a safe, minimally damaging way to refresh your face for smoother and more youthful skin. You may have a little bit of discomfort during the application, but you should feel fine within 15 minutes of the completed procedure. 
Cost: Starting from $175 for one treatment
The most common injectable is Botox, a purified toxin that, when injected into specific muscles, causes mild paralysis to reduce the appearance of fine lines and wrinkles. It is most often used between the eyes, the forehead, and around the eyes. It is minimally painful and lasts around six weeks.  
Cost: Starting from $11 a unit for Botox
As we age, our bodies stop producing collagen, which causes the rounded and plump look of young faces. This causes a loss of volume in the face and the onset of deeper lines and wrinkles. So dermal fillers are injected into the troubled areas and act as synthetic collagen to re-plump the face and make you look younger. Results can last from 6 months up to a year. 
Cost: Starting from $550 per syringe
Our lashes tend to thin out and grow a bit shorter as we age. Latisse is a prescription-only formula that stimulates hair growth at the follicle to give longer, thicker lashes. Users should have noticeable growth within a month of beginning to use. There is a potential for itchy eyes, and some users have mentioned darkening pigmentation of the iris. Again, this is a prescription product.
Cost: Starting from $179, no tax
6. Sclerotherapy (Varicose Vein Treatment)
There are laser therapies to reduce the appearance of smaller varicose veins, but laser therapy no longer works when it comes to the larger ones. Sclerotherapy is saline injections that can eliminate the appearance of more prominent, more unsightly veins near the surface. Eventually, the veins turn into scar tissue and fade. The treatment is mild to moderately painful. You will receive numbing beforehand to help.
Cost: Starting from $600
Fractional lasers that use light energy are applied to the face to break into the skin's collagen layer to stimulate production and restore collagen and elastin. It also removes hyper-pigmentation and broken blood vessels. This laser treatment resurfaces the skin to make the skin smoother, more evenly toned, and tighter. Pain can vary depending on the depth of the treatment. They range from a BBL laser to Profractional Laser.
Cost: Starting from $400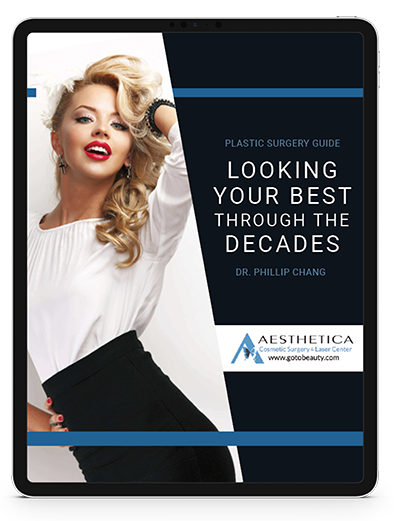 Insider's Roadmap to Every Decade of Life
Follow us on Youtube and watch our latest videos about plastic surgery procedures.
For those wanting to learn more about any of these treatments, we invite you to simply come in for a complimentary consultation with Dr. Chang or one of the cosmetic laser and injection nurses to explore whether you would make a good candidate. To find out more whether Aesthetica can help you, contact us online or at 703-729-5553 to arrange an appointment. Dr. Phillip Chang is a board-certified plastic surgeon in Northern Virginia near Leesburg, Virginia and an expert in a wide variety of cosmetic treatments.
Our office can provide you with helpful information, schedule a free consultation, and walk you through the many services and procedures we provide.
Contact Dr. Chang's Office:
Navigating the world of breast augmentation means facing some crucial decisions, and one of the most discussed is whether to place implants over or under the chest muscle. This article delves into the nitty-gritty of both options, highlighting the pros and cons to help you make an informed decision.
Read More »