4 Reasons To Get Plastic Surgery Done In Winter

5

min read

It sounds a little counter-intuitive…usually the winter is NOT the stereotypical time for self-improvement! The colder months are often a time when we let our body image slip; we eat comfort foods, hide under cozy layers, and enjoy the fact that bikini season is months away. But the chilly season is actually the perfect time to work on those trouble areas or get the body you've always dreamed of! Especially now, amid the pandemic culture, this is even more true. Here's a few reasons why the winter is the best time to get a cosmetic procedure or two:
You're Already Taking Time Off!
You know it's true – the holidays are not our most productive time of year. Often, people have saved up time off to spend time with family over Thanksgiving and Christmas or to take a winter vacation! Businesses are closed more often than usual, companies offer time off, there are a few federal holidays mixed in, which all means you're home more than usual. 
Most cosmetic procedures, big or small, require a little down time. When the weather is cold, it's the perfect time for a little stay-cation to rest and recuperate. Your social schedule should have slowed down, and you're probably curled up with a good book or binging Netflix, anyway! So, take advantage of the relaxation and use this time to do something for yourself! Tummy tucks, breast augmentation, liposuction, facelifts, etc. are all great options for a cold weather procedure that will have you feeling fierce when you come out of hibernation!
Winter Clothes Hide Your Recovery
If you wait until the warmer months to get cosmetic work done, you'll find it a lot harder to cover a surgical bra, bandage, or residual bruising in a mini skirt and a crop top. Just like most cosmetic procedures require a recovery period, most of them also come with noticeable wounds or dressings in the first few weeks. Whether your procedure of choice requires compression garments or band aids or results in swelling or bruising, it's much easier to hide these things in a bulky sweater, leggings, and a scarf! By the time the temps are above 60 degrees, you'll be ready to show off your new, sexy body.
Your Body Will Be Ready to Show Off Come Summer
Winter is nice and all, but we all know summer is where it's at. It's the time for weddings, parties, vacations, and just being with friends and out and about. Lots of people wait too long to finally schedule and get that cosmetic procedure they've been dreaming of – maybe even until they put on their first pair of shorts or a swim suit! But, by then, it's too late; the recovery time will cause you to miss out on those first few weeks of sunshine. 
If you get your cosmetic work done in the winter, you'll be ready to go by the time it's warm enough to drive with your windows down. Most people can get back to work/normal life within 2-3 weeks of a cosmetic procedure (or shorter!), but sometimes results take a lot longer to be fully evident. If you're dedicating the time and money to a procedure, why not reap the benefits for the whole summer season?!
Don't Let The Cold Wear You Down!
Many people complain about the colder days between November and February because they tend to feel frustrated, sadder, and overall more miserable. Science shows that there is reason behind this! In one study, it was concluded that "Coldness biases people toward being cold-hearted, reduces empathetic concern, and facilitates utilitarian moral judgements." AKA, people are grumpier when it's cold. It's easy to lose motivation, become lethargic or complacent, and let a bad mood get the best of you. Doing something positive for yourself is a great way to kick that feeling! People often get cosmetic procedures because of the confidence boost. It feels good to look the way you want to look! Getting a procedure done in the winter is a great way to give yourself a (literal) shot of good energy. Look good, feel good!
Lots of people wait until spring or summer to get a cosmetic procedure. It still works, you'll still see great results, but recovery might be a little more annoying and socially inhibiting. Plus, since lots of people wait, if you aren't one of those people, you'll get your choice of scheduling options! So, take advantage of the cold days, the comfy clothes, and the relaxing days of winter. Talk to your cosmetic surgeon TODAY to get on the books this winter and look your best by summer!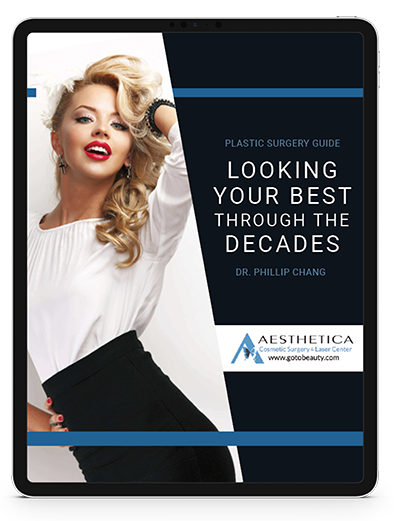 Insider's Roadmap to Every Decade of Life
Follow us on Youtube and watch our latest videos about plastic surgery procedures.
For those wondering whether plastic surgery might be the best solution for you, we invite you to simply come in for a complimentary consultation with Dr. Chang or one of the cosmetic laser and injection nurses to explore whether you would make a good candidate. To find out more whether Aesthetica can help you, contact us online or at 703-729-5553 to arrange an appointment. Dr. Phillip Chang is a board-certified plastic surgeon in Northern Virginia near Leesburg, Virginia and an expert in a wide variety of cosmetic treatments.
Our office can provide you with helpful information, schedule a free consultation, and walk you through the many services and procedures we provide.
Contact Dr. Chang's Office:
How often should you return to your cosmetic surgeon to keep that fabulous face of yours in tip-top shape? From understanding when those marvelous fillers begin to fade to decoding the signs that it's time for a little touch-up, we've got you covered!
Read More »