The 15-minute Liquid Rhinoplasty (or Liquid Nose Job) can often be the most appropriate option for a person wanting to reshape the appearance of their nose. This is even more true today with the introduction of longer lasting hyaluronic acid gel fillers, such as Juvederm Voluma, than it was even 10 years ago. There are many benefits of a the 15-minute liquid nose job when compared to a surgical rhinoplasty. It is less expensive, there is no down-time, and there are fewer potential risks inherent to the procedure.
What is the 15-Minute Liquid Rhinoplasty?
The 15-minute Liquid Rhinoplasty (also called the Liquid or Nonsurgical Nose Job) was a technique I developed more than 20 years ago during my residency in plastic surgery. There weren't many tools for the procedure back then. The first procedures were performed using collagen, which didn't last very long. This was followed by injections of Radiesse calcium hydroxyapatite gel. This was the mainstay of the procedure for years until the introduction of the hyaluronic acid gel cosmetic fillers Juvederm and Voluma.
Today, the procedure is performed mostly with Juvederm and Voluma which allow the sculpting of the nose with a soft gel which can last up to 2 years in most patients with negligible complications. If you hate it, it can even be dissolved.
Why Choose Liquid Over Surgical Rhinoplasty
Surgical rhinoplasty is the only way to obtain permanent results. It is the only solution to a many and even most cosmetic issues with the nose. It is the only solution for a large nasal hump, wide bony nasal width, and large nasal tip cartilages for example.
For almost anything else, however, the liquid rhinoplasty can be a better option.
Surgical rhinoplasty is a procedure that will require about 1-2 weeks off of work for most patients, costs from 10,000 to 15,000 dollars (not including the potential price of revision surgery) and it carries a national revision rate of about 15-20%.
In contrast, the liquid rhinoplasty is, as the name implies, an immediate procedure that can be performed in 15 minutes during your lunch break. It has no down-time, will address many issues that patients complain about, has negligible complications, and will cost about $1500. This implies that you can have the procedure done 10 times or over 20 years for the same price as the surgical rhinoplasty. Nonsurgical Rhinoplasty is the answer for many patients who have warping of the nasal tip cartilages after surgery.
Ideal candidate for a liquid nose job
The ideal cartilage candidate for a liquid nose job is a person who feels that they have: 
flat nasal bridge
wide nasal tip
or minor irregularities.  
One of the most common candidates that I see is a patient who comes to see me from another plastic surgeon's office who has some irregularities after a previous rhinoplasty.  
Although these patient's can come in for almost any complaint, they will often come in with findings of cartilage irregularities or twisting that can easily be sculpted with a liquid filler.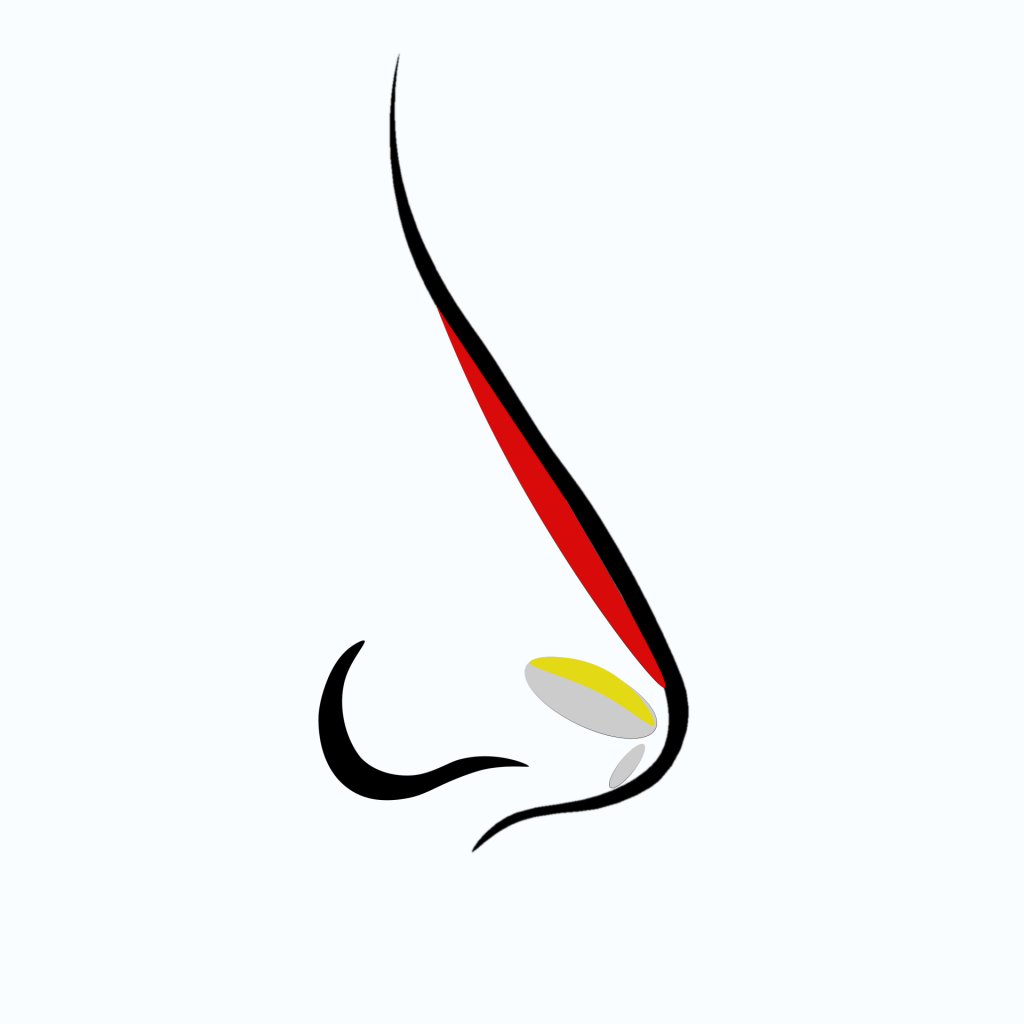 Adding to a flat nasal bridge is a common reason for a liquid nose job.  Notice the red area in the image above.  This area can be sculpted to give the appearance of a taller nasal bridge.  
This is a common request from patients of Asian and African-American descent.  The appearance of a higher nasal bridge also gives the illusion of having narrower nasal bones.
Before Nonsurgical Rhinoplasty Virginia
After Nonsurgical Rhinoplasty Virginia
Adding above and below a small nasal hump is a common reason for a liquid nose job.  Although this is not directly depicted in the image below, imagine a small nasal hump in the middle of the nasal bridge.  By placing a filler both above and below the hump, the liquid nose job will give the illusion of having a straight nasal bridge.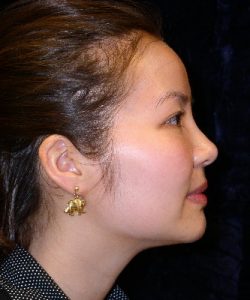 Before Nonsurgical Rhinoplasty Virginia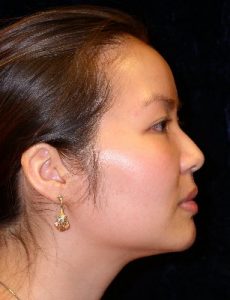 After Nonsurgical Rhinoplasty Virginia
Adding volume to the center of the nasal tip at the junction of the two tip cartilages ( where the yellow cartilages meet the pink joining ligament in the image above ) will give the nasal tip more height.  Although this is a bit of an optical illusion, the nasal tip will appear to be more narrow as the tip appears to be have more height.
Warped cartilage that appears naturally or after a rhinoplasty
Cartilage is extremely soft and malleable.  It can bend with age, trauma, or after surgery.   Small defects can often be addressed by using cosmetic fillers to fill in a defect or sculpt the surrounding tissue to camouflage the defect. 
Before Nonsurgical Rhinoplasty Virginia
After Nonsurgical Rhinoplasty Virginia
Surgical rhinoplasty is not always the answer for everyone.  Although I am one of the leading cosmetic rhinoplasty surgeons in Virginia,  I felt the need to find a solution for patients with only very small cosmetic complaints.  I was the first to develop the technique of nonsurgical rhinoplasty over 20 years ago. I recognized that surgery is not needed for everyone, particularly if the issues are relatively small.  Presently, I am humbled to see patients from all around the world including Asia where the techniques of the procedure are just developing.  My patients love that the procedure has no downtime, with lasting results. I am happy that a large number of patients coming from all parts of Northern Virginia like Ashburn, Sterling, Purcellville, Reston, Leesburg and Loudoun County.
It is no wonder, that the 15-Minute Liquid Rhinoplasty has become so popular! 
Finding the Best Plastic Surgeon in Virginia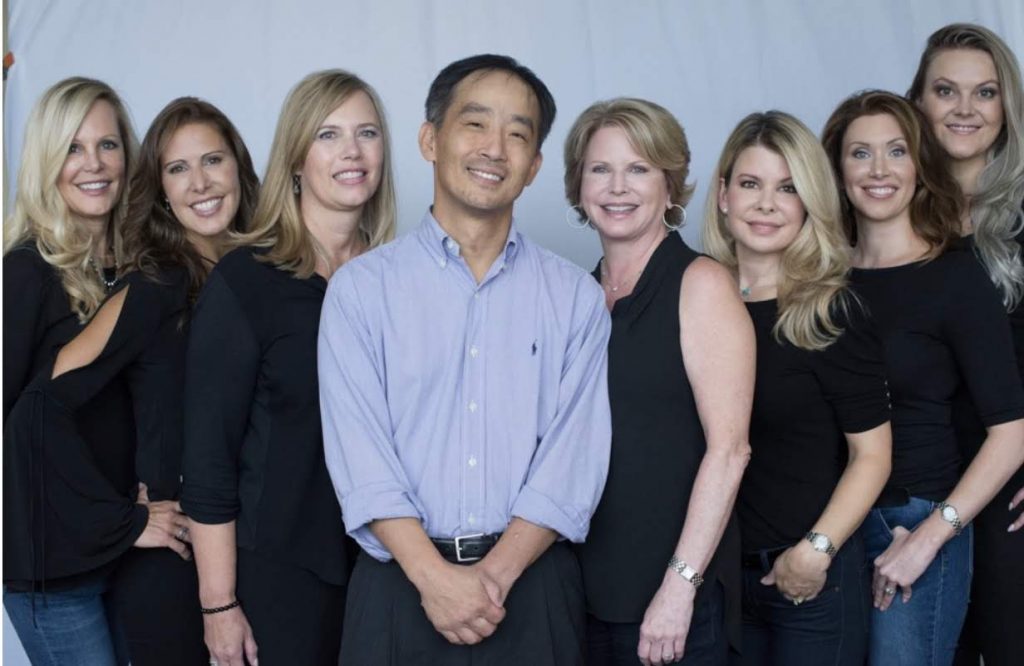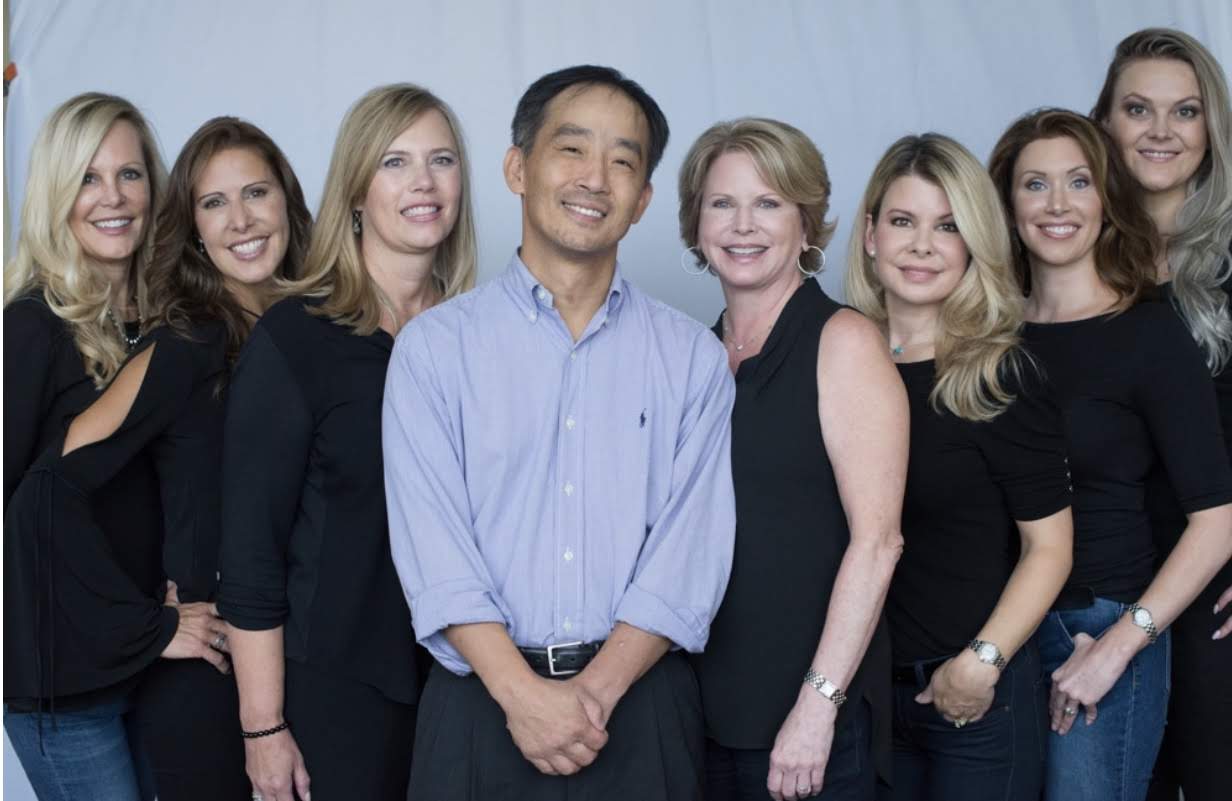 Dr. Phillip Chang is a leading plastic surgeon in Loudoun County who specializes in surgical and nonsurgical cosmetic procedures for the breast, body, face, and skin. He is board certified in plastic surgery by the American Board of Plastic Surgery and is the founder of Aesthetica Cosmetic Surgery & Laser Center in Leesburg, VA. Dr. Chang believes combining attentive care and minimally invasive techniques is the best avenue for achieving beautiful, natural-looking results.
Visit his office in Leesburg, Virginia in Loudoun County or fill out the contact form below for more information on how we can help you with your plastic surgery plans.
Our office can provide you with helpful information, schedule a free consultation, and 3D Vectra scan of your anticipated results!
Contact Dr. Chang's Office:
Stretch marks affect men and women of various ages and backgrounds. These silver, reddish, or purple streaks appear on different body parts, often evoking feelings of self-consciousness. But what exactly are stretch marks, and what causes them? In this detailed guide, we will delve deep into the types and causes of stretch marks, shedding light on this common skin concern.
Read More »