What is The Right Time for a Mommy Makeover?

Our society admires women who are ready to undergo both the wonders and the risks of pregnancy and childbirth. While most women enjoy a smooth recovery process after pregnancy, many find pockets of fat, excess skin tissue, and loose abdominal muscles that weren't there pre-pregnancy! The personalized set of cosmetic procedures called a "mommy makeover" can provide the perfect solution for those post-pregnancy body changes.
What is a Mommy Makeover?
A mommy makeover is a popular term for a set of specific procedures aimed at addressing childbearing side-effects on different areas of the body, such as the breasts, abdomen, and the genitalia. Based on the desired restoration amount, incision placement, and type of implant used, the techniques used to perform a mommy makeover can vary. Plastic surgeons usually perform mommy makeovers as single-stage procedures, which can include both surgical and non-surgical treatments.
What's Involved in a Mommy Makeover?
Most patients who are considering a mommy makeover express doubts related to the exact procedures suitable to their desired goals. Patients are not required to undergo every single potential mommy makeover procedure, so we recommend consulting a board-certified plastic surgeon whose expertise and aesthetic perspective can help patients choose the right treatment. Usually, plastic surgeons recommend one of these procedures: breast lift, liposuction, tummy tuck, and labiaplasty.
How Painful is a Mommy Makeover?
One essential aspect related to mommy makeovers is not the pain associated with the procedure, but the recovery time. Most patients experience fatigue, bruising, and tenderness from more complicated mommy makeover procedures, such as tummy tuck and liposuction. We recommend our patients anywhere between eight to ten weeks of downtime to ensure a speedy and effective recovery process. Additionally, plastic surgeons provide oral medications to ease the post-surgical discomfort and garments to minimize swelling.
How Long after a Mommy Makeover Can I Exercise?
Patients who follow a healthy, active lifestyle understand how daily exercise is necessary for long-lasting results. However, patients must listen to their body and avoid strenuous exercising and heavy lifting for a month following the procedure. After a month, plastic surgeons can recommend low-intensity workouts and a gradual increase in intensity for an additional month. When the recommended two-month recovery time ends, patients can return to their workout routine.
Will My Insurance Pay for a Mommy Makeover?
Mommy makeovers are considered cosmetic operations, so they do not fall under insurance plans. The type of anesthesia, operating room facility, and your desired goals are all contributing to the mommy makeover cost. If, however, you are unable to afford a mommy makeover plastic surgery, we recommend contacting financing programs available to balance the costs. Moreover, many plastic surgeons offer private loans or payment plans, so make sure to ask your plastic surgeon during the consultation.
What is The Best Time to Get a Mommy Makeover?
Finding the right treatment and plastic surgeon for your mommy makeover is necessary for a successful, long-lasting procedure. However, when thinking about a surgical procedure post-childbirth, a crucial factor that every patient must observe is timing. Here are a few important guidelines for women who consider undergoing a mommy makeover:
Reaching a Healthy Weight
Patients must wait until they reach and maintain their pre-pregnancy weight since weight stabilization is a helpful indicator that the body is recovering from pregnancy and childbirth.
Recovering from Pregnancy and Childbirth
Childbirth is an exhausting process, with both physical and psychological effects on the mother. New mothers must give their own bodies time to recuperate from childbirth for at least six months before undergoing a surgical procedure.
The results provided by mommy makeover procedures can be affected if patients decide to undergo additional pregnancies. For long-lasting results, we advise our patients to complete all pregnancies before considering a mommy makeover.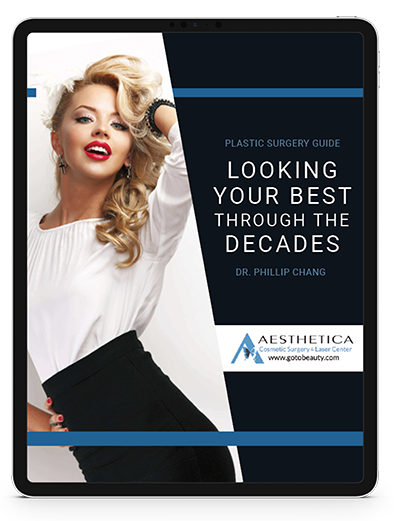 Insider's Roadmap to Every Decade of Life
Follow us on Youtube and watch our latest videos about plastic surgery procedures.
Are You Ready for a Mommy Makeover?
For those wondering whether mommy makeover might be the best cosmetic solution for you, we invite you to simply come in for a complimentary consultation with Dr. Chang or one of the cosmetic laser and injection nurses to explore whether you would make a good candidate. To find out more whether Aesthetica can help you, contact us online or at 703-729-5553 to arrange an appointment. Dr. Phillip Chang is a board-certified plastic surgeon in Northern Virginia near Leesburg, Virginia and an expert in a wide variety of cosmetic treatments.
Our office can provide you with helpful information, schedule a free consultation, and walk you through the many services and procedures we provide.
Contact Dr. Chang's Office:
If you're hoping to eradicate wrinkles and lines across your face, you've come to the right place. Through the use of either or both FDA-approved dermal filler brands, Juvederm and Restylane, you can beat the sun to the game of aging with an anti-aging solution.
Read More »